Two blood drives have been announced this week for Carter BloodCare, and at least three additional blood drives are scheduled later this month in Hopkins County to help bolster supplies during "the most prolonged period of a critical shortage in recent history."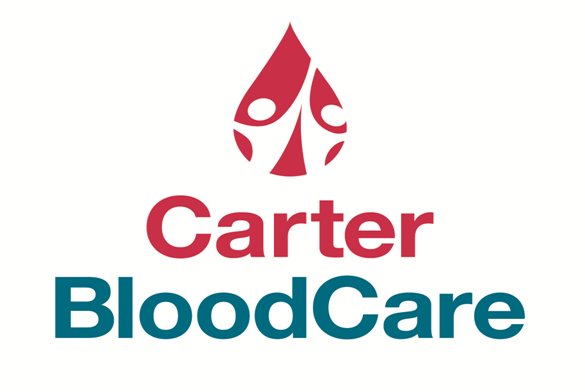 Summer, according to CBC, is typically a challenging time for blood supplies. Social distancing, canceled company and school blood drives, and other rapidly changing conditions have only increased the challenge to keep a readily available and prepared community blood supply this summer.
Scheduled Blood Drives
At least 5 blood drives are scheduled this month in Hopkins County to give individuals an opportunity to donate, according to the CBC website. They include:
A mobile blood drive will be conducted from 9 until about 1 p..m. Friday, Aug, 7, at CHRISTUS Mother Frances Hospital-Sulphur Springs, 115 Airport Road. To register for to donate at this event click here. For additional information contact Lanie Wright, Primary Blood Drive Coordinator at  

[email protected]

or (903) 571-9667.
Sulphur Springs ISD also announced a blood drive will be conducted Friday, Aug. 14, in the Conference Room at Sulphur Springs High School.
1200 Connally St. Contact Debbie Stribling, Primary Blood Drive Coordinator, at 

[email protected]

at (903) 885-2158 to schedule an appointment.
True Hearts and Hands Hospice is scheduled to host a Carter BloodCare bus Thursday, Aug. 20, in Atwoods Ranch and Home parking lot, 817 Gilmer Street. For additional information contact Nicole Wardlow, Primary Blood Drive Coordinator, at (903) 422-8100 or

[email protected]

.
Lowe's of Sulphur Springs is also scheduled to host a blood drive on the CBC bus Saturday, Aug. 22. Lowe's is locate at 1711 South Broadway Street. Contact Russell Choate, Primary Blood Drive Coordinator, at  

[email protected]

or (903) 438-3000 800
Paris Junior College-Sulphur Springs Center is scheduled to hold a blood drive on the Tuesday, Aug. 25, and 1137 Loop 301 Loop. Contact Mayra Cummings, Primary Blood Drive Coordinator at (903) 348-4165 or

[email protected]

for additional information.
Several additional blood drives are also planned in nearby towns and counties. A full list of upcoming blood drives can be found on the Carter BloodCare website, https://www.carterbloodcare.org/, with several search options to choose from.
To better observe social distancing, those planning to donate blood are asked to make an appointment online or using the QuickScreen app on their smart device from any blood drive flyer, and to bring and wear a mask. For additional information, visit https://www.carterbloodcare.org/, call the primary donor coordinator or call or text 800-366-2834.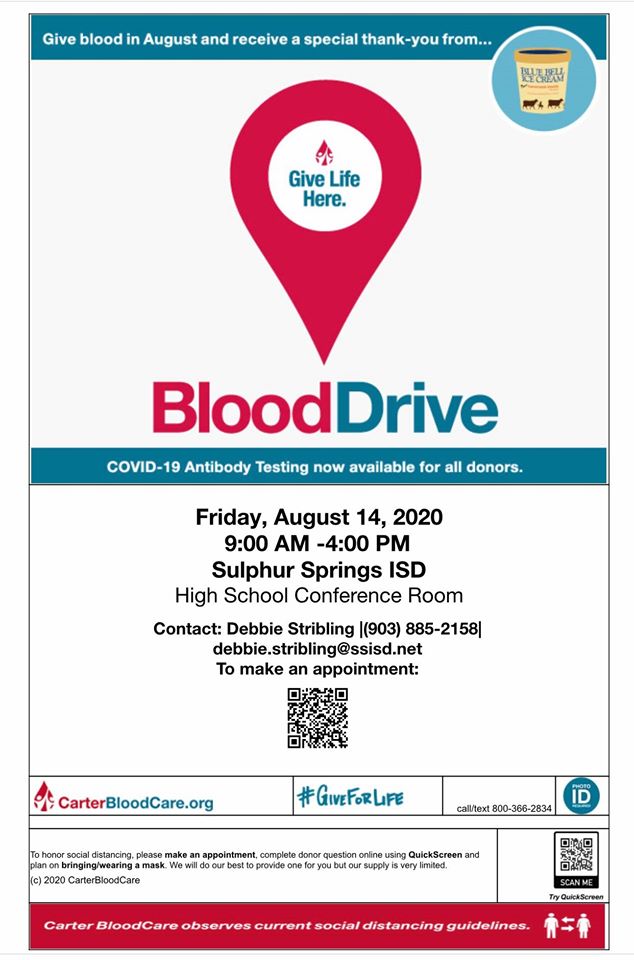 Who Can Donate
All blood types are needed, desperately, from all eligible blood donors, according to Carter BloodCare.
Most healthy individuals who are 16 and weigh at least 110 pounds will be able to donate blood. People with some health conditions are still able to donate. According to the CBC guidelines, people who will NOT be allowed to donate include:
Women who are pregnant or have given birth within the last 6 weeks
Solid tumor cancer patients, during diagnosis or treatment of cancers such as breast, colon, pancreas, thyroid, lung, liver, and others, for 2 years following end of treatment and cure,
Individuals with any type of blood, lymphoid, or bone marrow tumor (leukemia, lymphoma, multiple myeloma) are permanently deferral from donating
Malignant melanoma patients are deferred from donating for two years following end of treatment and complete cure. Those who have basal cell and squamous cell melanoma OK to donate after removal.
Potentially people with the heart conditions such as

Congestive heart failure,
Aortic valve disease (not corrected by surgery),
Chest pain (unexplained),
Coronary artery disease with angina,
Hypertrophic cardiomyopathy,
Implantable pacemaker and/or defibrillator,
History of heart attack with permanent heart damage, and
Irregular heart rhythm.

People with lung disease, such as

Active TB on treatment,
Other active lung infections,
COPD on oxygen,
Emphysema on oxygen and
Asthma with symptoms.

People who have have had or donated organ or donor tissue for transfusion or in the last 12 months.
People who have the following infections

Active cold on day of donation
Flu or diarrhea within two days of donation – must be feeling well and healthy
Chagas disease (parasite of Central and South America)
Babesiosis (parasite infection of red blood cells; found in ticks in the Northeast and upper Midwest of the U.S.)
HIV
Hepatitis B and hepatitis C
Syphilis – past history is OK if treated, but if your blood continues to have a positive test you may not be able to donate
Malaria in the past three years, or untreated malaria

Individuals who have or at risk of having ( a relative who died from ) Creutzfeldt-Jakob (CJD) disease or Variant Creutzfeldt-Jacob.
People who are at risk for
People who have had the following vaccines

Measles (rubeola), Mumps, Oral polio, Oral Typhoid and Yellow fever must wait 2 weeks
Rubella (German measles) and Varicella (Chicken pox/shingles), 4 weeks
Smallpox, 8 weeks
Effective Tuesday, July 28, Carter BloodCare's eligibility rules changed to reflect guidelines revised by the Food and Drug Administration in April. (Carter BloodCare needed time to modify computer systems, write procedures and train staff on how to implement these changes safely, thus, the new policies weren't fully in effect until July 28).
Free COVID-19 Antibody Testing For Successful Donations
The blood center will provide COVID-19 antibody testing upon successful donations of whole blood, platelets, plasma and red cells. All blood that is collected by CBC moving forward until further notice will be tested for coronavirus antibodies, at no cost to the donor. If required by law, positive test results may be shared with the county and state health authorities.
This is not a test to determine if people currently have COVID-19 or acute infection. Anyone who suspects they may have COVID-19 or other illness is urged to contact their physician for diagnosis;
The antibody test is designed to detect antibodies to SARS-CoV-2, the virus that causes COVID-19. The test is an indicator of someone's exposure to coronavirus, but is not an indicator of immunity to COVID-19. When truly positive (false positives can occur), the test indicates it is likely the individual had COVID-19, even if the person did not show symptoms. A truly negative test means it is unlikely you have had the COVID-19 infection.
Carter BloodCare is using one of two tests: the Ortho-Clinical Diagnostics, Inc.(Ortho) VITROS Immunodiagnostic Products Anti-SARSCoV-2 Total Reagent Pack test or the Roche Diagnostics Elecsys® Anti-SARS-CoV-2 serology test*. According to Ortho, their test is designed to detect antibodies against the virus that causes COVID-19 in serum and plasma. According to Roche, their test is designed to detect antibodies in people who have been exposed to the Severe Acute Respiratory Syndrome Coronavirus 2 (SARS-CoV-2) that causes the COVID-19 disease.
Antibody test results will be available within 1-2 weeks after a successful blood donation through the CBC login.
Convalescent Plasma From Recovered COVID-19 Patients
While not offered at mobile or community blood drives, Carter BloodCare is accepting convalescent plasma by appointment at a dedicated donation site from individuals enrolled in CBC's special program.
Convalescent plasma is taken from recently recovered individuals diagnosed with COVID-19 to be used as an experimental treatment for seriously ill COVID-19 patients who are not responding to other treatments.
To be eligible to donate convalescent plasma, an individual must:
Have had a positive test result for COVID-19 or antibody test results
Have complete resolution of symptoms for 14 days
Those willing to make a convalescent plasma donation, should not schedule a donation appointment through the CBC website, mobile app or by walking into a donor center. Instead potential convalescent plasma donors should complete a survey to be contacted by a CBC representative. Click here to access the survey or for more information about convalescent plasma donations.
People who donate convalescent plasma will not be antibody tested. The process used for convalescent plasma donation is being conducted according to the guidance of a research protocol. Antibody testing by the blood center is not part of the protocol, according to CBC.