Three more Hopkins County residents have tested positive for COVID-19, Hopkins County Judge Robert Newsom reported at 5 p.m. Tuesday, Aug. 11. No new cases were reported today.
That's 53 new positive COVID-19 results and 48 recoveries for Hopkins County residents reported this month by Hopkins County Emergency Management officials.
That brings the total number of positive COVID-19 cases reported for Hopkins County residents since March to 205. Of those, 146 county residents have recovered, leaving 59 active cases at 5 p.m. Aug. 11, according to Newsom.
The COVID-19 unit at CHRISTUS Mother Frances Hospital-Sulphur Springs contained 6 patients, the emergency management officials reported Aug. 11. That's two more patients in the COVID-19 unit than on Monday, Aug. 10, but still one less patient than was reported on Aug. 2.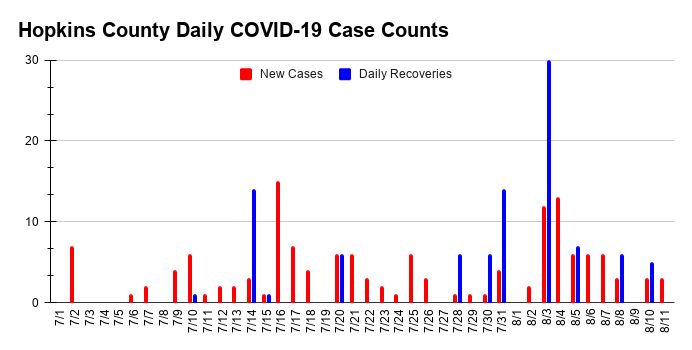 Hopkins County officials reported they still have received no information regarding any death for Hopkins County, despite the Texas Department of State Health Services's COVID-19 dashboard which for the firth consecutive day has shown two COVID-19 deaths for Hopkins County. The state on July 29 reported one COVID-19 fatality for Hopkins County. That death, according to the Texas COVID-19 Fatality County Data By County report, occurred on July 23. The second death, DSHS reported Saturday, occurred on Aug. 2.
Hopkins County Emergency Management Coordinator Andy Endsley said the DSHS dashboard that is accessible to the public is not the same information provided to to emergency management officials. Endsley said he again spoke with the regional DSHS contact on Tuesday.
"We still do not have a visual from that side. We have not had anything confirmed from DSHS.That comes from the state, but a different department. The board we are looking at has zero deaths on it. He can't find anything on our end," Endsley reported.
All assisted living facilities in Sulphur Springs remained COVID-19 free as of Aug. 28, neither residents nor staff had tested positive. Only one nursing facility in Sulphur Springs has reported any COVID-19 cases. The facility has had 3 employees test positive for COVID-19 since the state began tracking that data, but no residents have tested positive for COVID-19. Aug. 28 is the most current data reported by the state; these reports for verification purposes, are typically 2 weeks behind.