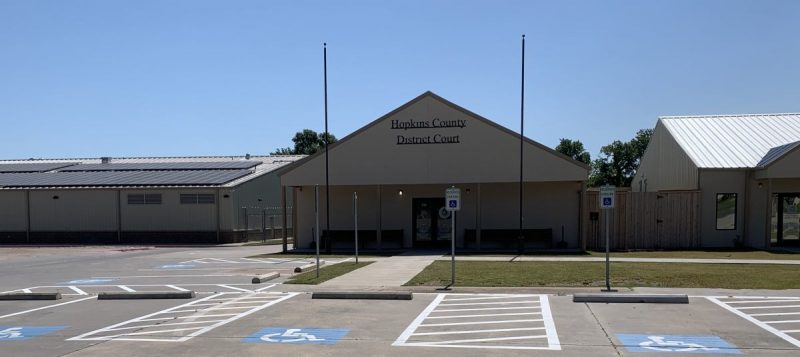 The Hopkins County District Court should be a little easier to find. A new District Court sign was installed on the Rosemont Street building Friday. This should also help visitors differentiate between the four Rosemont Street offices. The Hopkins County Law Enforcement Center, which houses the county jail and sheriff's offices, is to the left of the District Court building but its sign faces Houston Street. The District Attorney and District Clerk's Offices are on the right of the new court building.
A deputy clerk at Hopkins County District Clerk's Office Monday asked Hopkins County Commissioners Court to consider adding signage in the law enforcement center area on Rosemont Street. All offices, including the court, are interrupted daily by people with deliveries or just seeking directions to the appropriate building.
All of the county buildings in that area have addresses in the 200 block of Rosemont Street. None of the buildings had signs facing Rosemont Street, designating the different offices, except the sheriff's office, and that sign faces Houston Street, not Rosemont Street.
The county jail previously was the only office building on that site and was 298 Rosemont Street. When the new Hopkins County Law Enforcement Center was constructed on the opposite end of that property, with the front of the building facing Houston Street, county officials approached the Post Office about changing the address. The county officials were reportedly told HCLEC, which houses the county jail and sheriff's offices, would continue to have the address of 298 Rosemont Street, county officials reported earlier this week.
Since then, three additional offices have been constructed on the former jail site: the Hopkins County District Court, Clerk and Attorney's offices. The only sign on Rosemont Street is a small sign at the north entrance. Most people do not see that sign as they enter from the south drive to a public parking area, the District Clerk staff reported. They asked for a sign to help better guide people so that deliveries will arrive at the correct building, court proceedings won't be interrupted for deliveries and district staff won't lose as much time giving directions.
Hopkins County Sheriff's Office Chief Deputy Tanner Crump reported a sign had been made for the District Court building, but had yet to be installed. He offered to check into the matter and try to expedite the installation process. The court sign was added to the building on Friday, to help visitors find the district courtroom.