The last five days have been a notable ones in Hopkins County, with 6 additional positive lab-confirmed COVID-19 cases confirmed in Hopkins County, at least 384 additional tests conducted and 168 additional negative results, according to the Hopkins County COVID-19 testing update provided by Hopkins County Hospital District COO/EMS Director Brent Smith.
Hopkins County Stats
The most COVID-19 cases reported in Hopkins County in a single day was the 4 new cases reported on Tuesday, May 26. That coupled with 13 other cases reported this month, and the four cases reported in March and April brings Hopkins County's 73-day COVID-19 total to 21 cases.
The first new confirmed positive cases of COVID-19 reported in Hopkins County since April 4 were reported the afternoon of May 1. Hopkins County officials reported 2 new cases on May 1, May 20, May 21 and May 25; 1 new case each on May 7 and May 10; 3 new cases on May 19; and 4 cases on May 26.
An increase in cases was anticipated along with the significant increase in tests available and being conducted over the last month.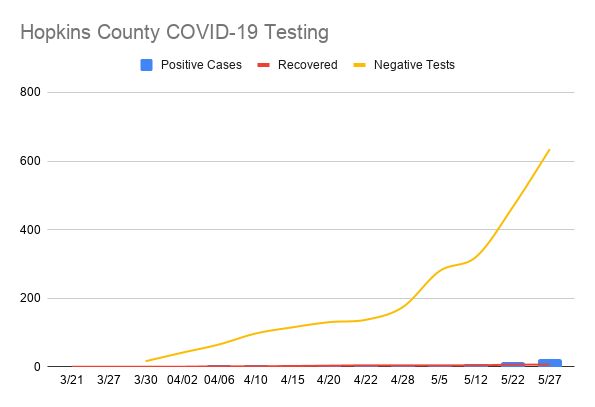 Testing was conducted during a mobile test collection event at the Civic Center May 15, at local nursing homes and reportedly offered by least one private business over the last week.
"Some private businesses and health facilities have used private organizations to screen their workers, those numbers are not represented in this press release as they are not required to report the information to the Hospital District. Their information is only reported to TX-DSHS," Smith noted.
Testing increased from 181 total screenings sent for testing on April 28, to 301 tests on May 5, 346 tests on May 12, 509 tests on May 22 and 893 tests sent for testing as of 10:30 a.m. May 27, according to the HCHD/EMS report.
The number of COVID-19 patients who have recovered from the virus remains at 6. The first four patients battling COVID-19 were reported April 22 to have recovered, giving Hopkins County 8 days without any active COVID-19 cases, according to officials. Two additional patients recovered from COVID-19 between May 12 and May 22. No additional recoveries were reported in the last 5 days.
As of May 27 reporting, Hopkins County had no confirmed coronavirus related deaths.
Since the May 22 update provided by Smith, 168 additional tests have come back negative for COVID-19, for a total of 635 lab-confirmed negative tests for Hopkins County residents as of the May 27 report.
HCHD/EMS reported 237 test results still pending May 27, 210 more than on May 22 report. Overall, 893 met testing criteria put in place by DSHS and the Centers for Disease Control for screening, according to the May 27 COVID-19 Testing Update provided by Smith.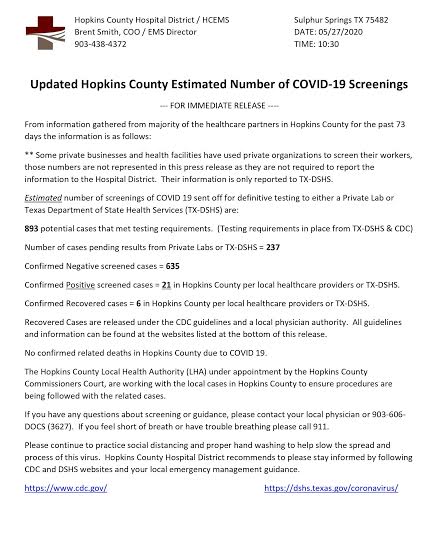 Texas COVID-19 Update
Overall, 229 of Texas' 254 counties have reported positive cases of COVID-19, which is 4 more counties reporting cases than on May 22, according to Texas Department of State Health Services and Texas Health and Human Services COVID-19 case counts data, which was last updated at 4 p.m. May 26.
Overall, 943,239 total tests have been conducted in Texas, with 84,841 antibody tests as of May 26, according to the state report. Texas as a whole has had 56,560 confirmed cases of COVID-19, with 36,375 recoveries and 1,536 fatalities. Of the total active cases, 1,645 lab-confirmed COVID-19 patients were in Texas hospitals, according to the DSHS/HHS data.
In Trauma Service Area F, which includes Hopkins County, 22 lab-confirmed COVID-19 patients were in the hospital, as of the May 26 DSHS/HHS reports.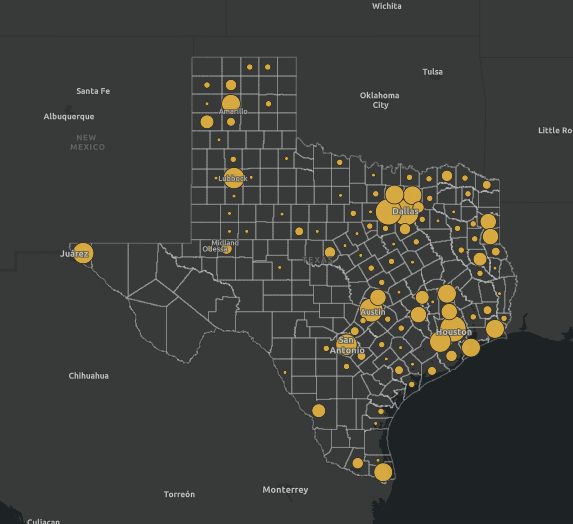 ---