Of the 509 COVID-19 screenings of Hopkins County residents over the last 68 days, 15 have been confirmed through lab-testing as positive, 467 were negative and 27 test results are still pending, according to the COVID-19 testing update reported May 22 by Hopkins County Hospital District COO and EMS Director Brent Smith.
Hopkins County Stats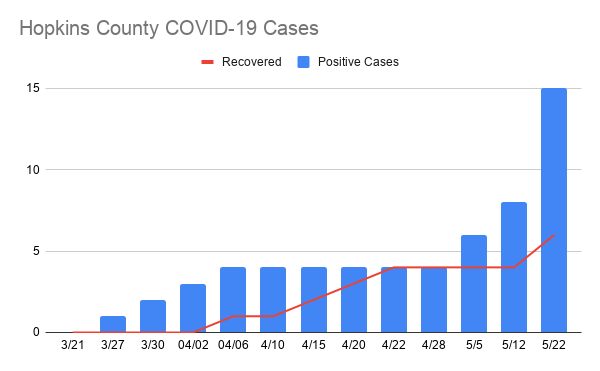 May has been the most active month for COVID-19 cases for Hopkins County, due at least in part to the increased number of people being tested. Testing increased from 181 total screenings sent for testing on April 28, to 301 tests on May 5, 346 test on May 12 and 509 tests on May 22. This number will likely continue to grow as all nursing home patients and staff in Sulphur Springs are being tested, with all screenings due by the end of the day Monday for this group.
Six COVID-19 patients have recovered from the virus, according to information provided HCHD/EMS and Hopkins County Emergency Management Team. The first four patients battling COVID-19 were reported April 22 to have recovered, giving Hopkins County 8 days without any active COVID-19 cases, according to officials. Two additional patients have recovered over the last week from COVID-19.
The county's case count has nearly tripled in May as well, rising from just 4 cases on April 29 to 15 cases confirmed by healthcare providers and Texas Department of State Health Services during the 68 days Brent Smith has been providing regular updates.

The first new confirmed positive cases of COVID-19 reported in Hopkins County since April 4 were reported the afternoon of May 1. Hopkins County officials reported 2 new cases on May 1, then, 1 new case each on May 7 and May 10. Over the last three days alone, 7 new cases have been reported: 3 new cases on May 19, and 2 cases each on May 20 and May 21.
Overall, 509 individuals with Hopkins County addresses had been screened for COVID-19 as of 10:15 a.m. Friday, May 22, 2020. That's 163 more screenings conducted for Hopkins County residents than on May 12.
Since the May 12 update provided by Smith, 147 additional tests have come back negative for COVID-19, for a total of 467 lab-confirmed negative tests as of the May 22 report.
HCHD/EMS reported 27 test results still pending May 22, 10 more than the May 12 report. Overall, 509 met testing criteria put in place by DSHS and the Centers for Disease Control for screening, according to the May 22 COVID-19 Testing Update provided by Smith.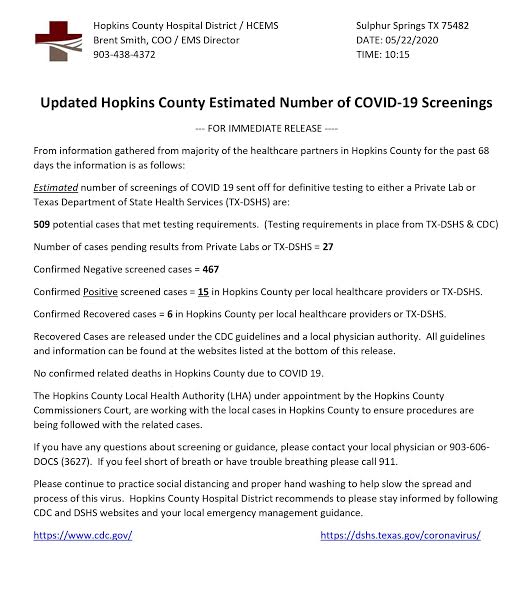 Texas COVID-19 Update
Overall, 225 of Texas' 254 counties have reported positive cases of COVID-19, which is six more counties reporting cases than on May 12, according to Texas Department of State Health Services and Texas Health and Human Services COVID-19 case counts data, which was last updated at 4:55 p.m. May 21.
Overall, 80,433 total tests have been conducted in Texas, with 49,313 antibody tests as of May 20, according to the state report. Texas as a whole has had 52,268 confirmed cases of COVID-19, with 31,223 recoveries and 1,440 fatalities, according to he May 21 DSHS/HHS data.
Some areas of Northeast Texas are doing better than others as far as number of cases reported, and recoveries, with only three counties in the area reporting fewer overall confirmed cases of COVID-19 than Hopkins County.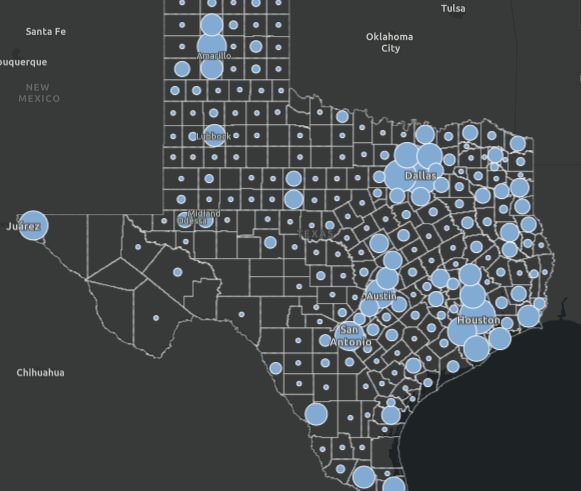 Delta County, as of the 4:55 p.m. DSHS/HHS report on May 21, continued to be the only Northeast Texas counties with only 1 case, and that individual has recovered.
Rains County remained has one more COVID-19 case, for a total of 3 cases total. However, both of the earlier cases have recovered.
Franklin County only had 8 patients as of the May 21 reporting, and three of those patients have recovered from COVID-19.
Rains, Delta and Franklin counties, like Hopkins County have reported no fatalities from COVID-19.
Two additional counties match Hopkins in case numbers, with 15 cases each as of the May 21 reporting data, and no fatalities. Morris County reported 8 recoveries as of the May 21 DSHS/HHS report, up from 9 cases and 4 recoveries on May 11. Marion County had 13 recoveries according to hte May 21 data.
Uphur County as of the DSHS/HHS report had 18 cases, with 15 recoveries.
Red River County's case count rose from 9 cases to 42 cases, with four fatalities and only one recovery from COVID-19, as of the May 21 reporting data.
Camp County's case count increased from 7 cases and five recoveries as of May 11 to 32 COVID-19 cases and 7 recoveries on May 21, according to the DSHS data.
Wood County is up to 22 COVID-19 cases, with 10 recoveries and one fatality, according to the May 21 DSHS/HHS data.
Titus County now has 189 positive cases and 20 recoveries on May 21.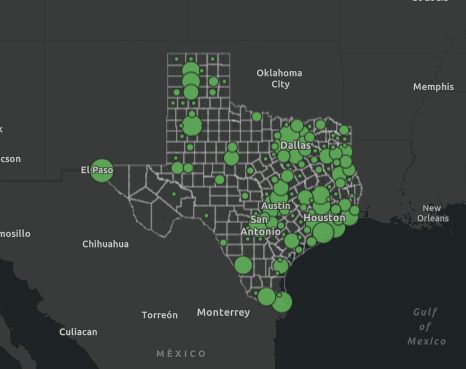 Harris County continues to lead the state with 10,095 confirmed COVID-19 cases, up from 7,878 cases on May 11, and 210 fatalities. Dallas and Tarrant Counties have the second and most COVID-19 cases in the state, with 7,904 and 4,711 cases respectively. Dallas has had 191 fatalities and Tarrant 132 fatalities from COVID-19, according to the May 21 DSHS/HHS data. Dallas leads for recoveries with 4,029 people recovered from COVID-19. Harris County reported 3,914 recoveries and Tarrant County 1,716 recoveries.
The number of other counties across the state that have more than 1,000 cases rose from 5 on May 11 to 7 on May 21: Travis County 2,644 cases, Bexar County 2,322 cases, Potter County 2196 cases, El Paso County 2,046 cases, Fort Bend County 1,621, Denton County 1,161 cases and Collin County 1,090 cases
An additional 340 COVID-19 deaths were reported in Texas in the last 10 days, for a total of 1,440 fatalities reported to DSHS and HHS, as of the May 21 report.
---