Hopkins County Judge Robert Newsom at 8:45 p.m. May 19 reported two additional positive cases of COVID-19 confirmed for Hopkins County, for a total of three new positive COVID-19 cases reported today.
Newsom and Hopkins County Emergency Management Coordinator Andy Endsley said officials have received no background information on the three cases yet. They do know that all three are being treated in isolation.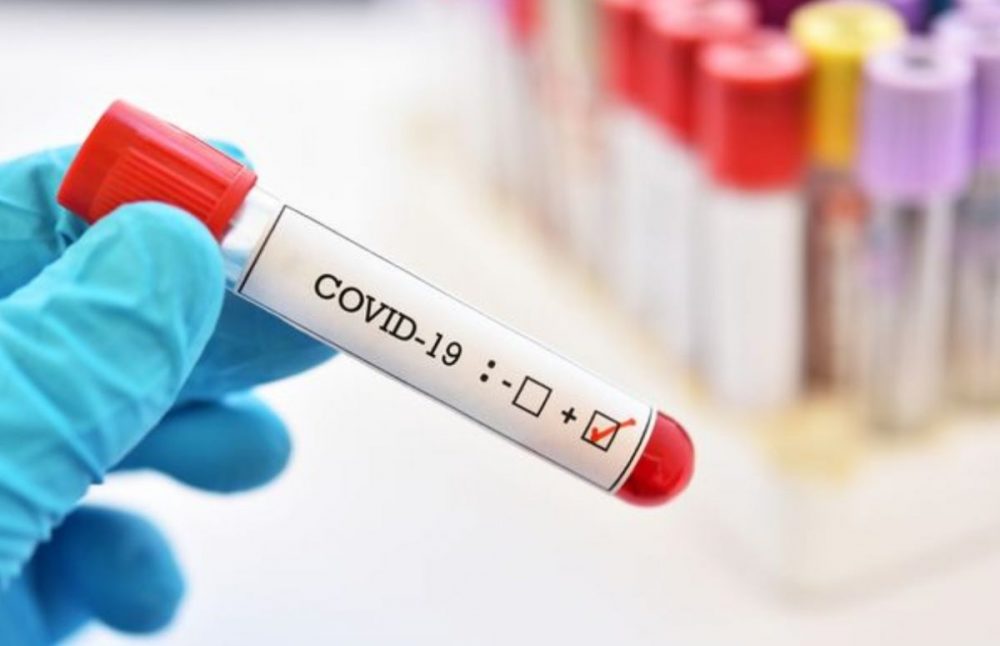 These three new cases were not from among the 107 screenings conducted during the mobile test collection event last Friday at Hopkins County Regional Civic Center. Those test results are still pending, according to the emergency management officials.
The Local Health Authority has a nurse who will be working the cases, trying to obtain background information to "find out where this is coming from," the judge reported.
"We'll have answers, hopefully. We don't get very much. We hope to have answers, to try to prevent any further cases than we have to have," Newsom said.
The three cases today bring the total of COVID-19 cases for Hopkins County since the pandemic began to 11, with five individuals recovered and six cases currently active.
"The way that you figure it changed. We are below the limit still. I believe we are fine at 50 percent for restaurants and businesses," Newsom said. "Nothing really changes as far at that."
The Minimum Standard Health Protocols previously allowed Hopkins County to reopen at 50 percent capacity when many other counties were only allowed 25 percent capacity because it had five or fewer laboratory-confirmed cases on May 1. According to the protocol (listed on the Governor's Open Texas Checklists page), counties that submit the required paperwork to Texas Department of State Health Services, will have to revert to 25 percent occupancy limits only if any of the following occurs:
Five consecutive testing / tracking intervals with positivity rates greater than 12% in that interval.
The county has more than 3 positive cases per 1,000 residents.
Less than 15% of the surge capacity in hospitals for the catchment area is available.
Social distancing, hand-washing and other recommended preventive health practices are especially important to help keep the number of cases in Hopkins County low by reducing potential spread of coronavirus, Endsley emphasized earlier today, when the ninth case was announced.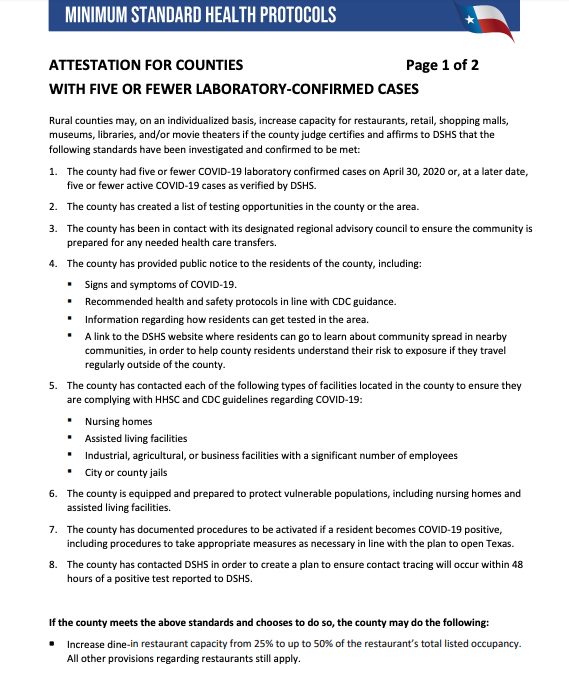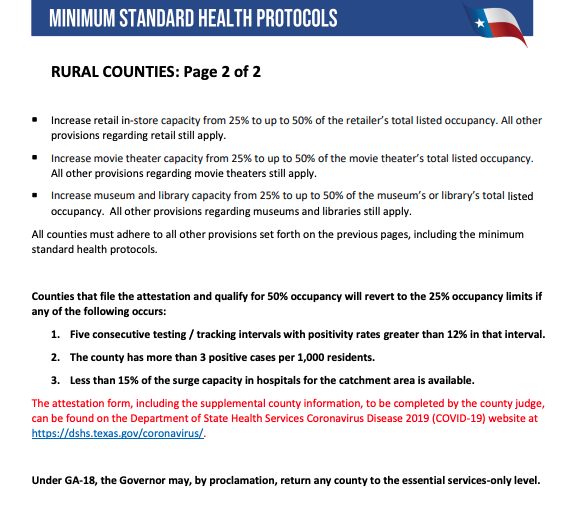 ---