Hopkins County Hospital District COO/EMS Director Brent Smith today reported that after 18 days, a total of 76 potential cases have met the criteria set by Centers for Disease Control and Texas Department of State Health Services for COVID-19 testing. Of the 44 test results returned for Hopkins County as of Thursday afternoon, April 2, three have been confirmed as positive for novel coronavirus 2019, and 41 negative COVID-19 tests for Hopkins County, Smith reported.
As of the last report on Monday morning, 62 tests had been sent off, 16 negative tests returned, 44 tests were still pending results and 2 confirmed positive COVID-19 cases for Hopkins County. One of those pending results came back Monday evening, with Hopkins County Emergency Management officials reporting confirmation of a positive case, bringing the county's total to 3 positive COVID-19 cases.
That means while there have been no additional positive cases reported for Hopkins County since Monday evening, 25 tests did come back negative for COVID-19. It also means 14 additional tests were sent for testing, for a total of 32 screenings still out pending test results for Hopkins County, according to the data provided by HCHD/EMS.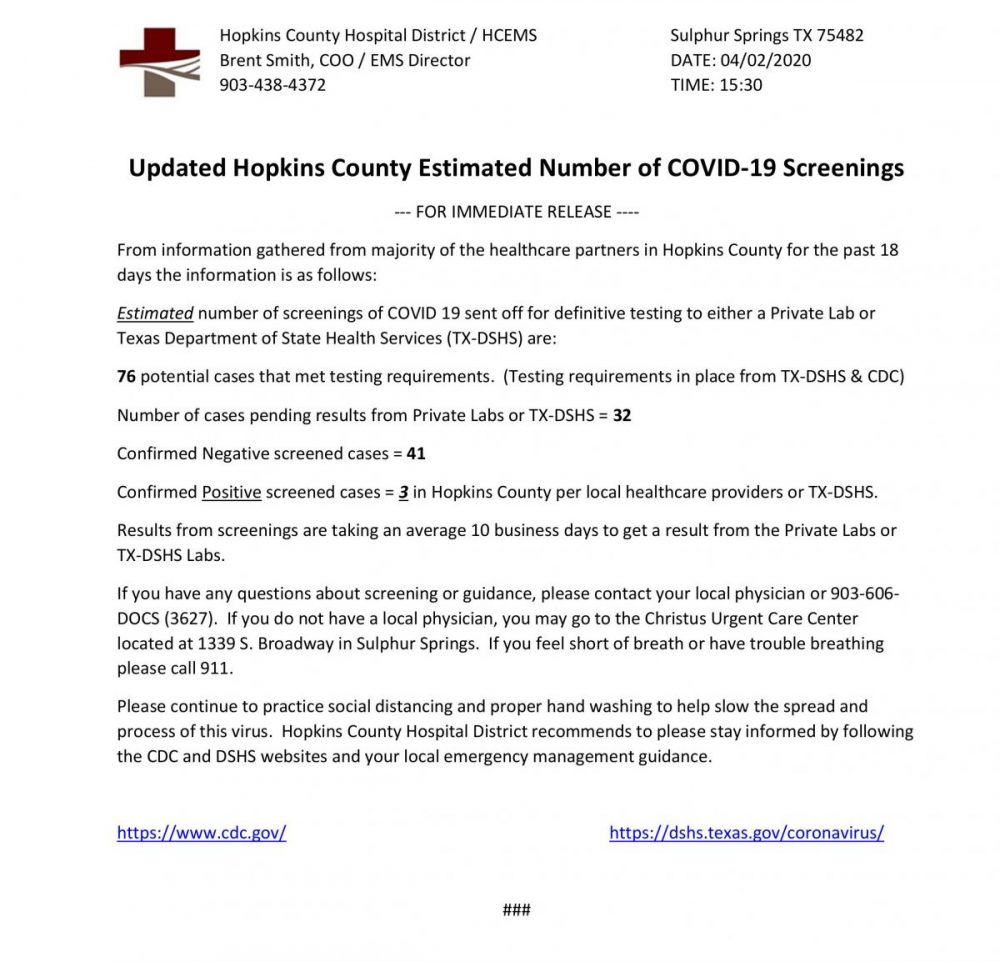 In Texas, 143 of the 254 counties have reported confirmed cases of COVID-19 to DSHS. Throughout the state, there have been 50,679 tests conducted, with 4,669 confirmed COVID-19 cases reported, including 70 fatalities. At least 47.7 percent of cases were male and 45.9 percent female, with information still pending for 6.4 percent of confirmed cases.
The age groups in Texas with the most reported cases are those individuals ages 40-49 years (201 cases), 50-59 (196 cases), 30-39 years (166), 20-29 (152) and ages 60-64 years (100 cases). All other age groups had fewer than 100 cases, according to DSHS.
With the Governor's March 31 Executive Order for Texans to stay at home, stay safe and the extended disaster declaration put in place by the Hopkins County Judge Robert Newsom April 1, local and state emergency officials urge community members to remain at home unless obtaining necessary supplies or active for a job, government or other activity deemed by the Governor to be "essential."
When out for essential business or in groups, all are reminded to observe social distancing — maintain 6 feet between you and other people and reduce gatherings to 10 or less as a precaution. Doing so will help cut down on the spread of illnesses in Hopkins County, and could save lives.
Good hygiene, washing hands with soap in warm water for at least 20 seconds, regular disinfecting and cleaning of surfaces, and avoiding touching the face, and avoiding people who cough or sneeze are also important, according to DSHS and the CDC guidelines.
If you're not sure whether or not your job or business is considered essential? Read the Governor's executive order or follow the steps outlined on the Texas Department of Emergency Management's website (http://tdem.texas.gov/essentialservices/) to see what is and isn't considered essential.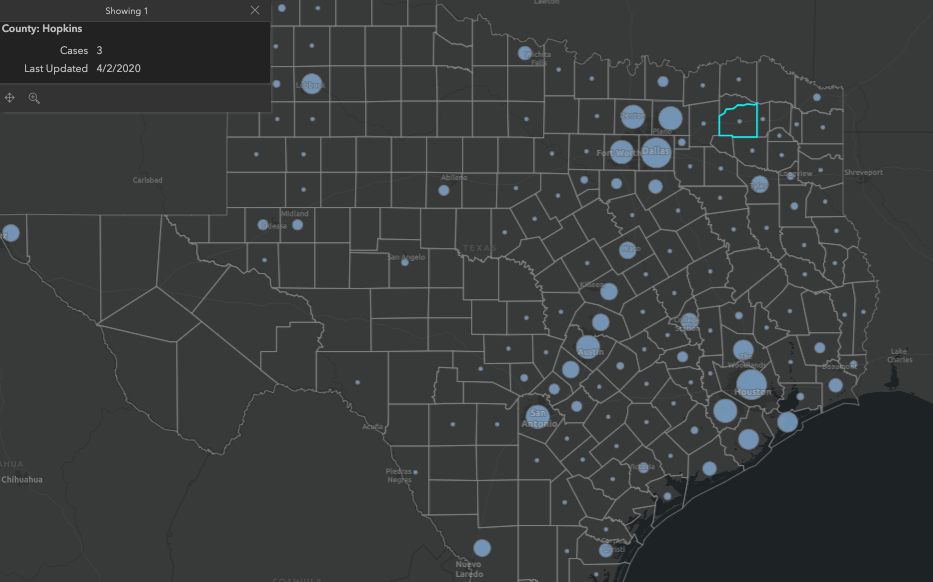 ---