Hopkins County Commissioners Court continue delaying a decision on whether or not to approve an amended public health emergency disaster declaration Monday.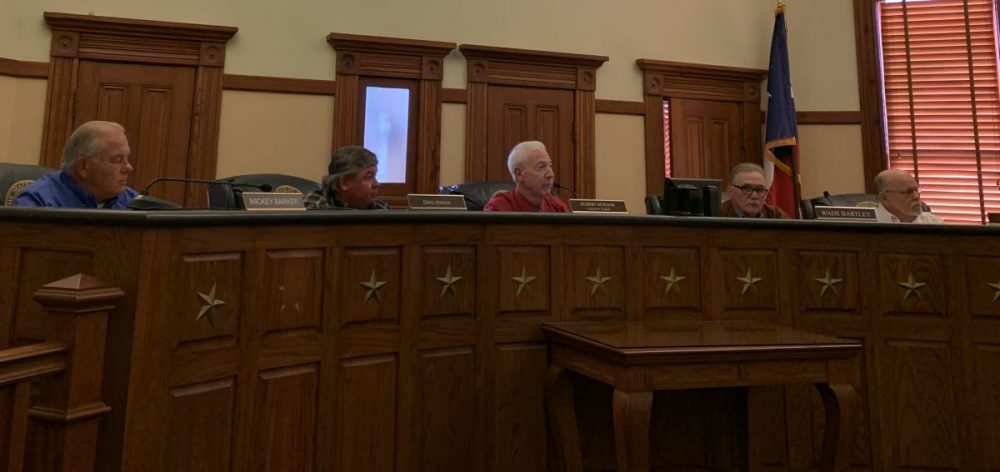 During the morning Hopkins County Judge Robert Newsom initially recommended extending the second amended disaster declaration he put in place April 20 following Governor Greg Abbott's April 17 updated orders related to COVID-19 measures. This would allow it to stay in place reflecting the current orders in place from the state, and could be updated if the Governor in his address this afternoon makes changes to the restrictions. The court then could hold a special session or emergency meeting as needed to update the declaration for those changes.
Precinct 3 Commissioner Wade Bartley asked whether the order needed to be extended this morning to reflect the Governor's previous orders if they very likely will change this afternoon.
Newsom acknowledge that the order for the county would likely need to be amended a third time to match any changes announced at the 2:30 p.m. press conference at the state level.
He said he is very grateful Hopkins County is doing very well, with all four of the diagnosed positive patients well and recovered from COVID-19. The county needs to keep doing well. There have been no new cases in over 3 weeks.
It was pointed out that a nursing home in Paris over the weekend had numerous patients test positive for COVID-19, escalating the numbers for that county significantly higher. While Hopkins County nursing homes and senior citizens hoe have done very well, Hopkins County still must protect residents.
Precinct 2 Commissioner Greg Anglin said while he doesn't want to go against the state order, he feels it is important to get the ball rolling toward reopening all businesses in Hopkins County as soon as possible.
Bartley noted that the businesses hurt worst by the shutdown of all except essential businesses have been mom and pop style small businesses.
Precinct 1 Commissioner Mickey Barker said it is his opinion that the businesses should be responsible for what goes on at their location. Each should be expected to sanitize things regularly. People should wear masks if they wish when going out in public. It should be up to the individual or business what health safety measures they take.
Precinct 4 Commissioner Joe Price said he's taken at least one call from individuals who indicated they were very close to having to go out of business due to the COVID-19 regulations for business closures.
"Is it the government's responsibility to control common sense?" Barker asked.
Bartley said extending the order wouldn't match if the Governor today issues guidelines resending the closures and allowing businesses to open back up.
After the discussion, Newsom's motion and the second to withdraw the motion to extend the amended declaration were taken back. The court entered into recess, with the intent to reconvene after the governor's press conference this afternoon, to determine what if any action will be taken regarding an extension of the public health safety disaster declaration. If no action is taken, the second amended county disaster declaration put on by Newsom last week will expire.
A work session with the various county departments convened in the interim.
The court reconvened in regular session following the Governor's afternoon press conference. They discussed the changes outlined by Governor Greg Abbott in executive order 18, which will start May 1. Retail businesses libraries, museums, dine-in restaurants, movie theaters and shopping malls are allowed to reopen for in-store shopping and business with occupancy limited to 25 percent in each, with options to open up to 50 percent occupancy in counties that have five or fewer COVID-19 cases. Certain guidelines must be followed as well.
Local government operations for permitting, records and document filing services may reopen as well. Golf courses can reopen, and outdoor sports with up to four participants with distancing parameters observed may be reopened. Individuals working alone in an office too may provide services under the new order.
Nursing homes and facilities of that nature will remain closed to visitors during Phase I of the Governor's plan to reopen state services and businesses.
Churches can conduct religious services provided they observe social distancing.
Hopkins County Regional Civic Center General Manager Lonnie Fox asked what that would mean for events at the Civic Center. Most gatherings, especially large gatherings, are still a ways off — until at least May 18 when the Governor said Phase II could potentially go into effect if Texans continues to do their part, observing guidelines, to reduce the spread of COVID-19.
Concern was expressed by the commissioners and judge for some businesses that were not specifically listed to reopen.
The Commissioners Court agreed to once again recess the meeting, which is to resume at 10 a.m. Tuesday, April 28. That will give Newsom and the commissioners more time to delve into the guidelines and potentially recommend and consider approving a second amended disaster declaration in accordance with the Executive Order 18.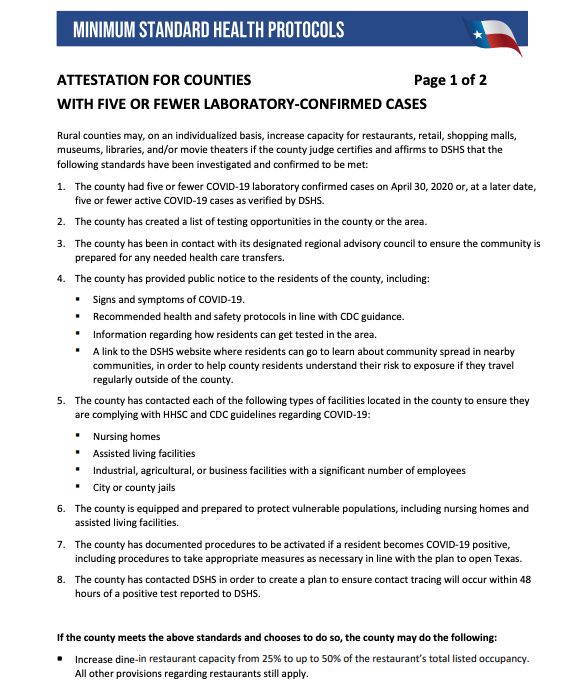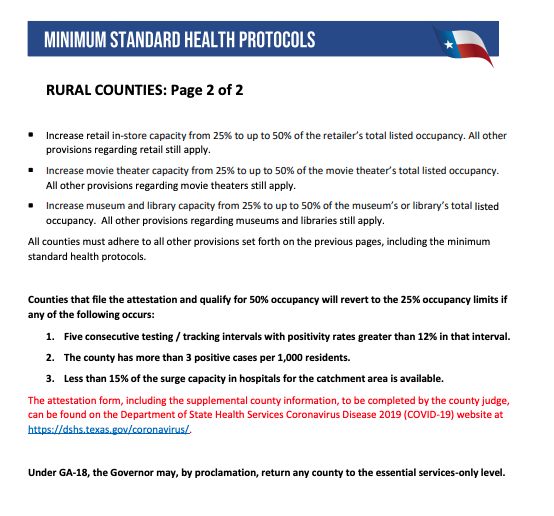 ---