Hopkins County Commissioners Court approved four items related to road and roof repairs, a request to install a water line extension and a plat request during their regular meeting Monday.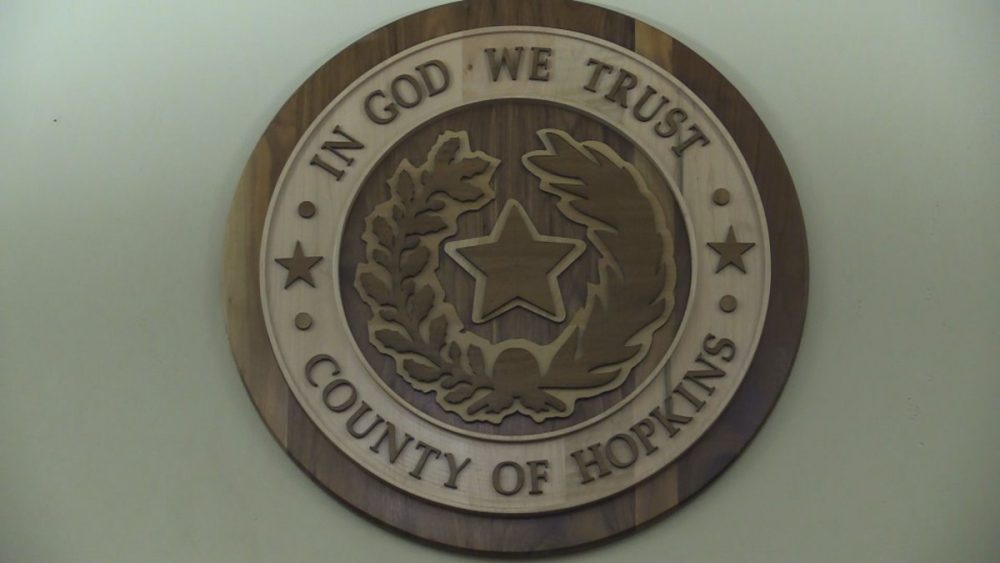 Road Survey
Precinct 3 Commissioner Wade Bartley reported past flooding damaged culverts at one of the creek crossings on County Road 3525. The county had enquired about FEMA funding to help replace the culverts. Funding is awarded for those projects only to restore the damaged area to the "state of being it was in when the event happened."
Larger culverts are needed at the location to adequately handle the water flow through it. Two culverts are needed. Bartley proposed expanding the culerts from 8 feet to at least 10 feet in diameter. FEMA requires a hydrologic and hydraulic study for such requests. To go through the application process, a survey is needed, Bartley explained.
"I think FEMA is pretty well on board to help us with this and the increased cost. We've just got to go through this process," Bartley said.
"That is correct. We have to put it on the agenda and you have to approve this for him to be able to move forward," Hopkins County Auditor Shannah Aulsbrook affirmed.
Bartley acknowledged there may may be some expense of the hydrology study that has t be paid for up front. Aulsbrook noted that if approved for the federal funding, the county would likely be reimbursed for it.
Bartley proposed paying MTG Engineers and Surveyors, a firm out of Texarkana, to conduct an hydrologic and hydraulic study of the area.
Precinct 1 Commissioner Mickey Barker said he has a similar situation in his precinct as well, which he may consider seeking funding for as well.
Bartley made the motion to hire MTG Engineers & Surveyors for the H&H study. Seconded by Barker, the motion received unanimous approval of the court.
Reclaimer Purchase
Bartley also asked the Commissioners Court to consider approving the purchase of a Caterpillar Reclaimer.
The Precinct 3 Commissioner explained that he'd shopped around online for the reclaimer. Sourcewell is a company similar to Buyboard with a purchasing co-op. Through that, he finally ended up working with Holt Caterpillar in Sulphur Springs. They found one locate in Dalhart.
"We have the machine in possession. They delivered it Friday," Bartley said
He proposed using funds raised from the sale of old equipment two months ago for a down payment one reclaimer, then financing the rest to be paid out over time.
Bartley asked the court to allow him to purchase the machine so he "can go to work." The motion received unanimous approval of the Commissioners Court.
Rehab/Paving RFP
The court was asked to consider accepting RFP-2020-002 for reh/paving of county roads.
"We went out for bid for paving on miscellaneous county roads, the county as whole, if you wanted to hire someone to come in and do asphalt paving for you. Mickey kind of headed this up," Aulsbrook said.
Two proposals were received for a half-a-mile of paving, including pulverizing grading and shape it, then, installing a two-inch layer of Type B hot mix asphalt, according to Aulsbrook.. Paul Pogue with Area Wide Paving bid $88,175 and Kevin Mohl with Texana Land and Asphalt bid $98,789.
"I know this is a high price, but what you are getting is worth labor, materials and equipment to lay asphalt with dedicated side and proper runoff, things of that nature," Barker said.
Barker said while it'd be unreasonable to think that the county would, in the near future plan, to do any large scale asphalt paving of county roads, the bids give a good idea of the cost of asphalt paving should a commissioner choose to use it for between one-fourth of to 1 mile of road. By accepting the RFP, the contractor would be available if any of the commissioners opted to have any of their roads asphalt paved.
"It is my intention to try to at least address the first quarter or half mile of all county roads off of main highways, because that is the portion of the road that everyone uses down that particular county road. Therefore, it is worn faster or damaged more so than the rest of the county roads," Barker said, when making the motion to accept the lowest bid for asphalt paving.
The Commissioners Court accepted the bid proposal from Area Wide Paving bid, which each can opt, if they choose and funding allows, to use for potential asphalt paving of county roads.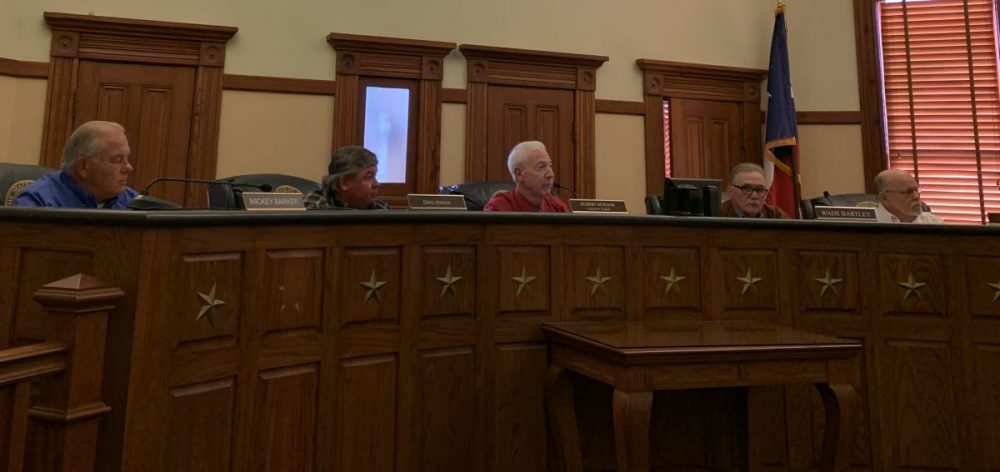 Roof Replacement
The court was asked to approve the $32,622.63 contracted cost of The Horn Brothers Roofing repairing the roof at the Probation Office, located at 228 Hinnant St.
"I went down and looked at it this morning. I thought they did a real good job — painted the trim. It looks good. They lightened the color on the roof a little bit. I make a motion that we accept it," Precinct 4 Commission Joe Price said.
Aulsbrook explained that the county had received insurance proceeds to apply toward the roof repair. Of the $32,622.63 roof repair, insurance will pay all except 7 percent depreciation and $10,000. The county should get the depreciation back after they've proved it's been paid for.
The motion also received unanimous approval of the court.
Water line
North Hopkins Water Supply Corporation asked permission to install a line extension on county right-of-way on FM 71 east at County Road 3605.
Bartley reported he had inspected the area in question, which is within Precinct 3. Bartley said he was good with the request and made the motion to approve the request, submitted as part of the consent agenda, which also included minutes from the April 13 Commissioners Court meeting and work session.
Seconded by Precinct 2 Commissioner Greg Anglin, the full consent agenda received unanimous approval of the Commissioners Court.
Plat Request
Leighton Stevens asked the court to approve plat P. Venables A-1010, which would allow him to divide off small lots on a property he owns, an old shooting range on State Highway 154 outside the city limits.
County Clerk Tracy Smith noted Stevens had presented his application and originals. He received approval from environmental officer Jim Dial and has talked with Barker about the proposed plat change.
"As far as I can tell, all requirements have been met," Barker said.
Dial reported the lot sizings meet OSSF requirements and all lots already have a public access road.
Barker made the motion, seconded by Anglin, to approve the plat request as presented. The motion received unanimous approval of the court.