Hopkins County Commissioners Court approved amended disaster declaration, which will help reopen more of Texas economy starting at noon today (April 28), ahead of the May 1 date issued by the Governor on Monday.

The county declaration adopts all measures of GA-18, the Executive Order issued by Governor Greg Abbott April 27, and refers businesses to the Texans Helping Texans guide book compiled by the state regarding Phase I reopening of Texas. It can be accessed at www.gov.texas.gov.
That means all businesses and operations that meet the terms outlined by the Governor Monday — in-store retailers, restaurants, museums and libraries, movie theaters, shopping malls, etc.. — can reopen under the 50 percent occupancy provision established for counties with five or fewer cases. According to the GA-18, mall food court dining areas, play areas and interactive displays and settings are to remain closed. Local government operations that relate to permitting, recordation and document-filing services can reopen.
Hopkins County Courthouse is open. The annex buildings continue to be closed until Dallas and Rockwall Counties reopen their offices or Hopkins County is able to install more protective measures for the clerks at those county offices, according to the county judge. Otherwise, the offices will continue to operate as they have since the lobbies were closed to the public last month.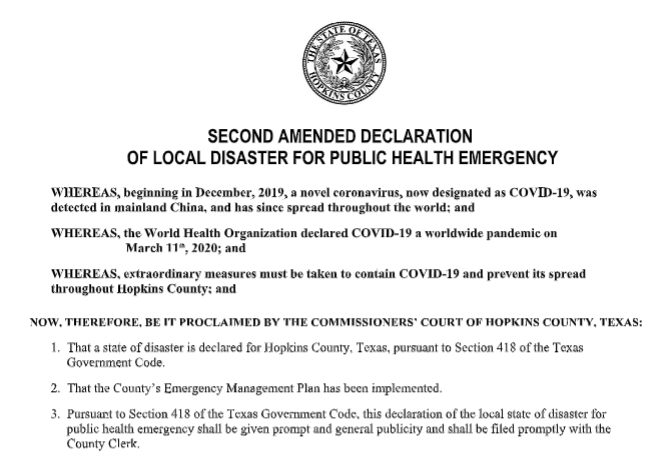 Sulphur Springs City Manager Marc Maxwell Tuesday morning reported the City Hall and the water building office are going to reopen. The water treatment plant, wastewater treatment and public works buildings will remain closed at this time. Social distancing practices will be observed for safety of staff and community members. That means people can expect to see city staff with masks and gloves when they pay their water bills. Those who can are still able and encourage to use the online payment options.
The municipal court will be partially open. People will be able to come in and talk directly to clerks at Sulphur Springs Municipal Building, according to Maxwell.
However, courts proceedings in the Justice of the Peace and Municipal Court that are not imminently necessary are still pushed back until June 1. Some things that can be handled by Zoom conferencing are being allowed. However, because not everyone will have access to this online option, it is not required, according to the justices of the peace.
The city police and fire department lobbies will remain closed, as these are the city employees "most critical during time of pandemic," according to the city manager. Should there be an increase in cases, these are the individual who are on the front lines in the community. This measure will help protect them when they are not out on priority calls.
Hopkins County at the time the disaster declaration was passed Tuesday morning had only four confirmed COVID-19 patients. The county also had no additional cases reported since April 4. All four of the patients had recovered from COVID-19 as of last week.
The county local public health emergency disaster declaration, however, again includes a provision for "locked businesses," which could allow additional local businesses to operate.
The provision applies to any business with less than 10 employees to remain locked to the public at all times, but to be open by a key or appointment only. All individuals inside the business would have to observe safety precautions. The declaration specifies:
All individuals inside the business must remain at least 6 feet distance from all other individuals.
If it is necessary for the business operator to be closer than 6 feet to the client, the operator must wear a protective mask.
All equipment used by the business operator or client must be sanitized between uses.
All business operators must exercise proper hand sanitizing at all times.
The Commissioners Court said that could mean businesses such as Daron Bilyeu's Sulphur Springs ATA could offer services as a closed business, provided all other conditions are met.
Bilyeu, prior to the official signing of the disaster declaration, asked the court to consider the impact their decisions would have on many other small businesses including those offering martial arts, dance and gymnastics. He said for 6 weeks his business has been closed to the public. He has been able to offer some services online via Zoom, but has seen a sharp decline in students, which impacts his business financially. Not only does his business offer the services, but they are an outlet for youth who need things to do now that they are not in a traditional classroom.
Bilyeu asked for some guidance and clarification as the Governor's Order did not expressly address his type of business. Sulphur Springs ATA had already implements several health safety measures in the normal course of business and had planned additional steps to fit COVID-19 guidelines, including reducing the class sizes to fit the distancing criteria. Industrial grade cleaners are used to disinfect after each class. Students work in a big area. Parents would be asked not to enter the building, and they numbers would be kept in accordance with the law. Families with adults age 65 and over who raise children will be encouraged to remain at home, and students not comfortable with attending at this time would still be able to receive online services.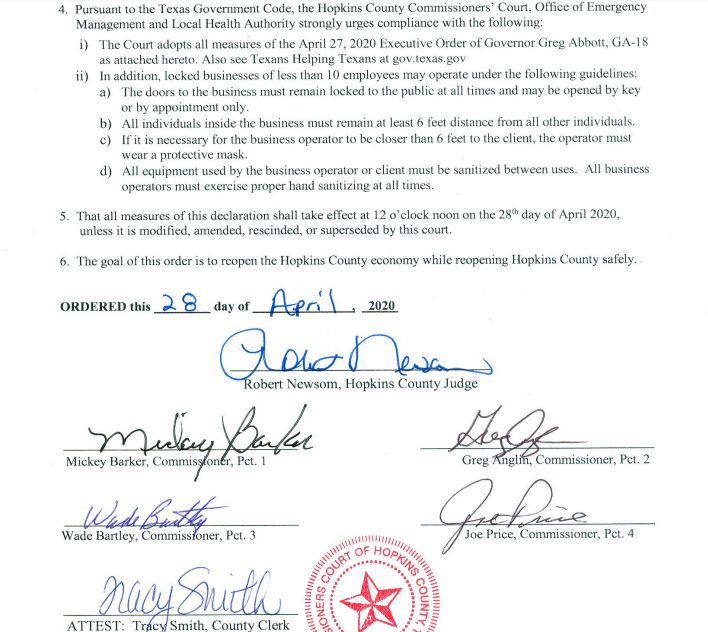 County Judge Robert Newsom said the decisions were not made lightly, but after being up much of the night, and taking into consideration the many calls and messages he and the court had received regarding the impact of the declaration on local businesses.
Newsom said he also consulted with the county attorney regarding the potential legal aspects of the declaration, and taking into account the plans issued by both the President and Governor to re-open the country and state, and the Texans Helping Texans guide issued by the state.
County Attorney Dusty Rabe said this could leave up to hair salons whether to open as a "locked business" not open to the public but available by appointment provided all protocols are followed. She said she feels local law enforcement would not impose any penalties, but could not speak for administrative licensing oversight. They could potentially face administrative licensing fines, but with the county order in place and all protocol followed, did not see any local criminal cases being filed.
"The Court must follow the Governor's directive. However, some of the directives are open to interpretation. If done well, you can keep citizens safety in mind while balancing economic impact," Precinct 1 Commissioner Mickey Barter said.
Texas Department of Licensing and Regulation at about 3 1/2 hours later, however, issued a clear warning that cosmetology salons, nail salons, estheticians, mini-salons and massage therapy establishments are to remain closed.
While some contend some of these businesses can be considered sole proprietorships, TDLR, stated clearly, even these types of salons and establishments that are sole proprietorships, are to remain closed, as specifically stated in the Governor's Executive Order GA-18 on April 27. As stipulated in GA-18, the Governor's Order overrides all local and county orders, TDLR reminds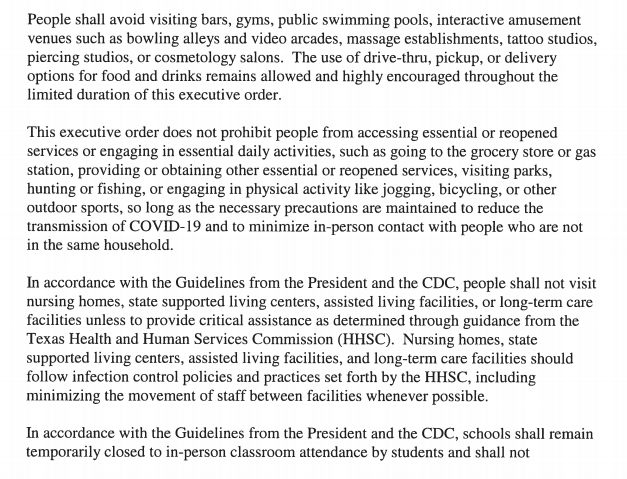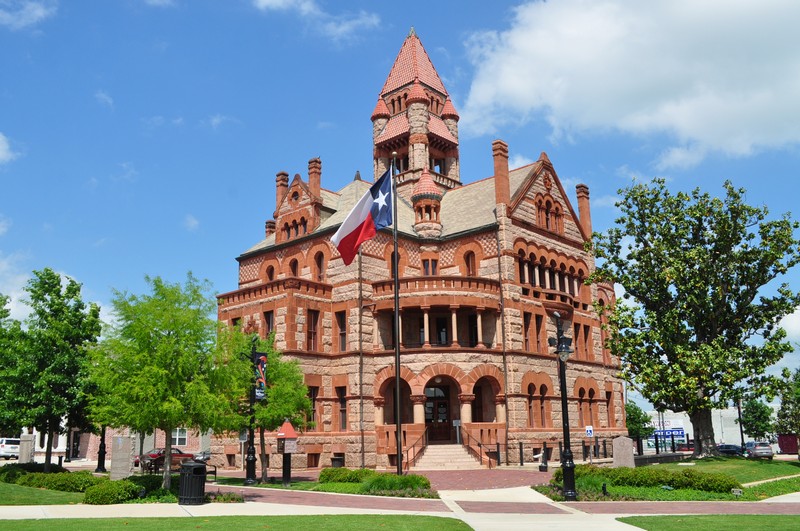 ---