Law Enforcement Academy Makes its Debut at A&M-Commerce
COMMERCE, TX—Texas A&M University-Commerce recently entered into a five-year agreement with the Hunt County Sheriff's Office to provide a law enforcement academy on campus.
The academy relocated from its previous location at Paris Junior College. Dr. Mark Rudin, A&M-Commerce president; Captain Daniel Looney, Hunt County Sheriff's Office academy training coordinator; and Louis Lufkin, A&M-Commerce academy liaison and instructor, signed the agreement on March 2.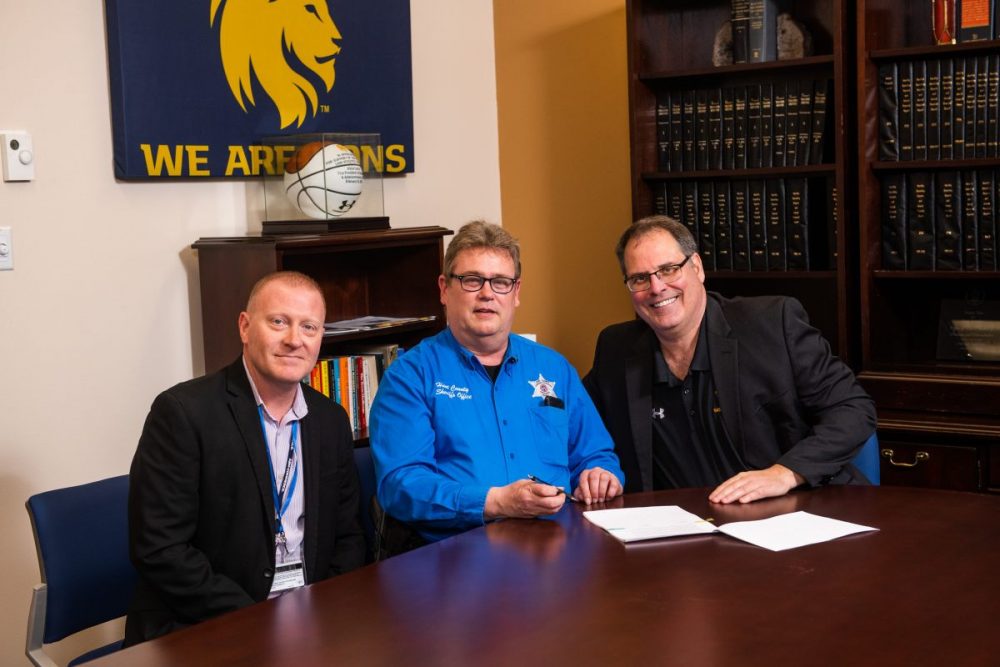 The Hunt County Sheriff's Office Law Enforcement Academy is licensed through the Texas Commission on Law Enforcement (TCOLE) to prepare new law enforcement cadets for state licensing exams. The academy consists of around 40 mini-classes within the larger program.
Currently, about 20 students are enrolled, but additional students are expected to sign up before the March 16 start date. The seven-month training program will be held at A&M-Commerce every week on Monday through Thursday evenings from 6 p.m. to 10 p.m. and every other Saturday from 8 a.m. to 5 p.m.
The academy's new home on the A&M-Commerce campus will provide a convenient, centralized training location for aspiring law enforcement officers throughout Northeast Texas. According to the written agreement, students will also have the opportunity to "achieve their educational and professional goals with the added name recognition of a regionally accredited A&M System school."
If they choose, academy graduates may continue into a bachelor's program at A&M-Commerce. In fact, licensed basic peace officers can receive up to 30 college credit hours toward a bachelor's degree in criminal justice.
The university's competency-based Bachelor of Science in Criminal Justice is a flexible, affordable online program designed for working adults. "Once cadets finish the academy and receive their peace officer license, they can complete their bachelor's degree in criminal justice in just a year or 1.5 years at A&M-Commerce," Lufkin said.
For more information about the law enforcement academy, including how to sign up, contact [email protected]
#
About Texas A&M University-Commerce: A&M-COMMERCE serves rural and metropolitan East Texas with distinction, consistently delivering on a promise that our founder, Professor William Leonidas Mayo, made more than a century ago: "No industrious, ambitious youth shall be denied an education if I can prevent it." We are committed to our university's mission: Educate. Discover. Achieve.
Programs are delivered on-site at the Commerce campus as well as in Corsicana, Dallas, McKinney, Frisco and Mesquite. Many courses are also available online. Students may choose from more than 135-degree programs at the bachelor's, master's and doctoral levels. A vibrant student life experience includes 14 NCAA Division II athletic teams, a thriving Greek system and more than 120 student organizations.
About the A&M System: The Texas A&M University System is one of the largest systems of higher education in the nation with a budget of $4.69 billion. Through a statewide network of 11 universities and seven state agencies, the Texas A&M System educates more than 150,000 students and makes more than 22 million additional educational contacts through service and outreach programs each year. System-wide, research and development expenditures exceeded $996 million in FY 2017 and helped drive the state's economy.