Texas COVID-19 impact as of March 24, 2020: 13,235 tests taken, 715 positive results, 65 of 254 counties have a positive case, 11 deaths reported
The Texas Department of State Health Services this evening announced it is updating its method of reporting COVID-19 cases in Texas. In order to provide more timely information, the DSHS daily case count now includes all cases reported publicly by local health departments around the state. With the change, Texas is now reporting 715 cases of COVID-19, according to the DSHS release.
"We want to make sure the public and local leaders have the best possible information in one place as they make decisions about COVID-19," said Dr. John Hellerstedt, DSHS commissioner. "This new method allows us to share case counts faster."
DSHS previously received its case information from official case reports provided by local jurisdictions and validated each case before adding it to the online count. That process allowed DSHS to confirm case details but led to slower reporting, the state agency reported Tuesday evening.
Tuesday, March 23, DSHS reported 13,235 tests have been sent to labs, 1,758 to public, 11,477 to private labs. Of the 715 positive cases so far, 11 people have died.
Only 65 of the 254 counties in Texas have received confirmation of at least one positive COVID-19 case, including Hopkins County. Dallas County leads with 131 positive cases reported so far, followed by Travis County with 79 patients, Bexar and Tarrant Counties 57 each, and Harris 54.
Quite a few other North and East Texas counties, aside from Dallas and Tarrant, had received reports of positive COVID-19 cases by Tuesday as well.
Counties showing positive coronavirus case reports in North and East Texas include:
Smith County 14;
Collin County 34;
Denton County 30;
Ellis County 7;
Johnson County 3;
Kaufman and Rusk Counties 2 each ; and
Hopkins, Hunt, Lamar, Van Zandt, Fannin, Bowie, Cass, Upshur, Morris, Grayson and Gregg Counties, 1 each.
Counties in the North and East Texas area with no positive COVID-19 reports according to the March 24 DSHS report included Delta, Titus, Franklin, Wood, Rains, Camp, Rockwall, Red River, Panola, Marion and Harrison.
The updated case counts are available in a new interactive map linked at www.dshs.texas.gov/coronavirus.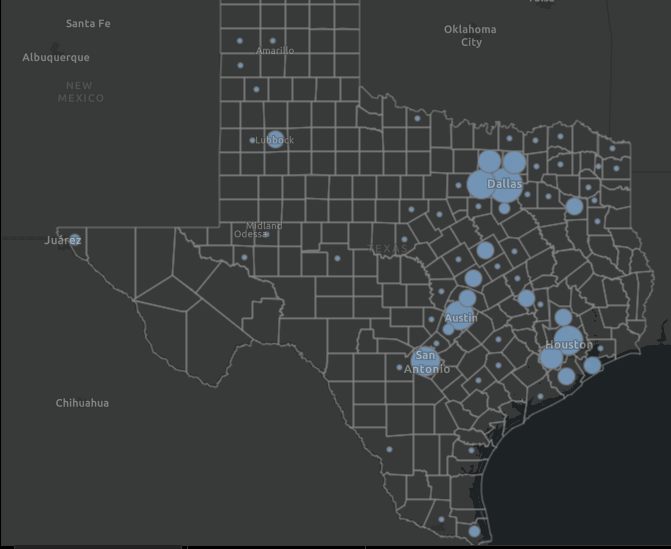 ---