Scholarship Fund Established In Memory of Sam Kopal
The Way Bible Church will open their doors at 6 p.m. Wednesday night, March 11, to provide a safe place for youth to gather together and grieve the death of Sam Kopal. The Sulphpur Springs youth died Tuesday afternoon as a result of an all terrain vehicle crash in Oklahoma.
In response to the outpouring of concern and desire of community members to do something for the family, the Sam Kopal Scholarship Fund has been established. In lieu of flowers or plants, donations may be made electronically to the Sam Kopal Scholarship Fund on the Sulphur Springs ISD Education Foundation website, or a check may be made out to SS Education Foundation, SSISD, 631 Connally St., Sulphur Springs TX 75482.
A visitation is planned Thursday, March 12, from 6 to 8 p.m. at Murray-Orwosky Funeral Home in Sulphur Springs for Sam Kopal. A funeral service is scheduled at 1 p.m. Friday, March 13, in the Sulphur Springs High School Auditorium, 1200 Connally St. (at the Civic Center). The graveside service will be a private family service, The Way Bible Church reported Wednesday morning.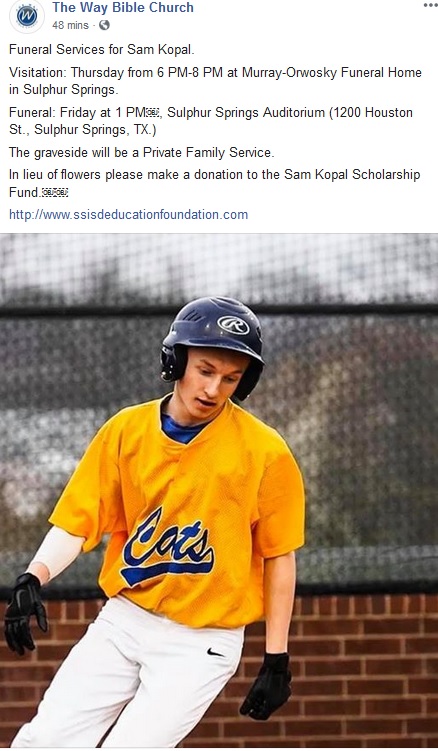 The Kopal offered to "friends and family, and the community of Hopkins County" on Chad's business page "deepest gratitude for the outpouring of love and support that each of you have shown over the last 24 hours in response to the loss of our Sam Kopal. The Kopal family wants you to know that your messages, phone calls, and texts have been greatly appreciated. The strength this community shows during times of sorrow is a testament of the love we have for each other."