All three Republican candidates for Texas House of Representatives District 2 weighed in Monday on a number of current issues, including Second Amendment rights, agriculture, illegal immigration, abortion, property taxes and appraisals, and campaign finance.
The three candidates participated in Hopkins County Republican Party's Presidents' Day Forum and fundraiser, for which more than 400 tickets were reportedly sold. The event also featured a forum for Hopkins County Precinct 2 Constable candidates, a State of Texas update from Senator Bob Hall and the Rev. Rafael Cruz as keynote speaker.
The evening too featured a silent auction, live auction called by Precinct 3 Commissioner Wade Bartley the singing of the national anthem by Alina Tatum Sanders and God Bless the USA sung by Precinct 2 Justice of the Peace Brad Cummings, invocation by County Judge Robert Newsom, pledge by 8th Judicial District Judge Eddie Northcutt, welcome by Hopkins County GOP chairman Donnie Wisenbaker.
A tasty meal which included chicken, mashed potatoes, green beans, a roll, salad, fruit and other items, plus choice of dessert was prepared and served by North Hopkins ISD Culinary Arts students and the Spragues.
For the Texas House of Representatives District 2 forum, each candidate was given time to briefly introduce himself, then given a time limit to respond to each of the eight questions presented by the moderator, Northcutt.
In his introductory statements, Rep. Dan Flynn noted working with commissioners, the hospital, Chamber of Commerce and schools during his tenure as the District 2 representative. He said he'd participated in all pro-life bills in the House while in office, passed may Second Amendment bills and has an A+ rating the the NRA, helped pass Legislation protecting women and wrote the Heartbeat Bill.
Challenger Bryan Slaton in his introductory remarks said he needed "do a little housekeeping." He said contrary to some social and media publications and mailings some had received from an opponent, he is does not want to take away retired teachers' pensions.
Challenger Dwayne "Doc" Collins in his opening statements, said he is seeking the office because he does not like the what the Republican Party has been doing; that grassroots priorities are not being addressed despite a Republican majority in the Senate and House. He pledged to "stand strong for grassroots" if elected.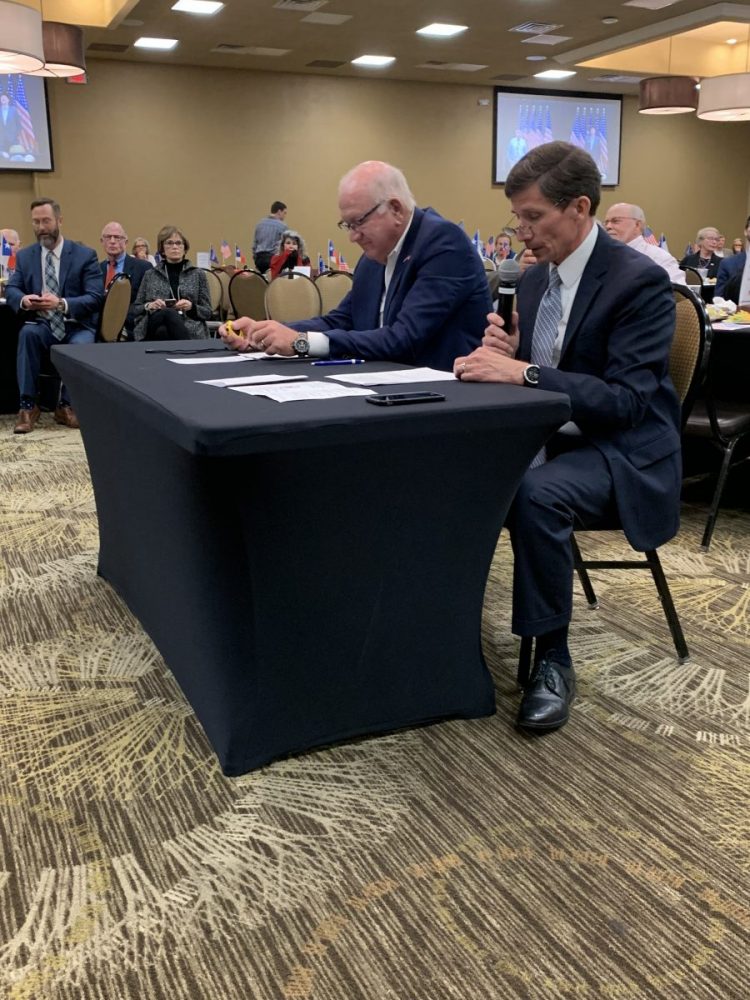 Questions posed to the candidates were previously submitted by individuals via the Internet, text or written. Questions were chosen by a committee to make sure no personal attacks were made.
All three candidates answered each question before the next was posed, with start order determined by drawing and alternating thereafter, with the first person in each round allowed 30 seconds at the end of the round to provide a rebuttal, should he choose to do so.
Second Amendment Rights
Two of the eight questions addressed to the three candidates focused on Second Amendment Rights.
First, each was asked their opinion of licensed carry versus constitutional carry, whether they are for or against either, and why.
Rep. Dan Flynn noted he is an A-Plus with the NRA and TSRA.
"The NRA is working on a group of bills that would address the Constitutional Carry. I'm going to stay hard with them. Those are the people that have kept 2nd Amendment strong, and I will always support what they do, because the people of this district have asked me to do so," Flynn said.
Challenger Bryan Slaton said he is 100 percent for Constitutional carry. He pointed out that Texans do not have to pay a fee to exercise 1st Amendment rights and said he believes no one should have to pay a fee to exercise Second Amendment rights either.
"Thirty states have either all or some portion of Constitutional carry passed. In fact, you go into Oklahoma and constitutional carry all the way into Canada. Texas, couldn't to a major hearing on that bill. I am 100 percent for constitutional carry," Slaton said.
He said there are problems with Republican leadership giving power to the Democrats.
"Our constitutional carry is a legislative priority in our Republican Party platform, so I am always 100 percent constitutional carry, and I also think we have to do the smart things in leadership down in Austin to make sure they are not killed by a Democrat," Slaton said.
Challenger Dwayne "Doc" Collins also is in favor of constitutional carry and a need for strong Republican Party membership, who are willing to "step forward and be strong and call out a wrong and do something about it."
" I am definitely for constitutional carry. That is a right granted to use by the U.S. Constitution. And, that is a priority that we had this last legislative session. But it did and never got considered, and should have been. I'm definitely, I am strong for the 2nd Amendment and  as Bryan pointed out it seems like we aren't strong enough," Collins said.
Each candidate was then asked whether they support Red Flag law. They were asked to explain why that's their stance. And, if the candidate does not support it, if he would pledge to vote against that type of legislation if it comes before the House if elected.
Slaton said he is 100 percent against Red Flag laws."
"These Red Flag laws, anybody can just say anything about you, and you've lost all of your rights, not that you've done anything wrong. I'm going to tell you right. The least you're going to get from me is a no against Red Flag laws. I promise you I'll be the biggest fighter in Austin. I'll thrown the fit you would throw if you were hired to go down to Austin and represent House District 2 and they try to push Red Flag laws. It's not happening with anybody in House District 2," Slaton responded.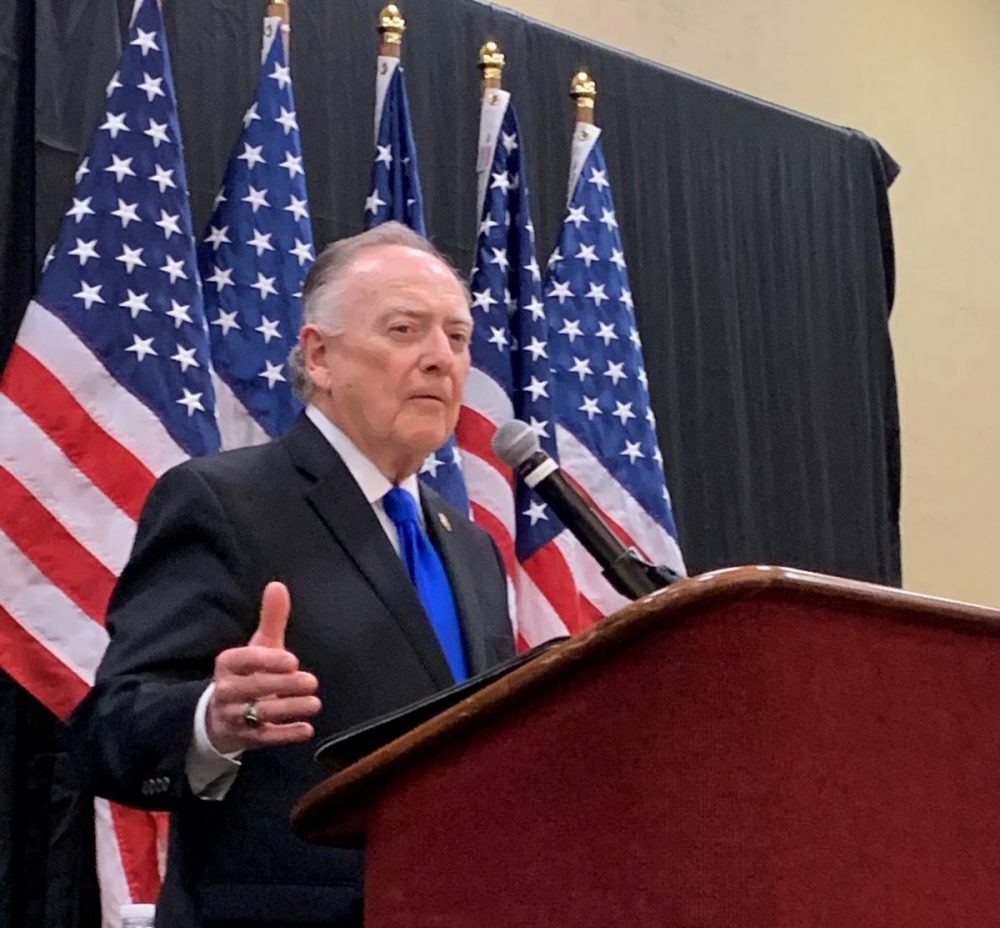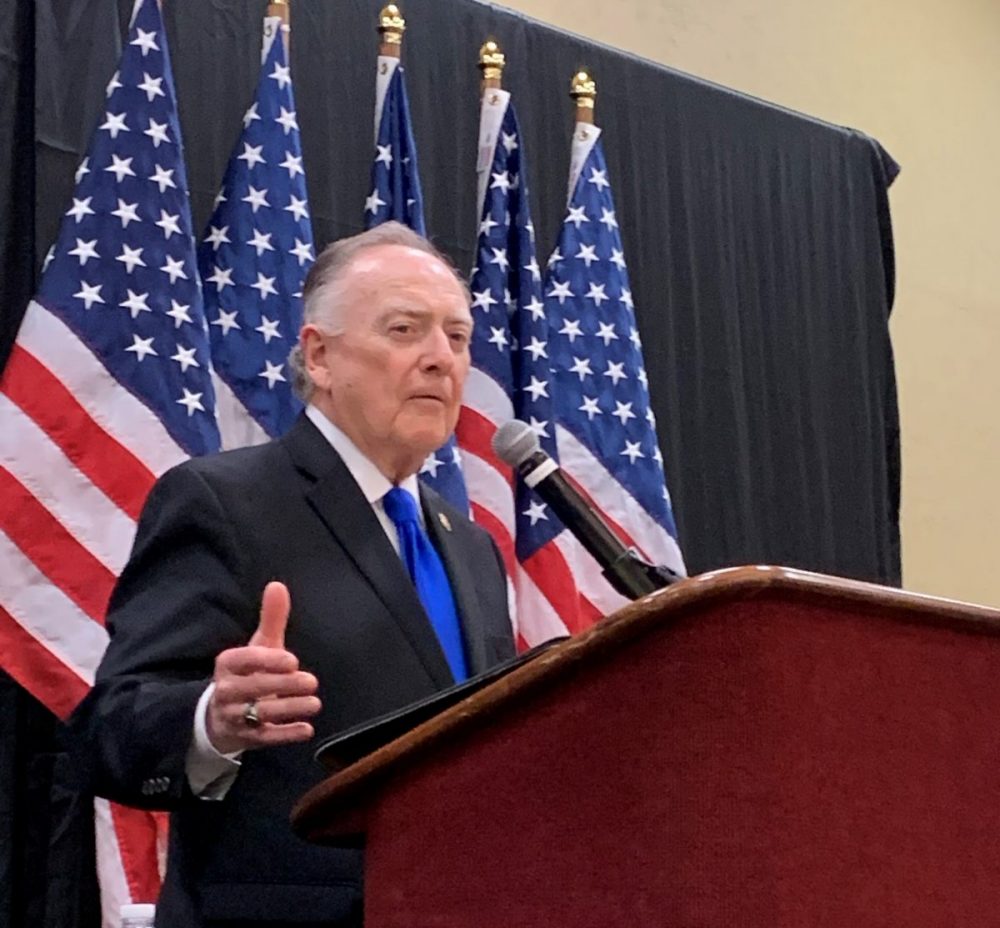 Collins said he sat for six hours "listening to the House Committee on Red Flag Laws," in order to speak for 3 minutes on the subject.
"I cautioned them that Red Flag laws can be misused and our due process can be circumvented. So, I am very cautious about any type of Red Flag laws being passed. But, it's just like any laws, it's who is administering those laws, who is looking after them. So, we have to be very, very cautious about Red Flag laws. I am very skeptical about Red Flag laws period," Collins said.
Flynn said he too is "totally against" Red Flag law. He said he, during the last legislative session, had the opportunity to make sure it didn't go forward. That, he said, is why "it became an issue for a committee to study in the interim."
"I'm opposed to it. I don't see any way it would pass in Texas. Texas is still a strong Second Amendment state. The NRA and TSRA are always real strong to protect our 2nd Amendment rights. I will always fight against any Red Flag law to this constitution," the incumbent noted.
Agriculture
Each candidate was also asked what they think should be done about feral hogs, which are a huge and rapidly growing problem.
As a ranch owner and veterinarian, Collins said he agrees there is definitely a problem. He says he's often out at night with a night vision scope and AR "tending to business, chasing them off."
Collins said Texas A&M University is "doing a lot of research," and had "come out with a bait that was effective." However, animal rights activists expressed concern other species besides the hogs would be poisoned.
"We need to address that issue. It is huge financial burden on farmers. Anybody in here that's a farmer, you know what I'm talking about. So, I feel like the state needs to do more. We need to address this situation, turn it over to the people that develop these poisons and these things to control the hogs," Collins said.
Flynn said he too as a rancher realizes the feral hogs are a "major problem," messing up pastures, creating problems in creeks, ponds and lakes. He said he's voted for helicopter hunts, and has had shoots on a regular basis on his property.
"We do have lots of opportunities to have hunts and Texas A&M has worked on that. I don't know if they've perfected that yet, but I would always protect that because they are a major problem," Flynn said.
Slaton said the answer to the problem is to go hunting more, fathers and sons taking more time to hunt and kill hogs.
"We've got to do it. We've got a bad problem. We do have to have that culture. We do have to be willing to hunt," Slaton said.
Slaton also suggested passing a law which would allow Hopkins County jail to process feral hogs shot by others and sold to jails or other people. He said while the sheriff is doing a "fantastic job" with jail programs, processing feral hogs in not allowed by the state.
"There's a lot we can do. We just have too much regulation here in Texas. I don't think we have enough Republicans willing to put their money where their mouth is and actually do conservative things," Slaton said.
Taxpayer Funded Lobbying
With $77 million reported by the Ethics Commission to have been spent by municipalities and school districts to have someone lobby for them, a bill was passed in the Senate but killed in the House during the last session. Each candidate was asked, if elected, whether he would support or oppose a bill to end taxpayer funded lobbying by registered lobbyists similar to the bill passed by the Senate and defeated by the House? Each was also asked to explain why that's their choice.
"The bill that didn't pass in the House; it was pulled down by it's own author who was a supporter for Empower for Texas. He pulled it down because the bill got so convoluted," Flynn answered.
The incumbent said his office had contacted all 30-plus school districts in District 2, and found only one district that spent $4,000 on lobbying. The remaining districts that lobbied did so "through their own process."
"Every county commissioners court and judge called me and asked me to not support that because they believe it would be detrimental to budgets. So I authored an amendment to cut out all of our cities. The biggest problem is for those that spent immense amounts of money. I think for us and our district it would be detrimental to us and I'll continue to work with the people of House District 2," Flynn said.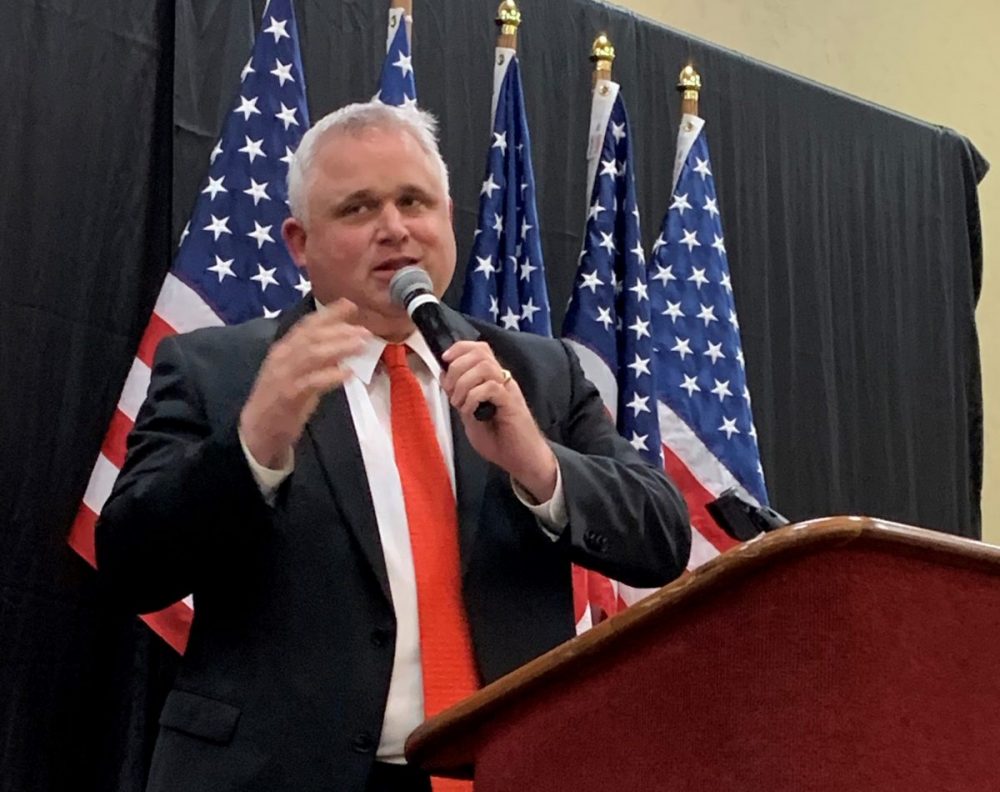 Slaton said taxpayer funded lobbying "is as bad as it sounds."
"Taxpayer funded lobbying, banning taxpayer funded lobbying is in our Republican Party platform. It is a legislative priority I would not vote for the Democrats elected. It needs to to end," Slaton said.
"The thing that the taxpayer funded lobbyists are doing with that money, your money, you want your property taxes lower. But, if the city and everybody wants to keep taxpayer funded lobbying, they've got to make sure they have room in the budget for these people to go down to Austin and lobby against things that are important to you," Slaton said.
Collins too said he believes "taxpayer funded lobbying needs to stop."
"They use that money to further their cause, to further their agenda and are using our taxpayer money to do that," Collins said. "Ninety-one percent of the voters are against taxpayer funded lobbying."
Collins said elected officials should be the advocate for the communities they serve.
"Your representative down in Austin is that House Representative, that Senator. That's the ones you need to go to. You don't need to hire that extra lobbyist to promote your cause down in Austin. So, I am definitely against to taxpayer funded lobbying," Collins said.
In rebuttal, Flynn said, "I don't think they have all their facts, period. I think that you look say and lay everything on the lobbyists. Remember, the lobbyists are people that YOU fund: real estate people, hospital people, our healthcare people, our transportation people. That's who is working for you."
Illegal Immigration

Each candidate also was asked what he would have done or proposes to do to stem citizens' concern "over the continued influx of illegal aliens."
Slaton said leaders he believes the benefits which draw illegal immigrants to Texas should be cut.
"We want to get rid of this stuff that is a magnet to those who would come here , the fair-weather criminals. There's some that come across the border. They may not be violent people. They may just want the free education, free healthcare, free handout. As long as we're giving it out, they'll come get it. We should end those. That's what I would be a part of and fight," Slaton said.
Collins too said "all the social services that we provide these illegals, they are magnets to come across. We need to end this handouts. We need to discourage the people from coming over here."
Strong border security is also needed, according to Collins. The candidate said he and other members of Texas Border Volunteers station themselves "out in the cactus and the sage" watching for people entering the country illegally. Those they find are turned over to the Border Patrol.
"It's worse than what you think it is down there. The more that we encourage people to come across, the more they're going to come across, putting the burden on our school system. It's putting a burden on our law enforcement and it's putting a burden on our social services. And, we need to stop it. I"ll be down in Austin to definitely propose bills to shut that thing down," Collins said.
Flynn said as chair of the Defense and Veterans' Affairs Committee he has been to the border in many capacities, including on a helicopter survey and a gun post surey.
"The state of Texas has spent almost $2 billion because the federal government did nothing. As far as the Department of Public Safety, the game wardens, local law enforcement, they have worked hard to be able to do that. A lot of federal law overrides and they have to let them in at times," Flynn said.
Addressing what he called "vigilante or militia groups down on the border," Flynn quoted Steven McCraw, director of Texas Homeland Security DPS as saying "the militia are not working in concert with nor are they employed with DPS. Any acts by these militia groups are independent of any law enforcement operations and they hamper our operation and our opportunity to do our job."

Slaton called illegal immigration a serious crisis at the border, that requires "all hands on deck."
"The government's not going to take responsibility as it should. We need everyone to help," Slaton said, adding, "What I've been saying, is the Texas Rangers have worked themselves out of jobs 5 times in our history. They're down there, but they need to be turned loose by our Governor to help secure our border. They can work themselves out of a job. They can do it. They are capable."
Pro Life
Each candidates was asked their stance regarding pro life issues, specifically whether abortion should or can be abolished in Texas if the Supreme Court overturns or further limits Roe versus Wade.
Collins called abortion "an abomination to God."
"If I'm elected and go to Austin, I will be the only elected official down there that has been arrested blocking the entrance to abortion clinics," Collins boasted.
He explained he was part of Operation Rescue, which he believes did make a difference by bringing awareness to the abortion issue.
"One thing's for sure, that Saturday in the city of Houston at the largest abortion facility in our state, no babies died. So, I do feel that I did make a difference there," Collins said
Everything possible must be done to stop abortion, including passing laws to stop abortion, that restrict Planned Parenthood and funding to Planned Parenthood.
"There's no question about it, the murder of innocent life is not acceptable to any of us. I think we'll continue working to it. There's more pro life legislation passed in the last 10 years than in the history of the Legislature. I think we'll continue to move forward. One life that is lost is not acceptable. We'll continue to do that and pass preventative opportunities," Flynn said.
Flynn said authoring the Heartbeat Bill this last session was one such effort. While it didn't pass, it did move. Officialls will continue using every opportunity available to trying to move it.
Slaton said he too believes abortion "absolutely without question has to be abolished."
He noted that Alabama recently abolished abortion and 13 other states passed a Heartbeat Bill last year, while Texas officials didn't "get the job done." He said a pro choice Democrat chairs the Public Health Committee, preventing it from moving.
"How is the heartbeat bill going to pass is you give the keys to someone who wants to perpetuate it?" Slaton asked. "If I'm down in Austin, I will be fighting to end abortion. I will also be speaking out against weak Republican leadership that keep punting to those Democrats.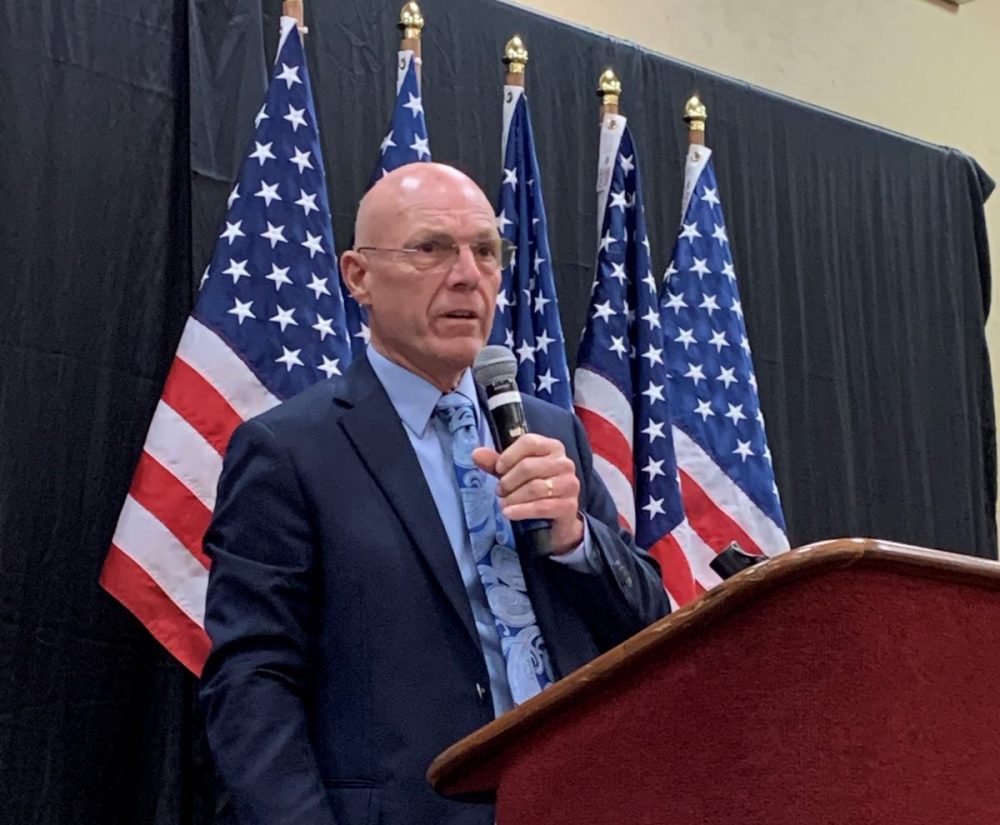 Property Tax
Each candidate was asked what he has done or would do about citizens concerns regarding not just property taxes but property tax appraisals.
Flynn said House Bill 3 addresses needs of schools, which must be done necessary before any action can be taken related to property taxes.
"It was a good start. We will continue to work towards it. I don't believe anyone should pay off their home then lease it from the government for the rest of our life. The leadership of Governor Abbott and Lt. Governor Patrick, they both said, that's step 1. And, the next step is going to be property tax reform, and I believe they have more support and less cost."
Flynn said he'd have no objection to talking about a bill addressing the issue, prefers "consumption tax to property tax."
Slaton said property taxes are a problem, as it was the number one thing people of the district have talked to him about. He said something must be done to stop "outrageous property tax increases."
"What I support or propose we do is we end property tax. People are having to pay a tax after they pay off their home or rent for their home. If your family wants to budget money, does anybody know the equation how you budget for your future property taxes. Because I know mine's gone up over 50 percent in the last five years. When I was fighting mine last time, I told them, you're 10 year strategy for my taxes is terrible. We have to end it," Slaton said.
The way to do that and still provide needed funding is a consumption tax.
"My idea is we do not raise the sales tax, but what we've got to do is in our Texas budgets. We are giving billions and billions of dollars for Hollywood to come to Texas and make movies. Would you rather pay Hollywood to make movies and promote things that are against our beliefs or would you rather cut them out of the budget and tighten up our belt and make sure we can transition from an unfair property tax to a consumption tax? That's one of the things I would try to do," Slaton said.

Collins agreed a consumption tax "is definitely the route to go."
He said his clients daily complain that the property taxes on their farms and their houses keep going up.
"Our Republican controlled Texas House, we increased our budget by 12 percent. We increased it. Why didn't we get that money back? Why didn't they spend it instead of spending it? They should have sent it back to us. Consumption tax is definitely the route to go," Collins said.
Flynn pointed out that while there may be a Republican majority in the House, not all Republicans are conservative. Thinking so is naive.
"We have folks that are talking about things they really know don't know enough about to be discussing," Flynn added.

Campaign Finance
The final question for the district candidates had to do with campaign financing. Northcutt, reading from the prompt, noted that in recent years, more focus has been on "draining the swamp in Austin," brought on by large donors trying to advance their agenda. Some campaign mailers even accuse other candidates of accepting large contributions, which could sway the way an elected official votes in the next session or voted in a past session.
Each candidate was then asked if their campaign financing filing with the the Texas Ethics Commission was pulled for the 2020 election if there'd be any single donations above $10,000 from any person or persons, PAC or entity? If so, the candidate was asked to name the donors and the amount of donation, and state why their vote would not be affected by the donations.
Slaton said he'd received two, from Mr. Tim Dunn and Jo Ann and Farris Wilks of West Texas.
They believe similar to you. They want to end abortion. They want transparency in government. They want low taxes. They want responsible government. These people put their money where their mouth is, and they put their money into investing into conservative candidates and politicians and organizations, and they put their money into missions as well," Slaton told the gathering at the forum.
All of his donations, Slaton said, have all been from individual donors, ranging from $4 upward. Their beliefs are like his, so he does not see any problem with it.
Collins said he's had one primary donor, himself. He sold a herd of cattle to get the seed money to run for office.
"I run the tires off my pickup, the soles off my favorite cowboy boots to get around to meet y'all. I had donor that has given me $5,000 and I appreciate every penny of it. I'm in this because I think I can make a difference. In fact," Collins said, "I know I can make a difference. Nobody's going to influence me to do anything but what I think is right."
Collins said while he'd love to have some big donors offer to contribute, he'd have to look at who they are and what they stand for.
"President Trump, he's got billions of dollars. Should we criticize him because of all the money? Look at the individual donor. I'm in this mostly self-funded," Collins added.
Flynn said while he didn't have his list in front of him, he couldn't "think of anyone in particular."
"I think that you can look at my record. My record reflects I represent the people in this room, not any one in particular," Flynn told the forum attendees.

Slaton said he'd be in town on Wednesday and wanted to talk to voters prior to their entering the polling areas, to "earn your vote." He said he would not be getting money from special interest groups in Austin.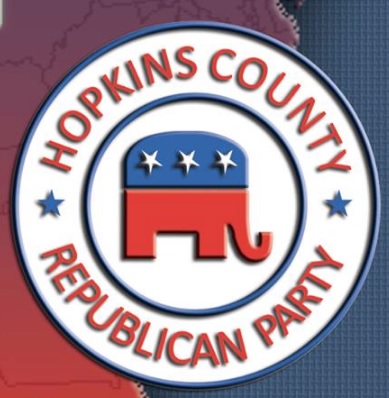 ---
Tune in to KSST Radio 1230 AM for the latest news for Sulphur Springs and Hopkins County. KSSRadio.com also features stories on election news, including early voting information.