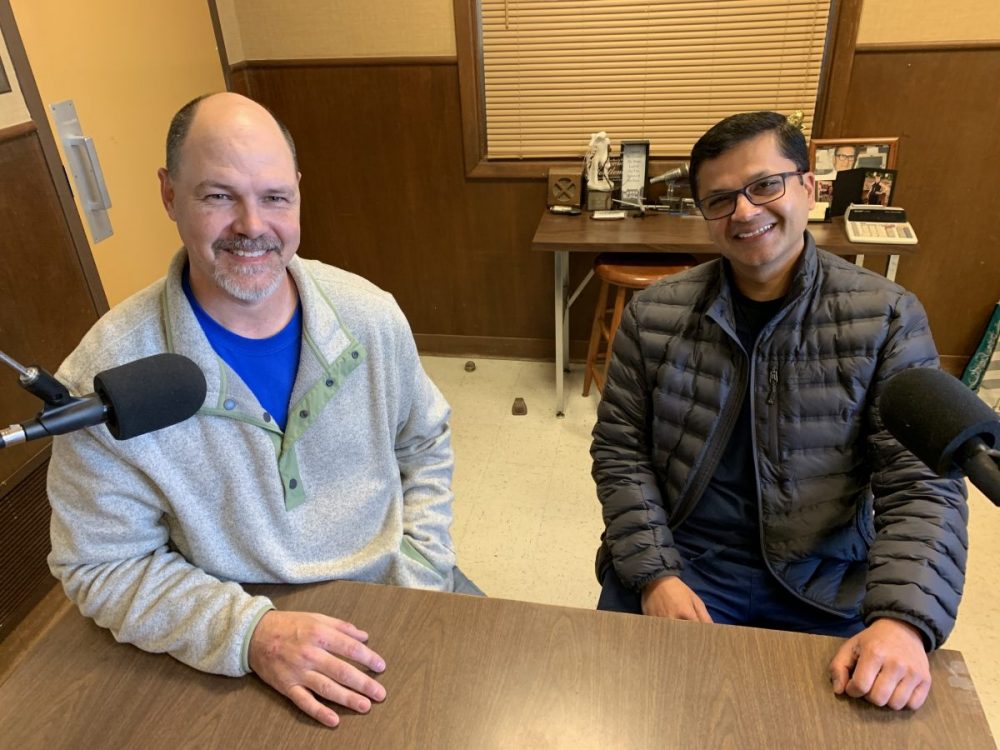 Cardiologist Dr. Jai Varma and Nolan Willis, Director of the Cath Lab at CHRISTUS Mother Frances Hospital in Sulphur Springs, visited the KSST studios on Valentine's Day with a reminder that cardiac awareness is an expression of love! Prevention is essential to keep a healthy heart, given today's statistics that one in two Americans have some form of cardiovascular disease. An invitation is extended to the public to attend a "Lunch and Learn" on Thursday February 20, 2020 at noon. You will hear Cardiologist Dr. Alleghetti speak, learn about heart catheterization and tour the Cath Lab and Radiology Departments at the hospital. And they gave some facts about the Cardiac Department of CHRISTUS hospital in Sulphur Springs.
According to Dr. Varma, every individual has his or her own set of risk factors for heart disease. Even persons who live a healthy lifestyle can suffer heart trouble due to genetic or other risk factors. Your risk factors can be determined during an annual physical, and this knowledge can help you be prepared and more determined to stay healthy! And, at CHRISTUS Mother Frances Hospital in Sulphur Springs, there is a cardiologist on call 24/7 as well as the Cath Lab on the ready 24/7. "Heart health actually begins with awareness and prevention" stated Dr. Varma.
Willis explained that the Cath Lab, or Cardiac Catheterization Laboratory, can correct blockages of the blood flow to legs, arms, neck and other parts of the body. The Cath Lab can also install pacemakers, which among the many functions, can correct abnormal heart rhythm as well as congestive heart failure. "The Cath Lab is a multi-faceted department which works in collaboration with Radiology and ER. One of the newest advantages is that of Coronary Calcium Scoring. This screening test, similar to a CT Scan, can reveal if calcium has built up in a patient's arteries, which may be a precursor to heart failure". He also stated "now, there is less and less reason for a heart patient to need to be transferred elsewhere. CHRISTUS Mother Frances in Sulphur Springs is striving to serve the large Northeast Texas community with the best and the latest in health care, right here in our back yard" stated Willis.
The Heart Month reminder is that everyone over age 21 needs to have an evaluation of their heart, which will reveal your risk factors. This can be done during an annual physical or check-up, and this valuable information will lead to the awareness you need to prevent heart disease.
Have you had a Cardiac Calcium Scoring?
A simple heart scan called coronary calcium scoring can detect your risk of cardiovascular disease. The noninvasive exam takes only minutes to perform and is used to determine the presence of calcified plaque in the arteries. Please consult with your primary care physician or call us at 903.438.4543 to schedule your screening for just $75.