An ATM theft attempt was reported Friday morning at Red River Credit Union. The ATM was damaged but no money was taken, according to Sulphur Springs police and Hopkins County sheriff's reports.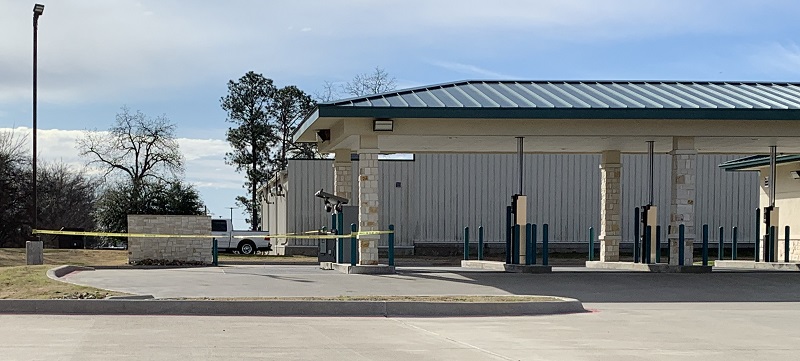 Just before 6:30 a.m. Friday, Feb. 7, authorities received notification that an alarm had been triggered at Red River Credit Union on Gilmer Street in Sulphur Springs, according to Sulphur Springs Police Lt. Pat Leber.
A monitoring company representative reportedly alerted bank personnel after the alarm was triggered, then, they contact law enforcement, according to Leber.
Upon arrival, officials found the outside of the ATM damaged, rendering it out of service until repairs can be made, but the unit remained intact at the location along with its contents, according Leber.
A construction truck, determined to have been stolen from a new road construction site on State Highway 11, had apparently been used to try to break into the ATM. The attempt failed, Leber reported.

The truck was abandoned and recovered; sheriff's investigators are working the stolen truck case. Police are investigating the ATM theft attempt case.
Investigation is ongoing and in early stages. Authorities are working with the employees at the financial institution see if any surveillance video for the site is available, police reported.
The incident marks at least the third time in less than 4 months area authorities have worked a theft case involving stolen vehicles and an ATM theft attempt.
On Nov. 19 a stolen van was driven into the front entrance of Pilot Travel Center on Hillcrest Drive in Sulphur Springs around 3 a.m. and an ATM was loaded into the van by three masked people. The van was found abandoned a short time later on Rockdale Road; the van was determined to have been stolen from Dallas, according to Sulphur Springs police.
Early Nov. 22, a truck stolen from Sulphur Springs was reportedly used in two attempted ATM thefts in Rains County, one unsuccessful attempt at an Emory bank and another in Alba. Two suspects, viewed on surveillance video, reportedly abandoned the stolen pickup in Rains County after getting it stuck. The truck was reportedly registered to a Sulphur Springs resident, who claimed to be unaware the truck was missing. Sulphur Springs police investigators at that time said, based on preliminary investigations, they did not believe that the Rains County cases were related to the Nov. 19 smash and grab case at Pilot Travel Center.
KSSTRadio.com publishes Sulphur Springs Police Department reports and news. The Police Department is located at 125 Davis St., Sulphur Springs, Texas. Non-emergency calls can be made to (903) 885-7602.
If you have an emergency dial 9-1-1.
The Sulphur Springs Police Department continues to serve its citizens with pride in its overall mission and will strive to provide the best possible police force in the 21st century.