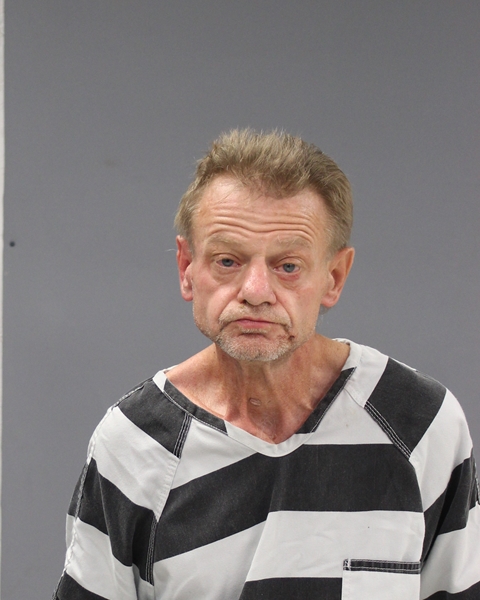 A 53-year-old Winnsboro man arrested Friday morning for aggravated assault and three other charges Monday added another offense to the list of charges he is accused of — escape.
Coy Wayne Wells is accused of one of the shortest known jail escape attempts in Hopkins County. He was reportedly in custody in less than a minute, according to Hopkins County Sheriff Lewis Tatum.
Well allegedly walked out the book-in exit with jail trusties and attempted to escape by walking out of the sally port at the sheriff's office behind the jail trusties. However, the man, not a trusty, instead of going to work with the trusties continued walking north on the sidewalk, Hopkins County Sheriff's Sgt. Shea Shaw alleged in arrest reports.
"He's lucky the jailer caught him, before the trusties could get to him," Tatum said. "He was going out the sally port door. It lasted less than a minute, but he did try, so he was charged with escape."
Wells remained in Hopkins County jail Christmas Eve morning. His bond on the escape while arrested or confined was set at $10,000. He also still has the four other charges for aggravated assault with a deadly weapon, possession of 4 grams or more but less than 200 grams of a Penalty Group 1 controlled substance, unlawful possession of a firearm by a felon and evading arrest or detention with a vehicle charges. Bond was set at $30,000 each on the assault and controlled substance charges, and $10,000 each on the firearm and evading arrest charges, according to jail reports.
Wells was in custody for allegedly fleeing through a pasture Friday morning, Dec. 20, to avoid authorities, following involvement in a disturbance with weapons at a rural Hopkins County residence, according to sheriff's reports.
Hopkins County sheriff's deputies were dispatched at 9:24 a.m. Dec. 20 to a disturbance at a residence in the 100 block of County Road 2398. County 911 operators were told a woman's husband had showed up swinging a knife and ax handle, according to dispatch reports.
Upon arrival, deputies reportedly spotted the 53-year-old man and instructed him to stop. Instead of heeding the command, however, the man allegedly got into a gray Ford pickup and drove it through a pasture to the 200 block of County Road 2398. The man then was alleged to have fled from the F150 truck into the residence with a deputy pursuing him. The man was placed into custody pending further investigation, HCSO Depty Chris Baumann and Sgt. Tanner Steward alleged in arrest reports.
A firearm was allegedly found in the bed of the truck when it was inventoried by officers, prior to it being impounded. A records check showed the man, identified in arrest reports as Coy Wayne Wells, to be a convicted felon, resulting in him being charged with unlawful possession of a firearm by a felon and evading arrest or detention with a vehicle, according to arrest reports.
Based on further investigation of the original disturbance call, deputies determined Wells to have committed aggravated assault with a deadly weapon, resulting in an addition charge, the sheriff's officers alleged in arrest reports. No one was reported to have sustained any serious injuries as a result of the alleged assault, deputies reported.
Wells was then transported to the county jail, where the man was allegedly found to have been in possession of 87.58 grams of a crystal-like substance suspected to be methamphetamine, resulting in an additional charge, Baumann and Steward alleged in arrest reports.