Sulphur Springs City Council has two sessions scheduled Tuesday evening: a special executive session at 6 p.m. followed at 7 p.m. by the regular monthly council meeting.
The executive session is being held for "personnel matters specifically relating to the City Manager." The agenda cites Texas Government Code Title 5, Chapter 551.074, is slated to discuss is to specifically relate to personnel matters regarding the city manager position.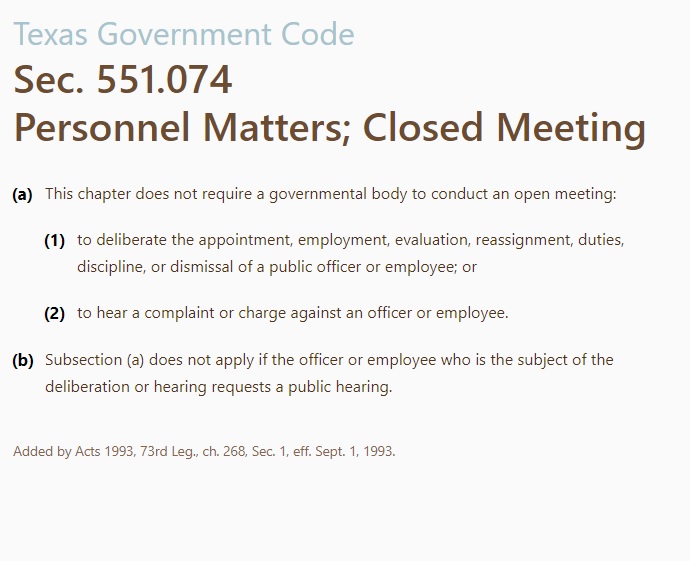 The council is then slated to reconvene at 7 p.m. in open session for the regular meeting. The final item before adjournment on the Dec. 3 agenda includes discussion or action on the executive session item.
However, the agenda stipulates the City Council does reserve the right to adjourn into executive session during the course of the regular meeting per Texas Government Code 551.071-551.074, 551.076 and 551.087. Any action regarding those items would follow during open session.
The regular agenda includes two items regarding property annexation, two appointments, a request to host a jet ski watercraft event and downtown parking.
The City Council will be asked to consider Resolution No. 1184, which notes that property the city is considering annexing isn't required to have an annexation plan nor a development agreement plan. Resolution No. 1185 then would set dates, times and a place for public hearings on a proposed annexation of certain property.
A request to allow JetTribe Core Watercraft Company to hold a jet ski watercraft exhibition event on Coleman Park is also expected to be presented for City Council approval.
The council is then asked to consider Resolution No. 1186, which would appoint a city representative to Hopkins County Appraisal District Board of Directors. The council members also will be asked consider appointing a representative to the city's Planning and Zoning Commission.
Downtown parking is also slated to be discussed, although no action is to be taken at that time.
The meeting is also slated to include the monthly city manager's report, including capital improvements; wastewater treatment plant operations; accidents and claims for the month; and review of expenditures, purchases, abatement orders, and a discussion on urban sprawl and development practices.
The City Council meetings are slated to be conducted at the Municipal Building, 201 North Davis St. The regular meeting will convene in the Council Room at 7 p.m.