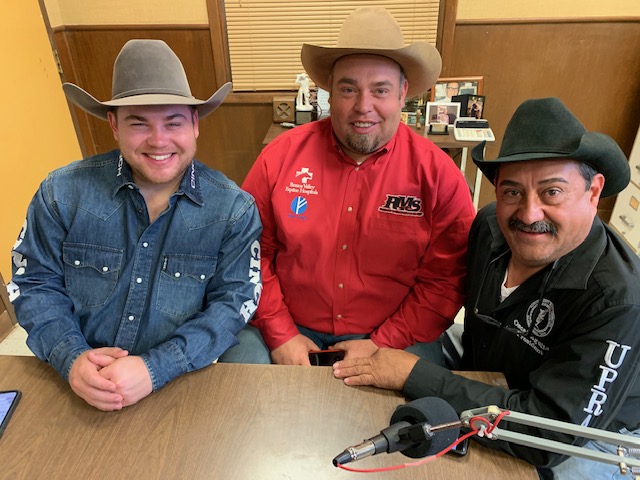 We had a visit from Oscar Aguilar, local rodeo promoter associated with United Professional Rodeo Association since 1979, and he brought the rodeo announcer team of T.C. Long and Garrett Yerigan to the KSST Good Morning Show on Thursday November 21, 2019. A certain energy was in the room with this trio who each brought a passionate interest to the conversation!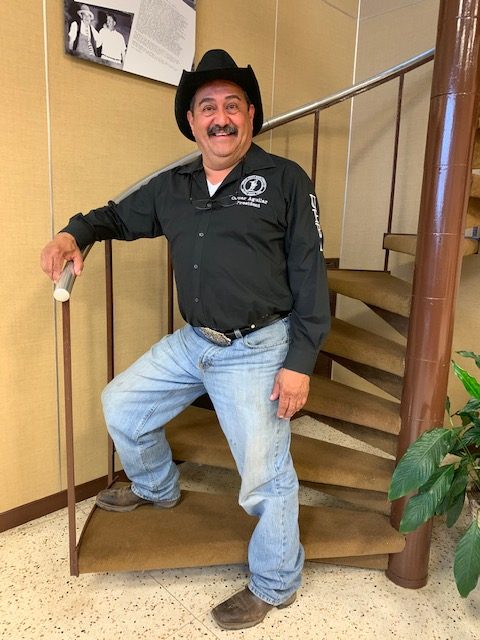 T.C. Long has been the UPRA Rodeo Finals announcer for the past ten years. He had established a rodeo announcing career prior to being hired by UPRA, but has found a home with the organization. "The UPRA, initially the CRA or Central Rodeo Association, has grown into a six-state major event with over $350,000 in cash prizes paid out through the 2019 season. In Sulphur Springs, we will go three rounds, that's Thursday night, Friday night and Saturday night, and will be crowning a new UPRA Champion athlete for 2019, as well as a new UPRA Queen to represent the Association throughout the 2020 circuit."
Garret is in his first year with the UPRA, and hails from Pryor in northeastern Oklahoma. "Having a good voice is not all there is or even an interest in rodeo, although that's helpful. We put in hours of study and note-taking before each performance, because you really want to ignite the audience's interest in each performer, whether they be an animal athlete, rider or roper. None of these performers get to the Finals without a strong will to succeed, and that makes the most dedicated individuals rise to the top. For example, there's a young barrel racer in the Finals this weekend who is also completing final exams toward her career in nursing. That tidbit of knowledge says a lot about the person, and social media reveals a lot of that kind of useful information. So, an informed announcer can do the same with the rough stock too, let's say a bull or a horse that bucks a certain style or pattern, well, it's rider must have studied that habit before they get on board, in order to successfully make the ride. We like sharing that essential knowledge with the audience, too. And UPRA will show you some outstanding talent this weekend!"
Oscar Aguilar, who has served as President of the Association and as a Director, first got on board in 1979 when the initial Finals was held in Sulphur Springs' brand new Hopkins County Civic Center arena. Oscar has been involved with the Handicapable Rodeo since 1985, and he proudly stated "this year, 425 children are coming to the Handicapable Rodeo on Friday morning, children who are handicapped and special needs and who may have never gotten the chance to see a horse up close or meet a cowboy or cowgirl. Now, they have a chance to actually meet these performers and experience a horse ride and a hay ride with SSHS Key Club student chaperones". Oscar explained, "some of the top 15 performers in the events you will watch at this rodeo are local athletes, like Chanie Graves, Keon Miller and Waycie Hathcox and others. Even though they have demonstrated grit and determination to make it this far, they still need you making noise for them here at home during their rides and showing your pride in their success!"
Thursday night is Military Night, with free admission for military personnel, and Friday night is First Responder Night with free admission for responders in uniform or with ID. Also, children 10 and under get in free Thursday and Friday night. For adults, tickets are $10 at the gate, and on Saturday will be $5 for age 5 -10 and children younger then 5 admitted free.