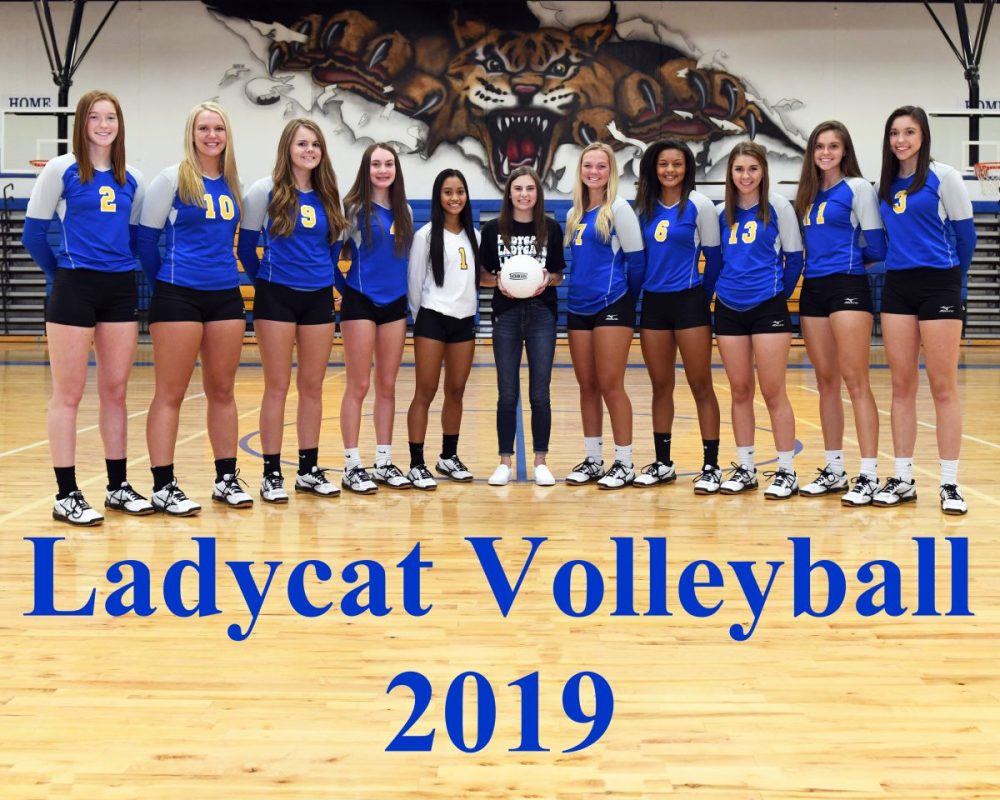 The Lady Cats Volleyball Team, playing some of their best volleyball this year, shocked district champion Hallsville, 3-0 in a bi-district match at Tyler Junior College Tuesday night, Nov. 5.
With a roster that featured lots of youth and playoff inexperience, the Lady Cats came out of the gate with laser focus and took charge of the match. The result was a stunning set one win, 25-8.
Only senior Erika VanBenthem had ever been in a playoff game. The 12-member Lady Cats roster included five juniors and three sophomores. Equally amazing was that after getting Hallsville's attention in set one, the Lady Cats were able to continue to come out on top.
Only in set two did the Lady Cats swoon a little, due in most part to some faulty serving. After leading by as many as seven points in the set at 19-12, the Lady Cats saw Hallsville rally back to within one point at 24-23. A Hallsville serve into the net gave the Lady Cats the set two win, 25-23.
In set three, the Lady Cats again built a solid lead that grew to seven points on several occasions. Hallsville was only able to get within three and the Lady Cats closed out set three, 25-20 and won the match.
Lady Cat Sadie Washburn led the Lady Cats in kills and digs getting 13 kills and 12 digs, VanBenthem had 5 kills. Peyton Hammack had 22 assists.
Lady Cats Coach Bailey Dorner said she thought the match was the Lady Cats second best of the season, behind only the Lady Cats strong showing in their district opener, a dominating 3-0 win over Royse City at home.
Coach Dorner said the Lady Cats played well and served well. She was pleased that when the Lady Cats did swoon in the second set, they still fought back to win.
Coach Dorner said the Lady Cats had implemented some changes in practice recently that they used successfully against Paris last Friday. The changes also seemed to work Tuesday night as the ball just never seemed to hit the floor in the bi-district match on the Lady Cats side. The Lady Cats improved their season record to 24-17.
The Lady Cats will now face Forney in an Area match. UIL rules require the Area game to be played either this Thursday, Friday or Saturday. Details have now been worked out. The match will take place Thursday, Nov. 7, at 7 p.m. at Canton.
Forney, now 29-9 for the season, defeated Joshua Tuesday, 3-0 with set scores of 25-22, 25-17 and 25-23. Forney was the runner up team in District 13-5A finishing behind North Forney.