Miller Grove VFD Recognized, Houston-Rosemont Street Building Bid Selected At Previous Court Session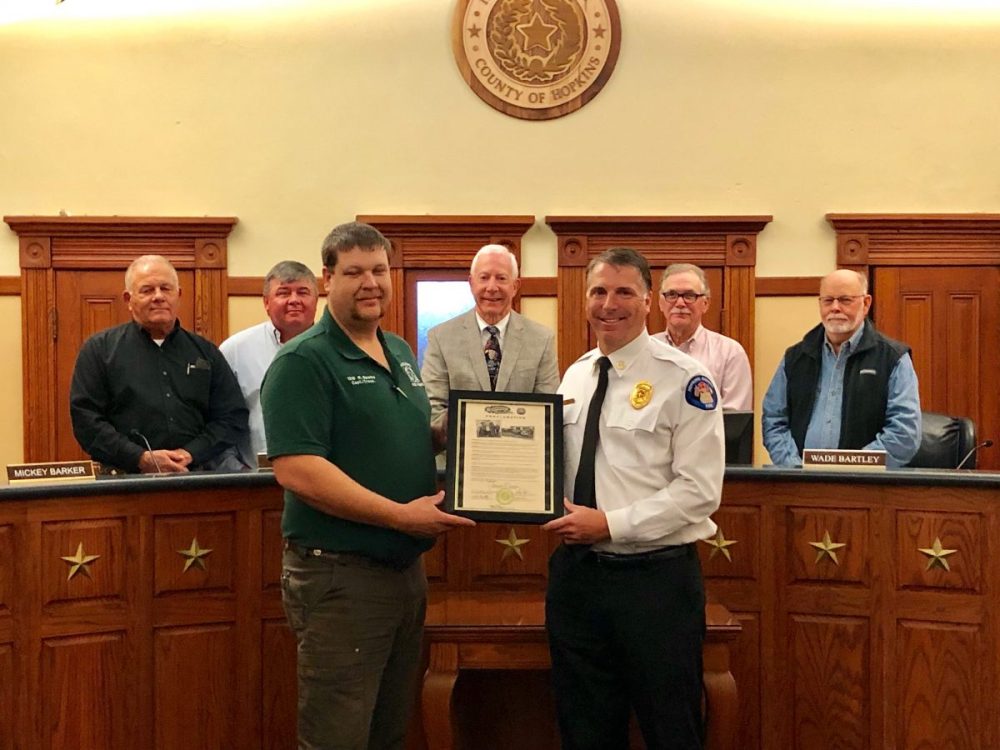 Hopkins County Commissioners Court have scheduled a special session Friday morning primarily to canvass the votes from the Nov. 5, Constitutional Amendment Election.
The court, during the 9 a.m. session, is also scheduled to consider approving a participating entity services agreement for the Statewide Automated Victim Notification Service.
Houston-Rosemont Building Project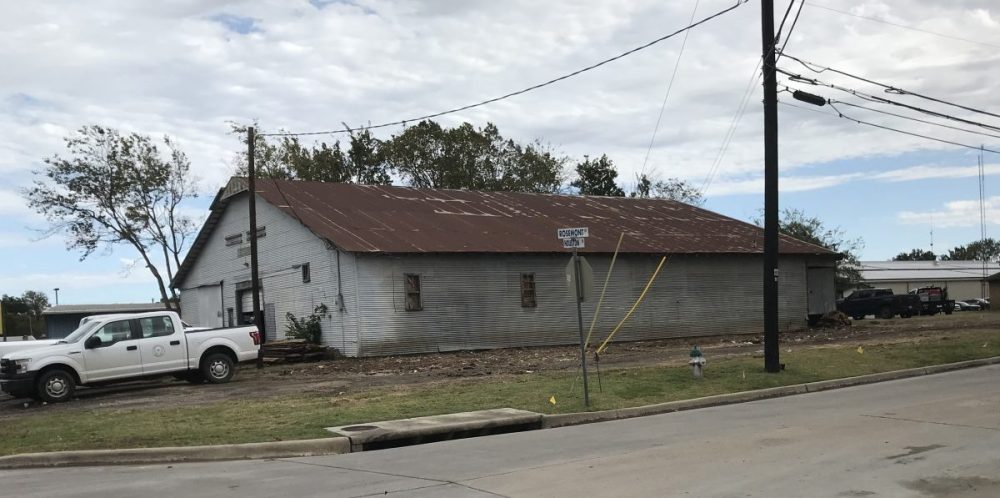 During their regular meeting this week, the Commissioners Court accepted a bid from Mark Baird to construct a new building on county property at Houston and Rosemont Streets. Three bids were submitted; Baird's bid of $73,300 was the lowest. County staff will work to have everything out of the current building by Thanksgiving. The building will then be razed during December, with a goal for construction to start in January, or as close to that as possible.
The building will be used primarily by Hopkins County Sheriff's Office by inmates skilled in mechanics or who are interested in learning certain shop skills, for work on county vehicles and equipment. Commissioners will be able to drive or send over county apparatus to be worked on in the facility.
Commissioners are expected to discuss the move more during upcoming work sessions, the first of which will be held on the third floor of Hopkins County Courthouse immediately following Friday's special called meeting.
Donations
Also at their meeting Monday morning, Nov. 11, Hopkins County Commissioner Court accepted two donations.
Precinct 2 Constable Bill Allan donated some roofing material he had left over from roofing his house. The materials will be stored until ready to use for future county projects, according to Hopkins County Judge Robert Newsom.
Benson Brothers also donated an ambulance style truck that will be utilized by the county for fire department and emergency management purposes, according to Newsom.
Miller Grove VFD Recognized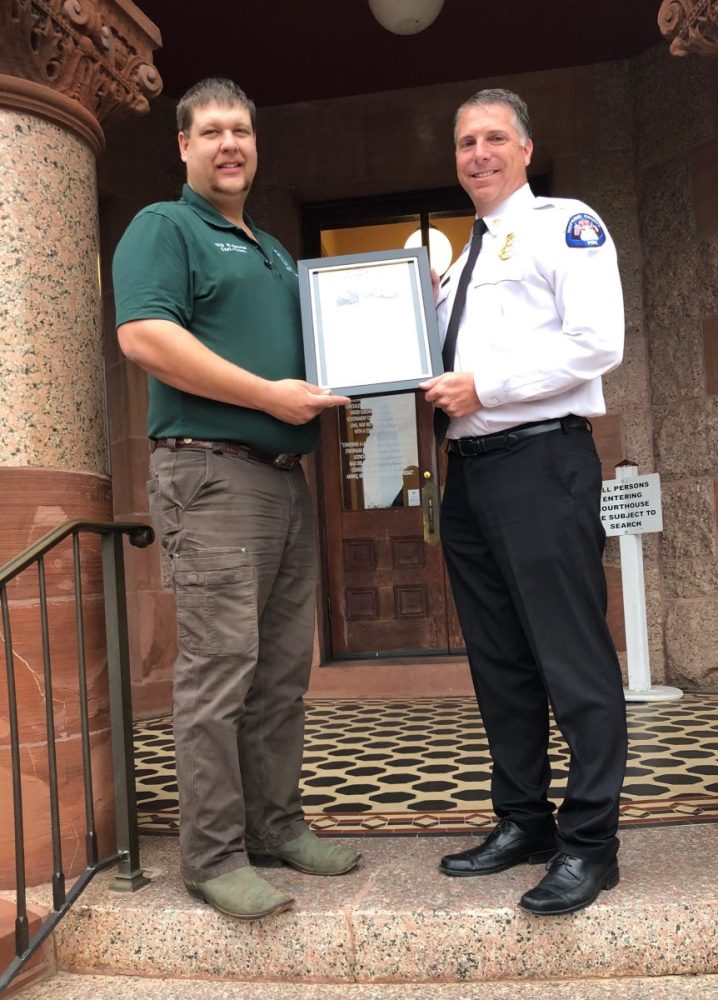 Also during the Nov. 11 meeting, Hopkins County Fire Chief Andy Endsley and the Commissioners Court recognized Miller Grove Volunteer Fire Department for 43 years of service to the county. As part of HCFD's 20th anniversary celebration, one volunteer fire department is being recognized each month for their contributions to the community.
MGVFD Captain/Treasurer Ray Sparks was present to receive the framed proclamation urging "all citizens to applaud the outstanding efforts of the Miller Grove Volunteer Fire Department, to recognize the dedication in their perseverance to provide protection for each citizen and their property and, offer heartfelt appreciation for the servanthood of each one."
MGVFD was founded in 1976. The department's first known apparatus was a chassis cab truck with 250-gallon tank purchased by the Hopkins County Commissioners Court with Octave Woods serving as commissioner. Miller Grove Fire Chief Ernie Weaver attended a CPR course as required to qualify as a recipient of the truck for the Miller Grove VFD.
Weaver, an agriculture instructor at Miller Grove ISD, along with his ag students and members of the community, responded to all calls for assistance, operating by citizens band radios. The MG fire department housed the one-ton chassis cab at the ag shop at MGISD, resulting in lowering insurance rate for the school district.
The department has since moved from the school to its own facility, a fire station with living quarters and a full kitchen. In 2018, the department dropped its ISO rating from 9 to 6 to create an insurance cost reduction for residences within 5 miles of the station.
At present, the Miller Grove Volunteer Fire Department has 13 members –Chief Justin Block, Captain/Treasurer Ray Sparks, Training Coordinator Doug Lewis, Assistant Treasurer Bob Flecker, Head of Maintenance Spencer Wicks, Secretary Dianne Wicks, and firefighters Wade Honicutt, Trey Lester, Steven Mayfield, Jimeray Hoffman, Bryan Thorton, Jay Hoffman and Kyla Block (as junior cadet) — and five fire apparatuses.