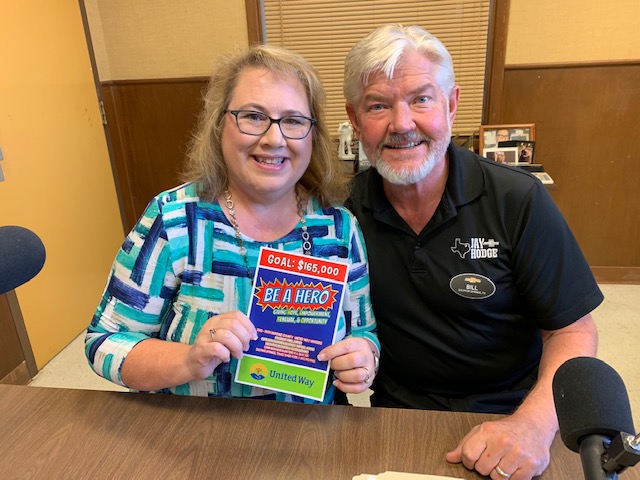 Bill and Beverly Owens guested on the KSST Good Morning Show on Thursday October 17, 2019, to bring the community up to date on the progress of the 2019 United Way Campaign in Hopkins County. "We are pleased to report Campaign pledges counted today total $3,962.00, bringing our total to date to $45,812.54! We are looking forward to adding to these numbers next Tuesday, Oct. 22 at 9:00 a.m., at the Texas AgriLife Extension office. The remaining Report Meetings will be held at their office. We are grateful for the warm welcome received from Carolyn McKinney and the staff at the Dairy Museum, where our October 15 report meeting was held". He also provided a mailing address where anyone..business, industry, organization or individual… can donate just by dropping a check in the mail to: Hopkins County United Way, P.O. Box 735, Sulphur Springs, Texas 75482.
Bill also mentioned that the campaign is not quite at the halfway point of the goal of $165,000. yet, but often, the bigger donations tend to come in toward the last weeks of the campaign. That's sometimes due to the large number of employees whose donations are gathered throughout the weeks of the campaign. And donation packets are still coming in. Of the donors who have reached or exceeded their personal goals, those names were included on the 100% Club list compiled following the October 15 report meeting.
Beverly encouraged everyone to 'please make note of the Give Back event this Thursday, Oct. 17 at Panda Express, from 10:30 a.m. until 10:00 p.m. Customers must show the flyer or mention HCUW when ordering, for us to receive credit for their purchase. We appreciate the support of Panda Express and their willingness to host the event. We look forward to seeing you next Tuesday at the Texas AgriLife Extension office! Thank you for your support of our efforts".