Hopkins County United Way campaign worker collected $5,689.46 in campaign contributions and pledges, for a total of $41,410.54 of the $165,000 goal met so far.
HCUW President Mike Jumper turned in four packets this week and reported he still has two donation packets out at local dentists offices and that for BackStory Brewer is still out too.
Jumper reported Triple Crown Roofing, Miss Behavin' (collected by another campaign worker), and Wayne Cooper Construction all met their goal. Freedom Realty was "just under 100 percent" of the requested goal, but Jumper noted HCUW is still "very happy to have every donation."
Amy Griggs reported Chad Cable's office met their goal.
Susan Berning reported Joel Tiemeyer was sad not to be able to be at the meeting, but has a "full plate this week. However, she reported Tiemeyer had collected all of the donation packets he distributed in the community. East Texas Line-X, Commercial Glass and Mirror, West Oaks Funeral Home, Larry Vititow Trucking, Circle E Western Store, M&F Western Products and Interstate Body Shop were among the businesses he collected that met their goal. Bobby Kerby Garage also made a great donation, Berning reported.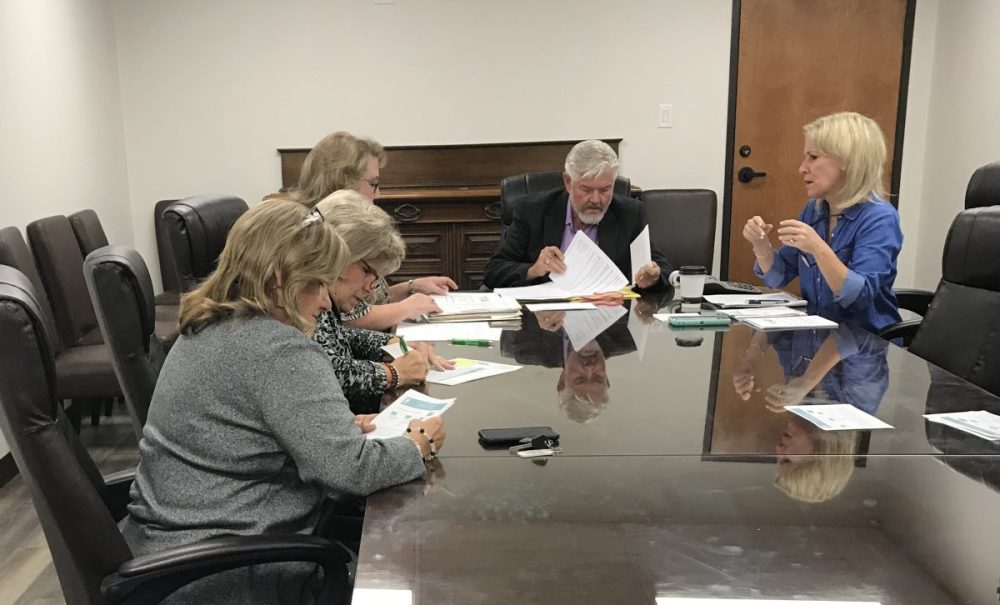 HCUW Campaign Co-Chair Beverley Owens commended Tiemeyer for doing such an "awesome" job for HCUW. He is the first to turn in all of his packets.
Berning too reported being contacted by Helen Sapaugh, who wanted to either mail or drop off a check for what turned out to be a very generous donation. HCUW is "very grateful," Berning said.
Debra Evans turned in one packet; Pilot Club not only met but exceeded the goal set for the group.
Beverley Owens also noted Brumley Uniforms met goal.
Charlotte Henderson reported Joe Bob's was about 100 percent of its goal.
Kayla Price reported Hopkins County Food Locker met goal.
Beth Wisenbaker turned in numerous packets. She distributes packets to and collects donations in them from the various county officials, offices and departments.
She noted only the law enforcement, Civic Center and fire department packets remained out. Officials and fire personnel have been tied up since Thursday cleaning up a diesel spill in the Miller Grove area. The Civic Center is under new management so it's taking them a little longer than usual, Wisenbaker reported. She hopes to get those packets in soon.
"Everybody's done good. Some exceeded, some hit close, some hit under. But, we are proud of everything we can get. They were very proud to participate," Wisenbaker said.
HCUW Campaign Co-Chair Bill Owens reported the owners of Rail 19, a new meat processing business, "very supportive" and met the goal set for the business.
Beverley Owens offered thanks to Larry Crowson and the employees of Sulta Manufacturing for putting up the traditional Thermometer on Gilmer Street across from CVS, near Sulphur Springs Fire Department Station 2.
She expressed appreciation to Chaney and Craig Johnson for posting campaign percent totals on the digital billboard by Chili's.
Beverley Owens too expressed appreciation to the Chamber of Commerce for allowing HCUW campaign workers to hold their first two weekly report meeting in their building, and to the Dairy Museum for agreeing to host the next HCUW meeting at 9 a.m. Tuesday, Oct. 15.
Jumper commended the campaign cochairs for their "excellent" work giving speeches about HCUW at the banks, businesses and group meetings across the city and county.
Beverley Owens noted a Panda Express plans a Give Back Day, Thursday, Oct. 17, with 20 percent of sales of orders placed with an event flyer going to HCUW. Customers must show either a paper or digital copy of the event flyer, or mention HCUW for 20 percent of their purchase to go to HCUW.