Three colorful characters from Hopkins County's past visited the KSST studios to invite the public to a "coming out" on Sunday afternoon November 3, 2019 in Sulphur Springs City Cemetery. That's when tour guides from the Hopkins County Genealogical Society will give you a first-person tour of the oldest and largest graveyard in Sulphur Springs. There, you'll be meeting the "who's who" of Sulphur Springs' fledgling years. Various characters will be enacted by costumed male and female members of the Genealogical Society, each who are quite knowledgeable about the founders and builders of our community. Tour hours are from 2-4 PM this Sunday, and cost is $10 person. Starting point for the tour is the Myra Wilson Chapel at the entrance to City Cemetery. Funds raised are used for Genealogical Society projects and needs.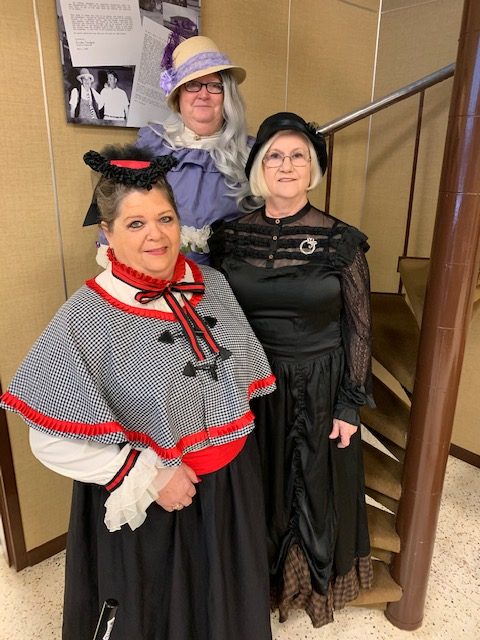 The widow Belle Pierce is portrayed by researcher Rhonda Bechhold. She will describe her "town" home in the 400 block of North Davis Street and her husband J.K. Pierce, an early cattle baron. She shared that as a child she was very afraid of Indians as her family traveled from Kentucky in an oxen-pulled wagon, first settling in Birthright and starting a flour company there, then settling on Hopkins County land where they began raising cattle and horses. Later widowed, Mrs. Pierce passed away in 1937.
Portrayed by researcher Paula Altenbaumer, Mrs. Fannie Thornton was one of the first businesswomen in Sulphur Springs and for certain the first female factory owner! Her sewing factory turned out bonnets and apron dresses, employing up to 30 women 'and orphans' at times. Her final of four Sulphur Springs factory locations was in the current location of Murray-Orwosky Funeral Home, as was her home, House of Seven Gables, a factory-kit home which arrived by railcar to be built on her site. This progressive businesswoman passed away in 1944.
A socialite and wife of a Congressman, Sarah Frances Martin married Colonel Benjamin Maddox Camp and settled on 500 acres west of the town of Sulphur Springs. Fannie had met the Colonel in Georgia, where she was also from. On their property in Hopkins County, they built Lake Camp and the Vine House Cottage where she entertained as hostess of his many social functions. She preceded her husband in death in 1928. Fannie Camp will be portrayed by researcher Shirley Patchen.