10 Proposed Amendments To Texas Constitution On Nov. 5 Ballot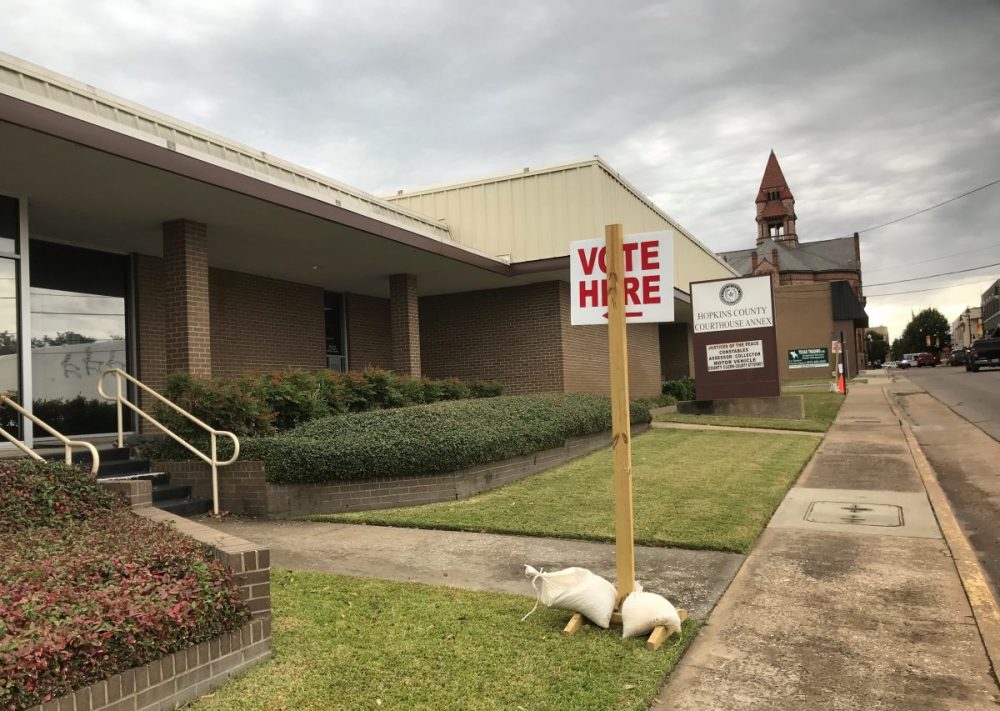 As of 5 p.m. Monday, a total of 403 voters had cast ballots in Hopkins County, including 72 ballots cast between 9:30 a.m.and 5 p.m. Monday.
Voter turn out during the first week of early voting was slow, as is often the case in years in which there are not county, state or presidential elections. Only 197 voters had cast ballots as of 3:30 p.m. Thursday, Oct. 24. Another 134 voters appeared to have taken advantage of the extended voting hours offered over the weekend, with the total number of voters casting ballots by 9:30 a.m. Monday.
Voting Center Information
Registered Hopkins County voters who have yet to cast ballots may still vote early by personal appearance at the early voting center from 8 a.m. to 5 p.m. Wednesday, Oct. 30, and Friday, Nov. 1. Voting hours are extended from 7 a.m. to 7 p.m. Tuesday, Oct. 29 and Thursday, Oct. 31, to better accommodate those who work
All voting in Hopkins County is being conducted in the Precinct 2 Justice of the Peace Courtroom, inside the Courthouse Annex (which also holds the tax office) at 128 Jefferson St. in Sulphur Springs.
Election Day voting will be held at the 12 designated voting centers throughout the county from 7 a.m. to 7 p.m. Tuesday, Nov. 5.
On The ballot
On the ballot for all registered Texas voters are 10 proposed amendments to Texas Constitution. These include proposals affecting funding or potential funding for parks and wildlife departments, education, cancer research and prevention programs, flooding prevention and mitigation plans and programs, water supply and server service development in economically distressed areas; prohibiting or exemption of taxes on property in governor-declared disaster areas, individuals, partnership and unincorporated associations, certain precious metal tax exemptions; and who retired law enforcement animals may be transferred at no cost.
Sulphur Springs voters will be asked to vote either in favor or against Proposition A, which designates $200,000 per year for 20 years in Economic Development funding to go to Sulphur Springs Parks Department for construction and maintenance improvements at Pacific Park as well as toward a new Senior Citizens Center.
Voters within North Hopkins ISD will be asked to cast ballots in the school board election. Voters will pick up to three of the seven candidates to serve as school trustees.
Hopkins County residents who live within three voters precincts (1, 8 and 36) will also be asked to vote for or against the change dissolving Lake Fork Water Supply Corporation to form Lake Fork Special Utility District. These voters will also be asked to select their choices from the listed candidates to serve one-year, two-year and three-year terms as directors in the district.
Voters who reside within the Cumby city limits will be asked to select one of the two choices for mayor. Voters may also vote, if they choose, for the Place 3, Place 4 and Place 5 alderman; however, all are unchallenged for the seats they are seeking on the Cumby City Council.
Those who live within the boundaries of Cumby ISD are asked to vote either for or against a $6.2 million bond for major improvements to the elementary campus, career and technology and agriculture buildings and moving the football field. Because Cumby ISD is located in both Hopkins and Hunt counties, voters may cast ballots only at the designated voting locations within their home county.
Cumby ISD voters who live in Hopkins County may cast early ballots in person at the voting center on Jefferson Street in Sulphur Springs. Hunt County residents will cast early ballots in the Cumby ISD bond election at the Voter Administration Office, 2217 Washington St. in Greenville from 8 a.m. to 5 p.m. Tuesday and Wednesday, Oct. 29-30, and Friday, Nov. 1. Early voting will be extended from 7 a.m. to 7 p.m. Thursday, Oct. 31, for Hunt County voters, also at the Voter Administration office. Election Day voting will be at the designated voting centers in Hunt County from 7 a.m. to 7 p.m. Tuesday, Nov. 5.