DPS: Crash Resulted From Pickup Swerving Into Opposite Lane, Striking 2 Vehicles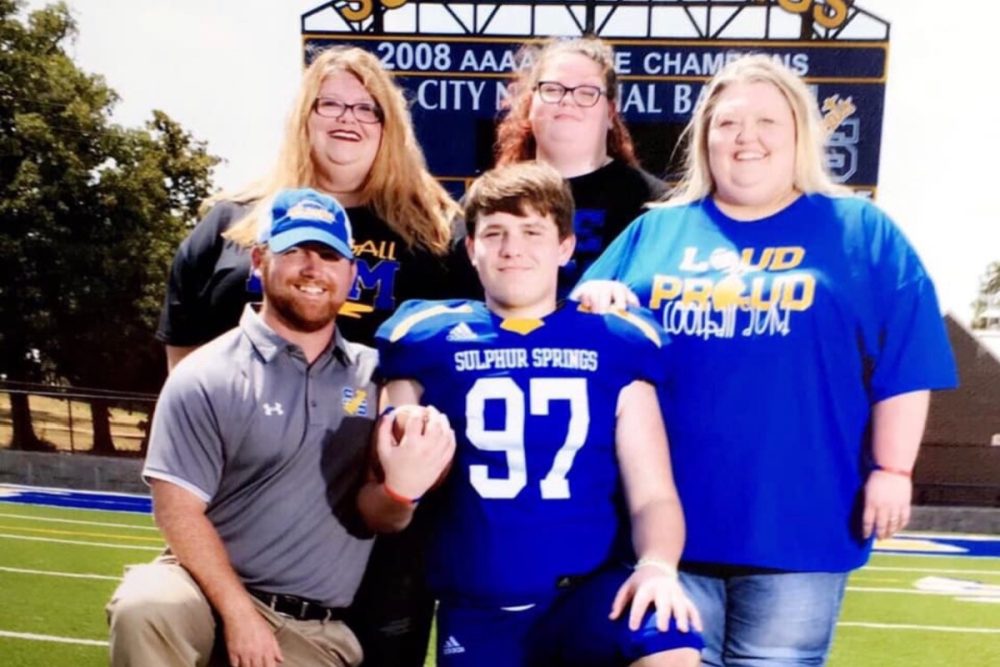 Several fundraisers were held over the weekend and more are planned to assist the families of Sandy Cavanaugh Reed and Keesha Gibbs Ivey, who were killed in a three-vehicle crash while returning home from the football game versus Forney late Friday night.

Crash information
According to Texas Department of Public Safety reports, a vehicle swerving into the opposite lane of traffic resulted in a three-vehicle crash. Reed's son Jacob and Ivey's daughter Kaycee were reported flown to area trauma centers with serious injuries.
Sandy Reed, 37, and her sister Keesha Ivey were reportedly traveling north in a Chevrolet Equinox on State Highway 19 north of Canton in Van Zandt County at 11:50 p.m. Friday, Oct. 4, behind a Mitsubishi Endeavor driven by Michael Miller. A southbound Chevrolet Silverado driven by William Ivey, 51, of Trinidad drove on the wrong side of the road, striking the Mitsubishi, sending it across the road into the ditch. After entering the southbound lane, the pickup veered north, then struck the Equinox head-on, with both vehicles resting in the northbound lane, according to DPS reports.
Reed and Ivey were killed in the crash. Reed's son, 9-year-old son, Jacob, and Ivey's 14-year-old daughter, Kaycee, reportedly sustained serious injuires and were reportedly flown to Children's Hospital in Dallas, where they remained Monday for treatment of injuries sustained in the crash, according to Reed family members. Ivey and Miller also were sent to the hospital for injuries, according to DPS reports.
Medical Update
Mark Reed, father-in-law of Sandy Reed, reported from the hospital Monday morning that both Jacob and Kaycee's conditions were much improved Monday morning. Jacob, a student at Lamar Primary school, is off the ventilator, talking and eating and is expected to soon be up walking, he reported.
The Reed family also reported Kaycee Ivey, also a Sulphur Springs student and sister of Sulphur Springs High School Wildcat football player Kohlson Ivey, has undergone an 8-hour surgery to repair a torn bowel and remove a section of it. All of her injuries were internal, from tears to the bowel from the impact. She will need additional surgery to make further corrections, her family has been told. She is improving day by day, members of the Reed family reported.
School Support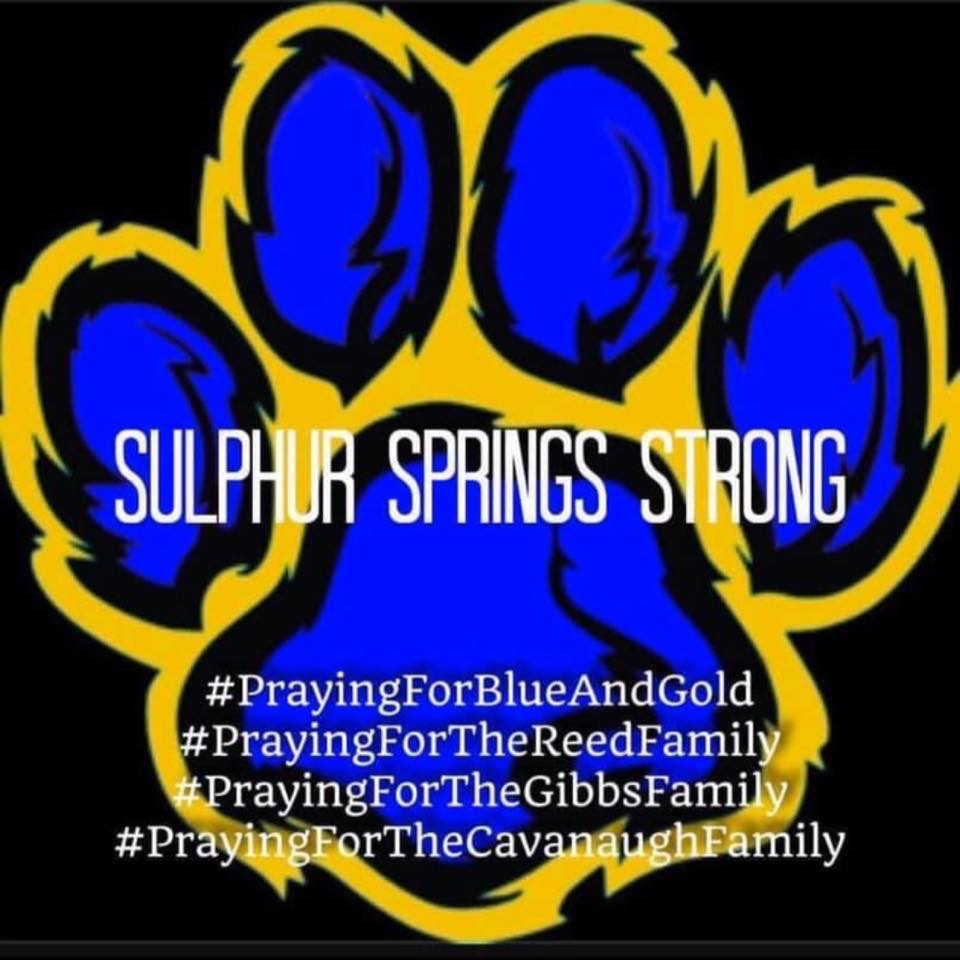 Numerous county and area schools also encouraged their students and staff to show support for the families and Sulphur Springs by wearing blue and gold to school Monday.
Following Sulphur Springs ISD's lead, Como-Pickton, Cumby, Miller Grove North Hopkins and Sulphur Bluff school districts all posted notices on their social media accounts designating Monday for blue and gold attire as a show of support for SSISD and the Reed and Ivey families. Around the region, Yantis, Winnsboro, Campbell, Cooper, Rains, Lone Oak, Mount Pleasant, Quinlan and Quitman schools also encouraged students and staff to wear blue and gold Monday to show support for SSISD and the families.
A few school also are collecting funds this week, which will be donated to the Reed, Ivey and Cavanaugh families. SSISD, Como-Pickton, Yantis and Sulphur Bluff schools will allow students to pay $1 per day this week to wear a cap to school. Sulphur Bluff, North Hopkins and Cooper schools will accept donations in the school office this week for the families. Miller Grove ISD will accept donations at home games this week to contribute to the families.
"That's one of our students still at Children's. We are trying to support the families as much as we can," said Sulphur Springs High School Principal Derek Driver. "We certainly appreciate the support from all of the schools, wearing blue and gold and pledging support."
Counselors are available at SSHS and SSISD school for students who may need their services Monday and this week, Driver said.
Upon learning of the crash, Forney ISD officials Sunday posted a note on their social media site: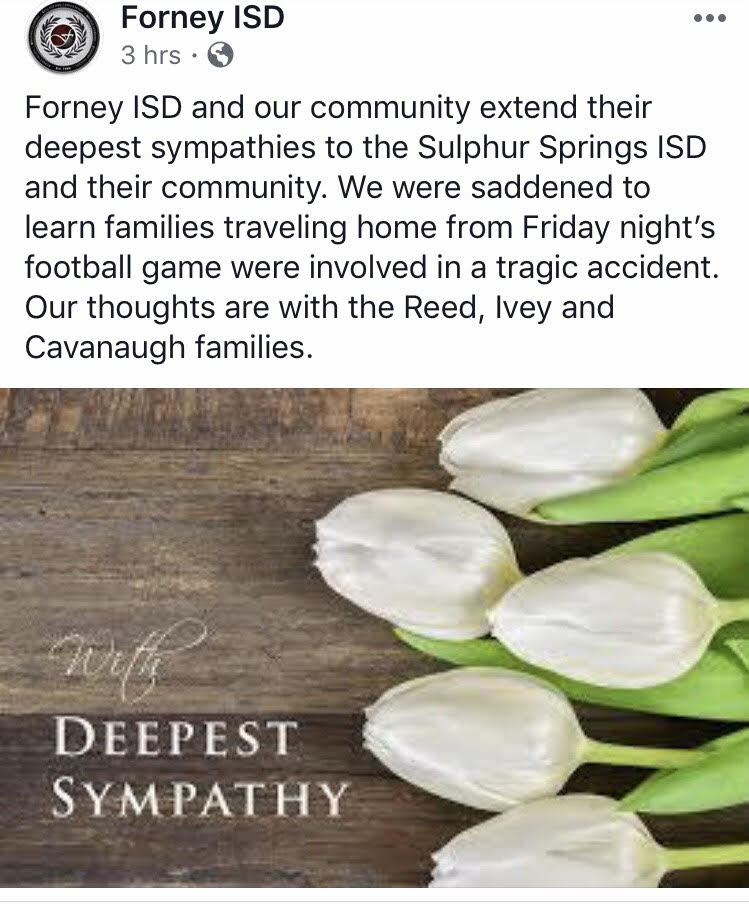 Lamar Primary School Sunday evening hosted a prayer vigil and celebration of Sandy Reed, whose son Jacob is currently enrolled at the campus and late son Micah Reed previously attended classes.
Sulphur Springs school staff is collecting money this week for help families. Special shirts are being ordered for those who wish to show support of the family. They will be available at school events this week for $10, with 100 percent of the proceeds going to the families, according to Sulphur Springs High School Principal Derek Driver.
Community Support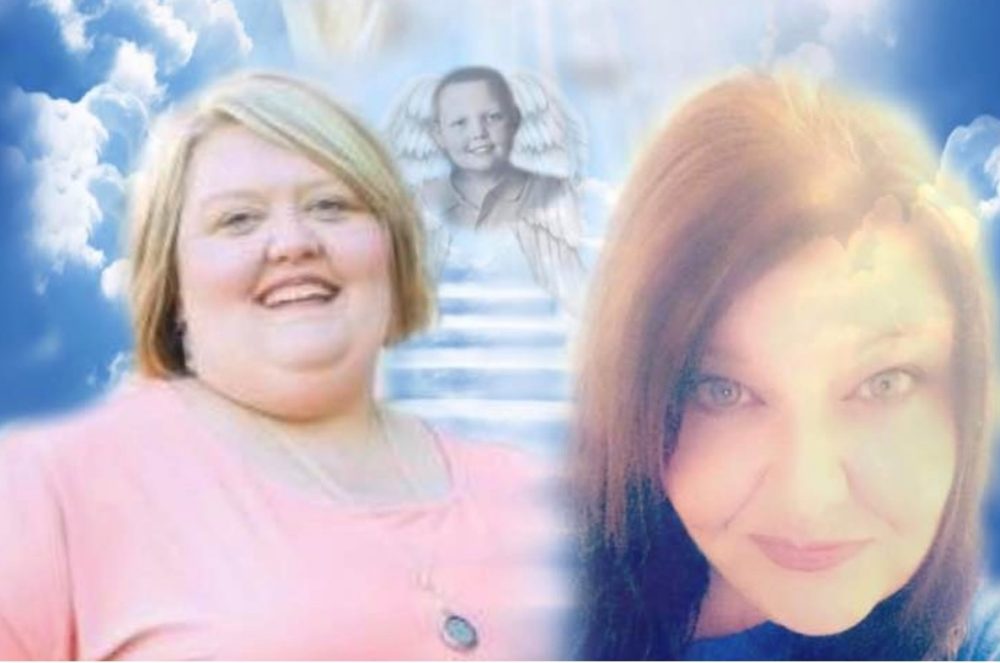 Upon learning of the crash Saturday, several fundraisers were announced by businesses and individuals.
A GoFundMe account, Keesha and Sandy, was established Saturday morning to benefit their families. As of Monday morning, more than $18,000 in donations had been made to the account.
BackStory Brewer held a fundraiser Saturday night. Corner Grub House pledged 10 percent of sales Oct. 5 to the families.
Tuesday through Saturday of this week The Sweet Grind is offering $5 shakes and floats, with all proceeds going directly to the families. Donations may be made in the designated container inside the business as well.
Sidekicks Bar and Grill in Emory partnered with Dubb and the Luv Machines partnered over the weekend to raise funds during a concert at the venue. They reported more than $600 contributed to for Reed and Ivey families.
A benefit concert featuring the Roger Reed Band will be held for the families of the children is planned on Saturday, Oct. 19, following the 6 p.m. Reilly Springs Jamboree. The benefit concert will begin at 8 p.m. at Reilly Springs Community Center, 109 County Road 1439.
A group of community members early Saturday invited those who wished to be involved to gather to plan fundraisers for the Cavanaugh Reed and Ivey families. Approximately 75 people showed up. Thanks to donations from community sponsors to the Reed/Cavanaugh Benefit, gold t-shirts "In Memory of Sandy and Keesha" with #weareSSstrong on the front and Faith and Hope on the back will soon be available for pre-order.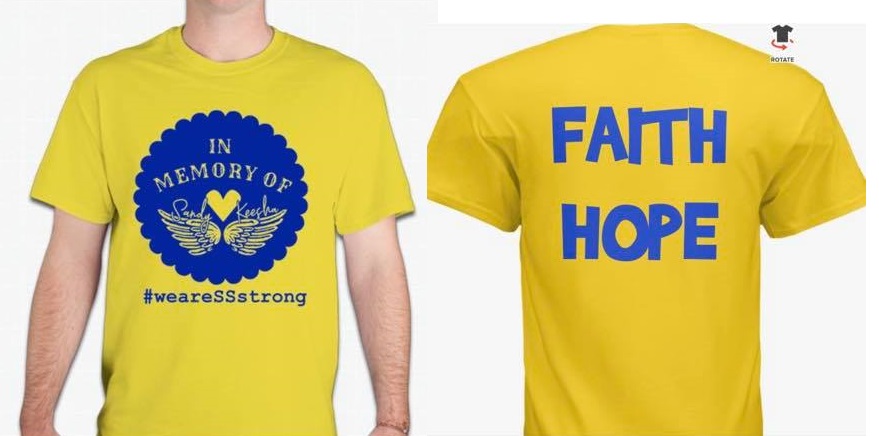 The Reed/Cavanaugh Benefit group has planned a chili and stew benefit and silent auction. Those interested in participating may call Carrie Crowson at 903-243-2507 by Oct. 25 to donate chili or stew for the Nov. 2 benefit. A donation drive of items for a silent auction will be ongoing through Oct. 30; call 903-307-9185 to contribute.
Chili's also is holding a giveback day on Oct. 21 to benefit the families.
An account has reportedly been set up at Guaranty Bank &Trust. Deposits will be noted with name of donor for family reference.