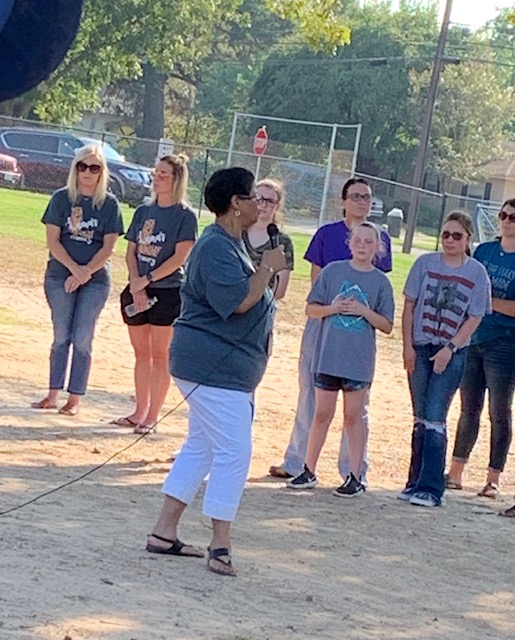 Over 200 individuals gathered on Sunday October 6 at Lamar Primary playground to show support and to pray together for the families affected by the Friday October 4 vehicle crash. The crash took the lives of two Sulphur Springs women and injured their two children who were passengers in the vehicle. Organized quickly, the Prayer Vigil provided an outlet for emotions for friends and acquaintances of the Reed, Ivey and Cavanaugh families. Members of those families were watching live feeds of the vigil while staying close to the injured children at Children's Hospital on Sunday. Sandy Cavanaugh Reed and her sister Keesha Gibbs Ivey were killed in the crash. Jacob Reed, a student at Lamar Primary and Kaycee Ivey, a SSISD student are listed in improved condition at Children's Hospital as of Monday morning October 7, 2019.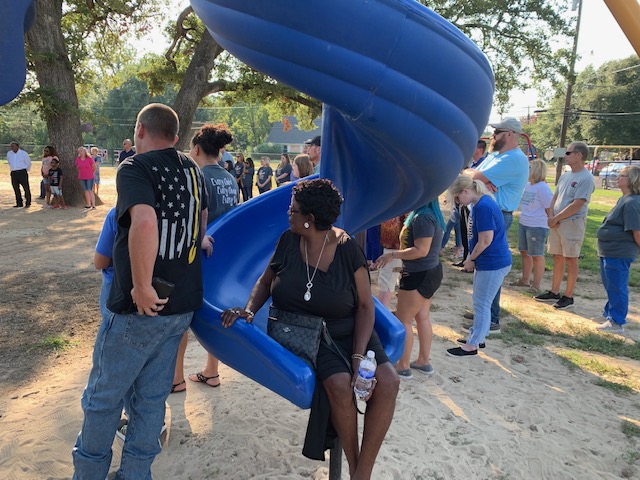 At the vigil, Principal Rowena Johnson led with opening remarks, and Reverend Ed Lantz led with prayer. Pastor Joel Teimeyer spoke of the family's dedication to their church, school and community and the many ways they have touched lives though their faith. Jason Deitze assisted as numerous acquaintances came forward to give testimony about Sandy Reed, who was President of the Lamar PTO, as well as her sister and their tradition of dedication to their community, as well as her support of families who are victims of childhood cancer. Sandy and her husband Brian Reed lost their young son Micah Reed to cancer in 2015. Another member of the family, Keesha's son Colson Ivey, is a student at SSHS and a member of the Wildcat football team.
There are various ways that the public can assist these families. There is a GoFundMe page which already had raised over $16,00 during the weekend of the tragedy, and various social media sites mention opportunities to donate to the family's needs. Prayers are also requested for the Reed, Cavanaugh and Ivey families.