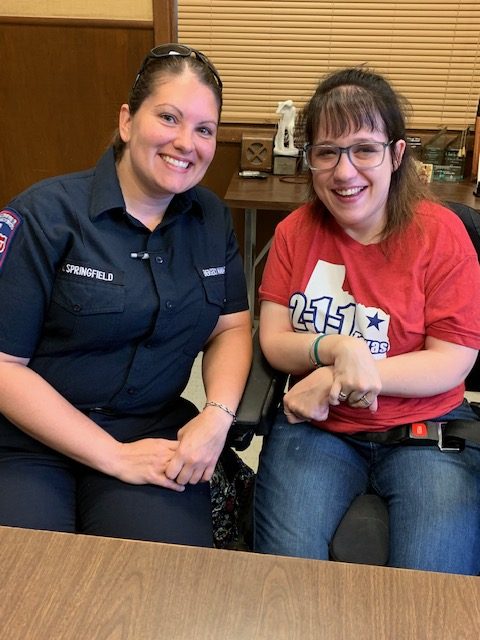 September was National Emergency Preparedness Month, and during all four Fridays, local speakers shared information with KSST listeners as to Hopkins County's level of preparedness.
On Friday September 6, Hopkins County Emergency Management Coordinator Andy Endsley, who is also Hopkins County Fire Chief, spoke on the various "annexes" or plans provided by the Texas Department of Emergency Management and adopted by a city or community, and how these annexes are followed to direct assistance on behalf of persons or property threatened during an emergency situation. On Friday September 13, Fire Safety was discussed by Endsley and by Assistant Hopkins County Emergency Management Coordinator Kristi Springfield, who has 17 years in Emergency Medical Services and brings experience in Emergency Management to her job. Establishing a fire escape plan for your own home was discussed, with practice sessions for family members to stay sharp on what to do in case of fire. Also that same weekend, the Red Cross was in Sulphur Springs offering a program to homeowners for free smoke alarms. And on Friday September 20, Sulphur Springs Police Chief Jason Ricketson, who is also Sulphur Springs Emergency Management Coordinator, explained the 18 different outdoor emergency sirens and their placement around the city. He also spoke about how situations like flash flood or other storm damage can quickly affect unsuspecting persons on public property or in their homes, and how our City's Emergency Management teams are prepared with a plan to act upon.
On the final Friday, September 27, Kristi Springfield and Jessica Pope, 2-1-1 Lead Community Specialist, talked about the 2-1-1 Texas system and how it does it's part in emergency management. 2-1-1 located in Sulphur Springs also acts as one of the Call Centers for the entire state, and can step in when other areas experience call overload. In her daily job, Pope also follows guidelines set out by NIMS and FEMA. For example, when Hurricane Harvey flooded Southeastern Texas a few years ago, over 80,000 calls were taken statewide by 2-1-1. Pope related how Call Specialists in Sulphur Springs fielding 2-1-1 calls received some from stranded individuals in flood zones seeking rescue from rising waters. "We gave them instructions on how to attract rescuers, and ways to stay calm and keep themselves safe until rescuers arrive. That was what our phone specialists could do, but we knew that the sincere help and comfort by a real person at 2-1-1 centers across the state was appreciated by them".