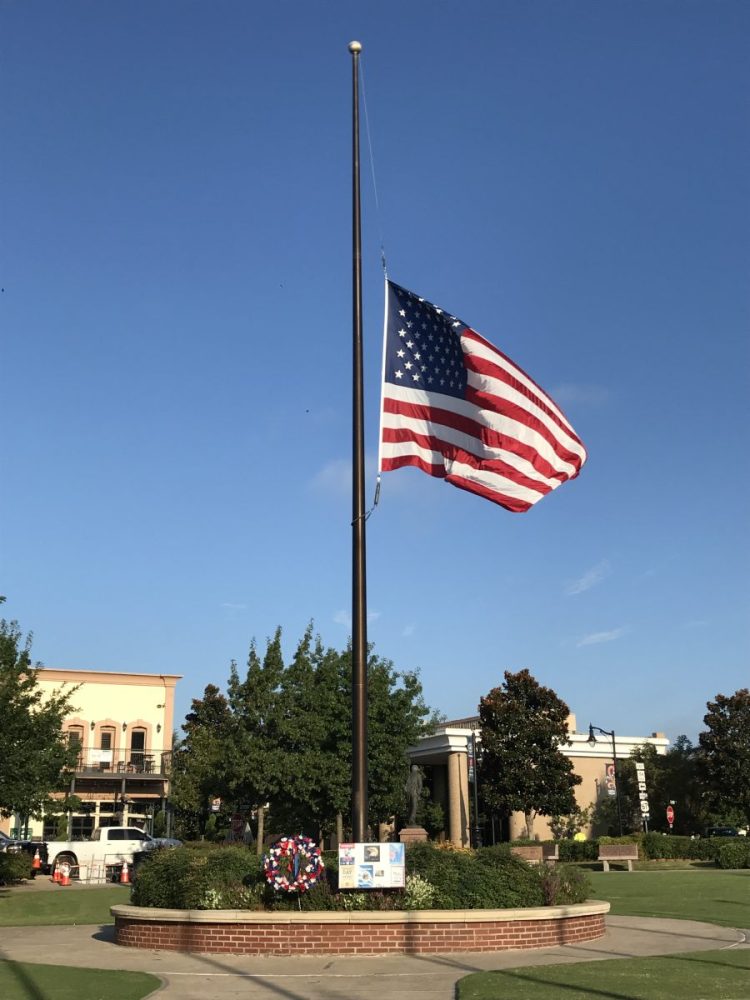 Many services and observations were held Wednesday across the country for the nearly 3,000 people who died Sept. 11, 2001 as a result of the terrorist attacks on this nation.
A full generation of children have been born and gone through school without ever knowing what this country was like before the terrorist attacks 18 years ago. Teachers, parents and community members now have the task of explaining why it's important to remember 9/11 and what happened.
Patriot Day honors those killed in the 9/11 attacks, including first responders who entered the Twin Towers after the planes crashed, those who responded at Ground Zero and elsewhere to do anything they could to help, knowing the risk. Many were inspired to become firefighters, officers, paramedics or join the service to fight for this country.
During the flag lowering and remembrance ceremony on Celebration Plaza Wednesday morning, Hopkins County Marine Corps League Detachment 1357's judge advocate reminded the community of this, and noted the millions who paid the ultimate price for their service to this country.
Prayer was offered for those who continue to respond to the call to serve, and for the loved ones of those who didn't make it home.
Veterans participated in the downtown service, lowering the flags for each branch of service. Members of Sulphur Springs Police Department and Hopkins County Sheriff's Office lined one side of the walkway and veterans the other, to pay tribute to those lost on 9/11. The flag, lowered by a Marine Corps League member to half-staff, per the presidential proclamation issued Tuesday by President Donald Trump.
Community members, judges and other county officials were also in attendance at the MCL's observance.
An hour later, another observance was held at the Hopkins County Fire Station. Members and representatives of Hopkins County and Sulphur Springs Fire Departments, SSPD, HCSO, Texas Department of Public Safety, Hopkins County EMS and Fire in Texas academy were present and participated in the 9/11 remembrance. All law enforcement and emergency responders lined one side of the drive in front of the station. Fire in Texas academy recruits line the other side.
The Texas and US flags were raised and lowered to half-staff by fire academy recruits. As is tradition for fire and law enforcement, a radio announcement was made, and the bell on the engine rang, in remembrance of those who paid the ultimate sacrifice in the line of duty.
Hopkins County Environmental Officer Jim Dial played Taps on his bagpipes to honor those who died on on Sept. 11, 2001, in the terror attacks.
Joel Tiemeyer offered thanks to the many local men and women who respond day and night to keep the community safe, who bravely charge in, willing to sacrifice their lives for citizens, for their dedication and service. He noted they exhibit the same character as those killed on 9/11 and since, who are to be remembered on Patriot Day and every day. He also offered a prayer of thanks and protection for all impacted who have and continue to serve.
A number of local elected officials and community members also were in attendance at the observance at Station 20 Wednesday morning.