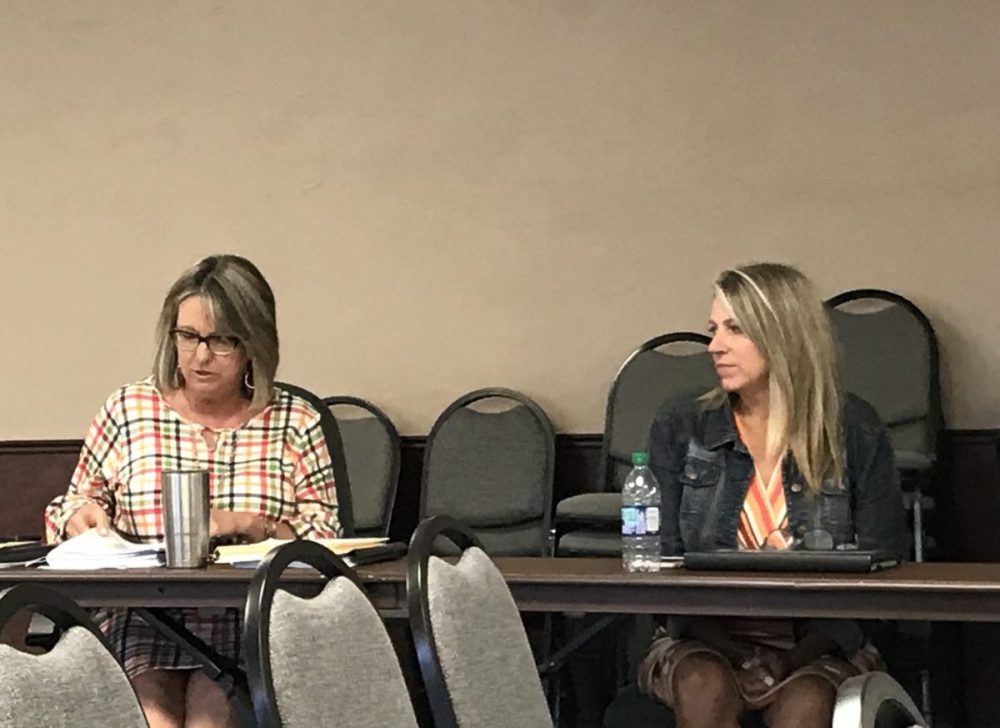 Sulphur Springs Independent School District this week approved a reduced tax rate as well as a balanced if tight general fund budget, with only $776 expected to be left at the end of the year in the general fund budget based on 2019-20 expected revenues and expenses.
The tax rate for the coming tax year will be 7 cents lower than this year's rate. Overall, taxpayers will owe $1.28048 per $100 property valuation in taxes to SSISD in the coming year. Of that overall tax, $0.97 will go maintenance and operations and $0.31048 going toward debt service (otherwise known as issuance and sinking or I&S) taxes. The 7-cent decrease is in maintenance and operations tax, reduced for $1.04 to 97-cents.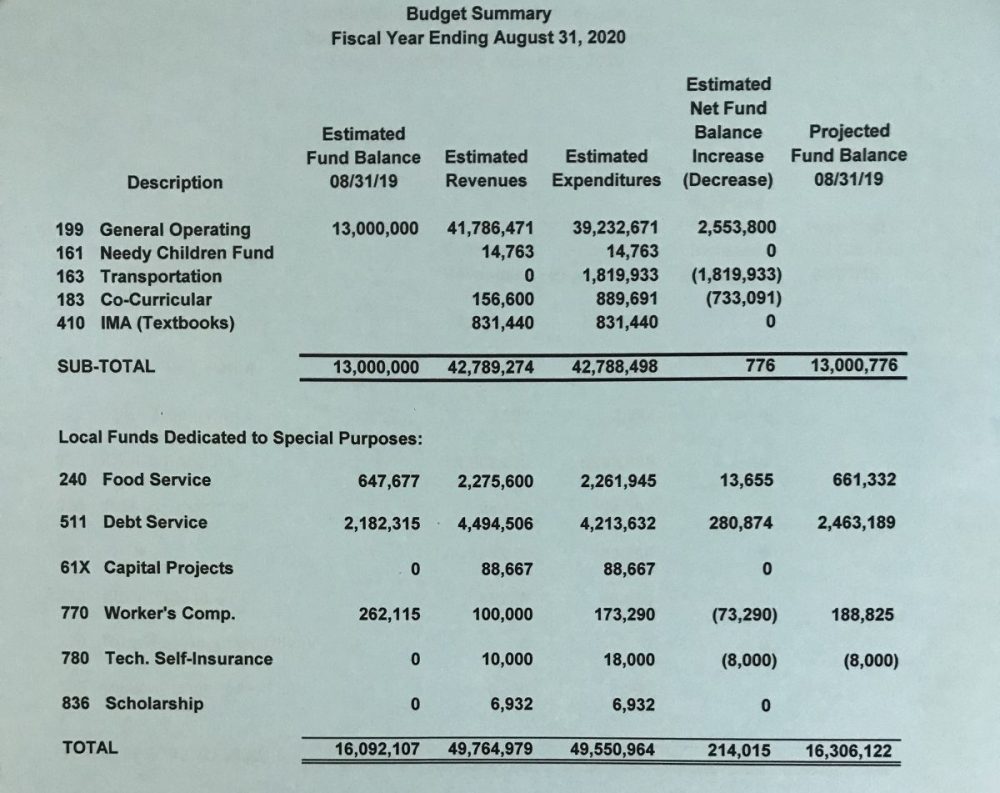 The district anticipates receiving $42,789,274 in revenues in fiscal year 2019-2020, which begins Sept. 1 and continues through Aug. 31, 2020. The district anticipates spending all of those funds except $776. While that doesn't leave much cushion, the district does anticipate having $13 million in the general fund carried over from previous years. This includes the general operating budget from which daily expenses and operations including staff pay; this fund is expected to generate about $2.6 million more than the projected $39.2 million in expected expenses. Transportation is expected to cost $1.8 million, with no revenues coming in for this one, and the co-curricular fund is expected to cost $733,091 more than it brings in. The needy child and instructional materials allotment functions in the budget are budgeted at no more than the district receives for these funds.
The district also anticipates receiving $3,695,562 in special revenue funding including about $1.3 million for the Head Start program and $1.1 million in Title I funding. The district only budgets for these services the amount they expect to receive in FY 2019-20. Including those funds, the district general fund budget will be $53.46 million.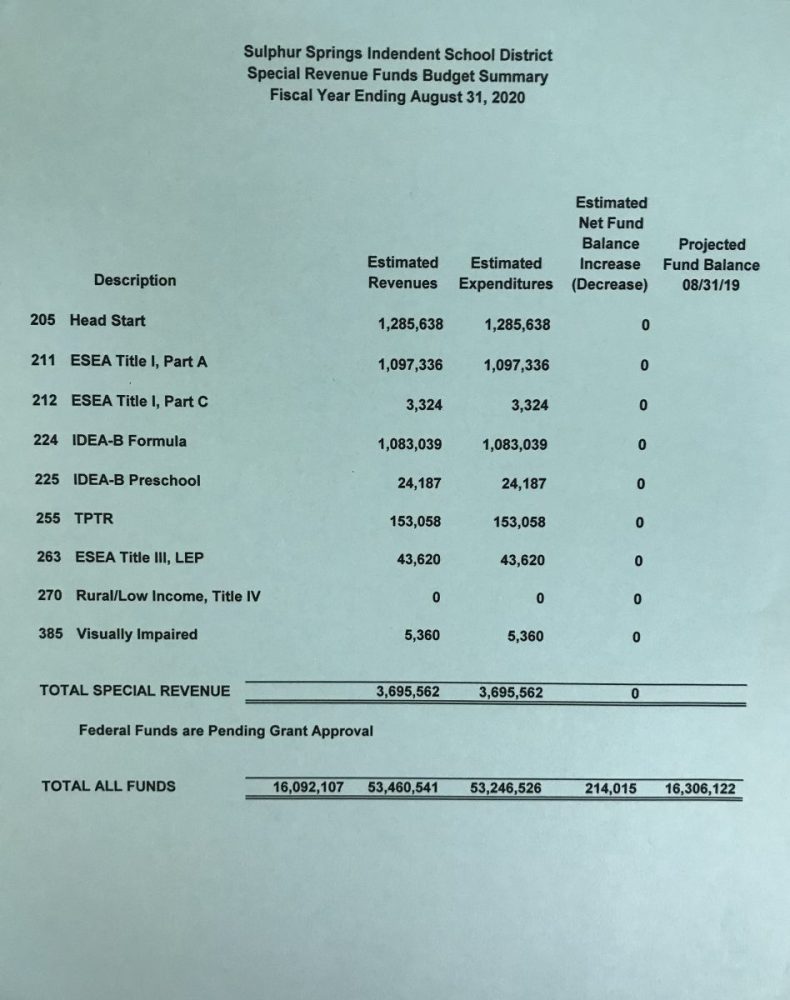 The business office, when presenting the budget, noted that once certified property values came in last month, projected revenues were high enough that nearly all of the requests identified on budget "wish list" were incorporated into the budget. The amount requested for utilities was only partially funded, and while the maintenance department requested two new vehicles, only one was approved in the budget for the "wish list," according to SSISD Business Manager Sherry McGraw.
Among the wish list items that were approved was funding to playground improvements at one primary campus this year, replacement of bus cameras at a rate of three per years on a new system, funding for all elementary teachers to attend Capturing Kids Hearts training and funding for a Sky Ranch trip for fifth graders.
The district plans to incorporate funding each year for playground improvements at a different primary for the next 3 years. Superintendent Michael Lamb said district staff will begin evaluating the playground equipment at each of the three older primary campuses to determine which is most in need of improvements, which will be used to determine which primary playground to update annually.
The district budgeted for three new buses, new computers/laptops to replace aging devices, various other training for staff and administrators, eight new aide positions, four new clerical positions and 12 new teacher/professional positions as well.
Also approved were food service and debt service budgets. The district expects to receive $2,275,600 in revenues for food service, which is $13,655 more than the district anticipates spending.
The district anticipate carrying over nearly $648,000 in the food service fund from FY 2018-19 which ends on Aug. 31. The food service budget is expected to finish FY 2018-19 with nearly $2.2 million left in the fund.
The district expects to receive nearly $4.5 million in revenues which will be applied to debt, which should leave about $280,874 in the budget once all owed debt payments are made.
The owed debt does not include payment for the purchase of the Paris Junior College Technical Center building located between the high school and Hopkins County Regional Civic Center. That fee will be paid out of the M&O budget. Lamb noted the school only has two payments left to make on the building, the one factored into the 2019-20 budget and one more.
McGraw told trustees that in their budget book, which is about 1-inch thick, they will not that debt previously was recorded under a facility acquisition function, but at the recommendation of auditors will be moved to a different function in the general fund budget.
Lamb also noted that school officials will likely not be bringing to the school board individuals requests for purchases of buses and vehicles, as most cost less than $50,000. Those items are in the projected budget, but because they fall under the rule requirement, the board won't have to approve them.
Trustee John Prickette asked if the district would still solicit bids for vehicles. Lamb said it's not necessary. They do typically contact the three local vehicle dealerships in Sulphur Springs to ask for quotes; bids under $50,000 don't require bids.
Instead of increasing the pay scale for bus drivers this year, Transportation Director Rob Huizinga proposed an incentive program rewarding them with up to $800 per year, $400 per semester for being at work a 3 p.m. at least 90 percent of the time and not receiving any tickets or being in any crashes during that time, Lamb and Assistant Superintendent Rusty Harden told trustees.
Hopefully, this will help reduce bus driver shortages as well as the number of substitute bus drivers that have to be paid when bus drivers are absent from driving duties on any given school day.
"This has been a very different budget season. I applaud all employees who worked on it as well as other stakeholders who see that it gets done. Job well done," said SSISD Board of Trustees Vice President Robert Cody.