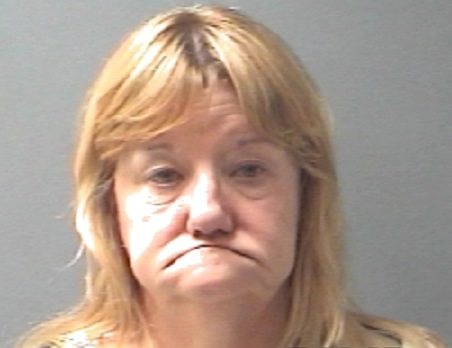 A 63-year-old Sulphur Springs woman was arrested early Tuesday morning near a South Broadway Street eye care business after officers found a baggy with a crystal-like substance she claimed wasn't methamphetamine, but a gag gift.
Hopkins County Sheriff's Deputies Lance Burdick and Zack Horne spotted the woman, identified in arrest reports as Rosemary Boone Springer, walking at 2:10 a.m. Aug. 13, on South Broadway Street. They stopped to conduct a welfare check on the woman. The sheriff's office had received a call Monday from a person inquiring if the person was still listed as missing, so they stopped to check on her, according to sheriff's reports.
While talking to the woman, the deputies noted her to exhibit "nervous behavior." She allegedly wouldn't make eye contact with the deputies and several times change her story as to where she was walking.
A short time later, HCSO Sgt. Scott Davis reportedly arrived and began speaking to the woman. Dispatchers reportedly advised she had an outstanding warrant for her arrest on a possession or delivery of drug paraphernalia charge, but that she was not at that time listed as a missing person.
After obtaining permission to search her handbag, deputies found a small white pill bottle that had a plastic bag containing a crystal-like substance the suspected to be methamphetamine, Burdick and Davis alleged in arrest reports. Springer allegedly claimed the substance wasn't meth; that it was gag gift. Deputies field-tested the substance. Contrary to her claim, the substance tested positive for methamphetamine, Burdick and Davis alleged in arrest reports.
Springer was taken into custody on both the warrant as well as a new charge for possession of less than 1 gram Penalty Group 1 controlled substance. The substance and packaging weighed about 0.61 gram, the deputies alleged in arrest reports.
She remained in the county jail Tuesday morning. Bond on the controlled substance charge was set at $5,000, according to arrest reports.