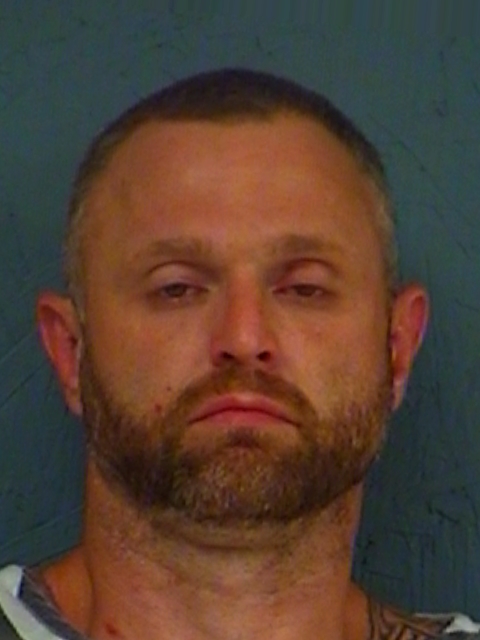 A pair from Florence, Texas was arrested at 11:50 p.m. Sunday after being found with methamphetamine during a traffic stop, and of trying to conceal bags of contraband in the woman's body and mans' mouth.
Hopkins County Sheriff's Deputy Lance Burdick reported first becoming aware of the pair after noticing the license plate light on a Ford Mustang was out Sunday night, July 7. So, he stopped the vehicle on the south service road at FM 3389 overpass at 10:47 p.m.
While talking with the driver, identified in arrest reports as 38-year-old Charles Adam Dunaway, and passenger, reported to be 41-year-old Kristal Nacole Byrne, Burdick noted they exhibited nervous behavior. Neither could sit still and both began moving around in the car, so he asked and obtained permission to search the vehicle, he deputy alleged in arrest reports.
HCSO Sgt. Scott Davis arrived shortly thereafter to assist Burdick with the search. Burdick allegedly located a green tube containing a crystal-like substance he believed to be methamphetamine, while Davis located a glass vial and plastic bag which each contained suspected methamphetamine as well. Consequently, both Byrne and Dunaway were taken into custody for possession of a controlled substance, according to arrest reports.
The pair was released to corrections officers at the jail while Burdick completed arrest reports. Burdick alleged the male appeared to have something in his mouth, so he asked the jail staff to take him to the dressing room to investigate what was in his mouth.
Burdick reported hearing yelling coming from the dress-out room and went to investigate. Jail staff alleged seeing a plastic bag in Dunaway's mouth. A short time later, the man was reported to have thrown up a bag. The man allegedly told the deputy he swallowed an empty bag with no contraband in it.
When the deputy talked to Byrne, she allegedly told him she had stored two plastic bags with meth in them inside of her body; the man then allegedly got the bags and put them into his mouth.
As a result, both Byrn and Dunaway were charged with possession of less than 1 gram of a Penalty Group 1 controlled substance and tampering with or fabricating physical evidence with intent to impair it.
Both remained in the county jail Monday morning. Byrne's bond was set at $10,000 on the tampering with evidence charge and $5,000 on the controlled substance charge, according to jail reports.