Monday  – Rope sausage and sauerkraut, black-eyed peas, cornbread and green tomato relish

Tuesday – King Ranch chicken casserole, corn and Malibu vegetables
Wednesday –  Beef spaghetti, English peas, garlic sticks and tossed salad
Thursday  – Broccoli chicken divan on a bed of rice, pickled beets and a roll
Friday – Cheeseburgers, lettuce, tomatoes, onions, pickle spears, baked beans and potato chips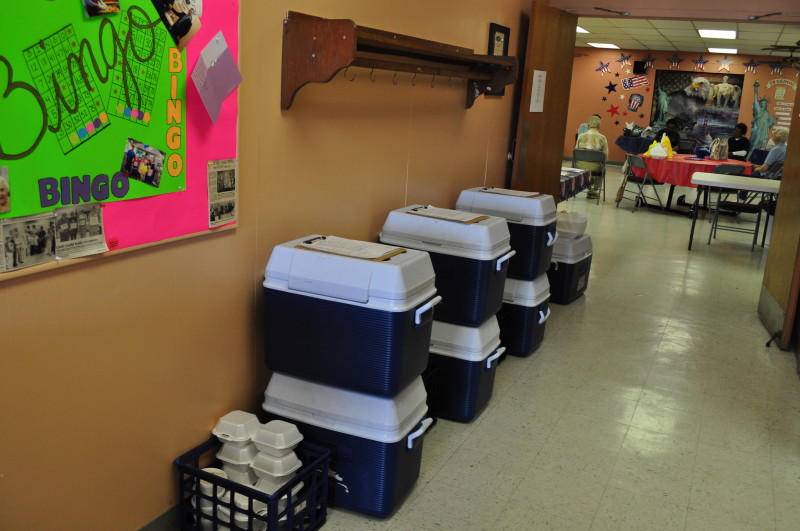 Meal A Day is funded through donations and the $2 per meal per day cost, and served Monday-Friday. Meals are prepared by volunteer cooks at the Senior Citizens Center and delivered by volunteer drivers to shut ins.
Meal A Day Volunteer Cooks, Drivers Always Welcome, Appreciated
Volunteer cooks and drivers are always appreciated and welcome, especially those willing to step in when other volunteers have to be out due to family, vacation, other personal or medical reasons. The most recent imminent need is for volunteer to help cook Monday mornings, in place of a volunteer who will be going on maternity leave.
"I f you would like to give just about 3 hours on Monday morning, please let me know. They start cooking at 7 o'clock and you could be done by 10-10:30. You will NOT be the head cook. We just need people to help stir the pots and fill the plates. It is a ministry and you will be blessed by it," said Karon Weatherman, Senior Citizens Center program and marketing director.
For more information about the Meal A Day program, including volunteering, or the Senior Citizens Center, contact Weatherman at 903-885-1661 or [email protected]