If you have fresh, whole papayas from Agroson's LLC that are labeled under the Cavi brand, the United States Food and Drug Administration is recommending consumers and businesses throw them out.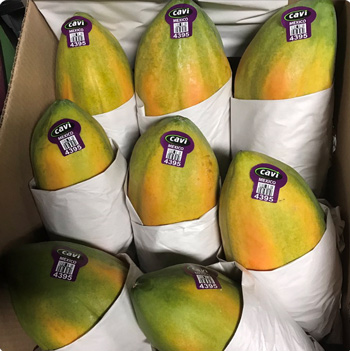 The FDA, along with the Centers for Disease Control and Prevention (CDC), and state and other partners, on June 28 reported launching an investigation after a multi-state outbreak of Salmonella Uganda illnesses in late June.
On July 5, the FDA reported the "epidemiological and traceback information collected thus far in the investigation indicates that Agroson's LLC of Bronx, New York, is the exclusive distributor of the imported papayas that likely made consumers from this outbreak sick. The papayas are sold under the brand name Cavi. … The evidence does not indicate that papayas from other distributors are implicated at this time, and FDA is narrowing its recommendations to consumers, restaurants, retailers, importers, suppliers and distributors, limited to Cavi brand whole, fresh papayas."
On Friday, July 19, the FDA, in an update regarding their investigation, reported Agroson's LLC had refused a request to initiate a voluntary recall for the Cavi brand fresh, whole papayas.
The FDA is recommending that all comumers and businesses throw out any fresh, whole Cavi brand papayas.
"If consumers are unable to determine the brand of papayas, the product should be thrown away," the July 19 FDA release noted.
Salmonella can cause gastrointestinal illness and fever. Most infected with Salmonella begin developing symptoms such as develop diarrhea, fever, and abdominal cramps 12-72 hours after infection. The illness usually lasts 4-7 days and most people recover without treatment. More severe cases may include a high fever, aches, headaches, lethargy, a rash, blood in the urine or stool, and in some cases may become fatal.
As of Friday, July 19, 71 total illnesses believed to be link to salmonella from papayas, including 27 requiring hospitalizations,but no deaths had been reported, according to the FDA.
Only one case each has been reported in Texas, Rhode Island and Florida; four in Pennsylvania; five in Massachusetts; 14 in Connecticut; 18 in New Jersey; and 27 in New York, according to the FDA data.