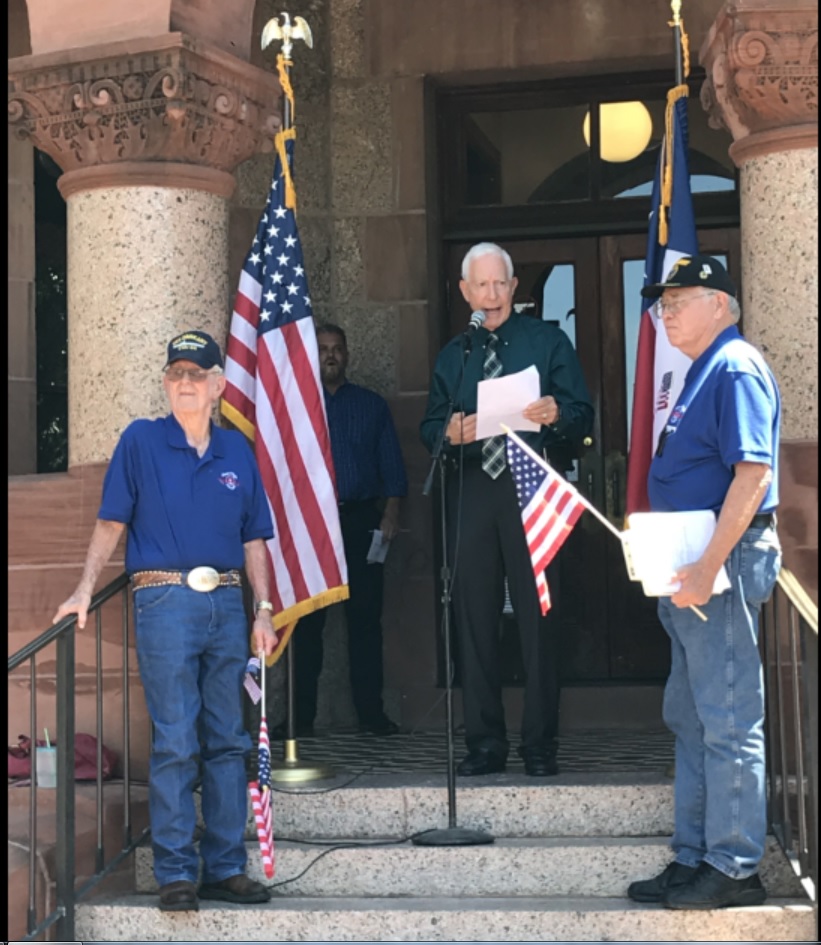 Many filled Celebration Plaza just before noon Thursday to honor two local Vietnam veterans with a send-off for a Veterans Honor Flight this weekend.
U.S. Army veteran Keith Klein and U.S. Navy veteran Ronnie Whitlock's trip from Dallas Fort Worth to Washington, D.C., is at least the seventh from Hopkins County in 10 years.
The pair are to depart at 9 a.m Friday for a 38-hour trip, in which they will see the veterans memorials and be honored at a banquet and other surprises designed just for this group of veterans.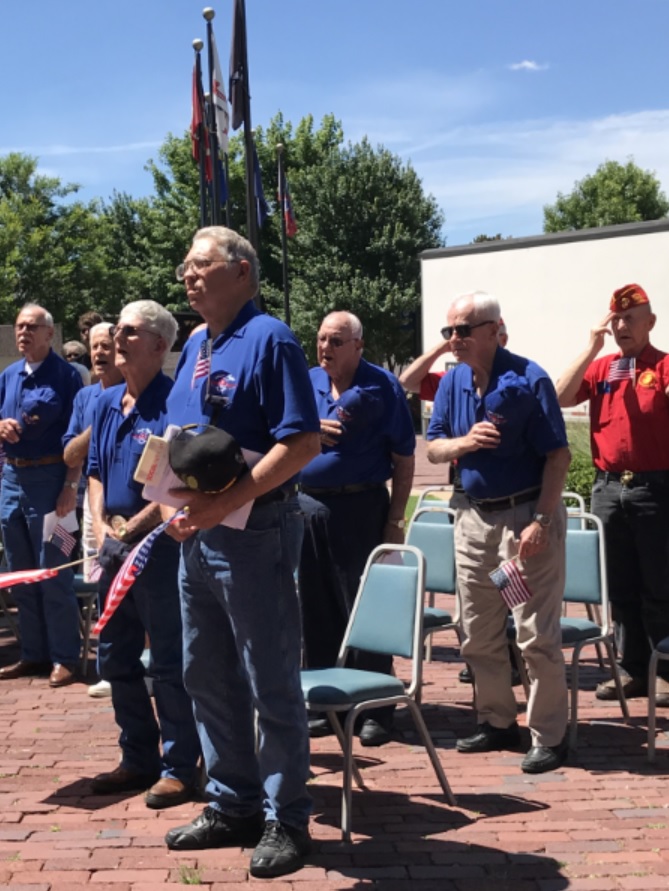 Ronnie Whitlock grew up in Cooper joined the Navy in 1963, right out of high school. He served two years in Japan as well as 16 months aboard the USS Oriskany CVA-34. He said he was "on the USS Oriskany when it blew up." He saw many cities in Japan, and also during his tour spent some time in the Philipines. He said he got an "early out," 30 days ahead of schedule.
Whitlock is married to wife Modna Ruth, and is the son of Dobbin and Lima Whitlock. The couple currently resides in Nelta community.
Keith Klein said he was drafted in 1964, then joined the Army. He served in Libya for 10 weeks, then departed for Ethiopia, for 13 months "making maps and preparing for the next war." He then was sent to Sudan for four months and Liberia for 12 months. He also was sent to Siberia before his term of service ended in 1967. He was an aircraft mechanic.
Klein then married his wife, Frances. They have one son, John, and daughter-in-law, Leighann who is a nurse, and one grandson, Ethan. Keith was an assistant high school principal, having moved to Hopkins County from Greenville in 1972; Frances is a retired educator who taught most of her 34 years at Bowie Elementary.
Whitlock and Klein are brothers-in-law from Hopkins County.
"I am curious. I can't wait to see it. I am thrilled to death. It's an opportunity of a lifetime, the trip of a lifetime," Whitlock said.
Klein too said he is looking forward to the trip to D.C.
"I'll get to go and see all these memorials we've never seen," Klein said.
Each will have a butler or guardian, who will carry everything for them and accompany them on the flight.
The ceremony Thursday featured the pledge to the flags, lead by Hopkins County Veterans Service Office Danny Davis, the National Anthem sung by Leann Carpenter Oliver, an opening prayer by League Street Church of Christ Minister Jerry Savage, and opening and closing remarks by County Judge Robert Newsom.
Veterans from each branch of the military were asked to stand as the song for their branch as the military salute played.
Judy Rawson Heaps, who has been a member of the DFW Honor Flights Board since her dad's participating in the very first Honor Flight in 2009.
Polly Swatsell provided flags for those in attendance at the ceremony to watch.
The ceremony can be viewed on KSST's YouTube page.