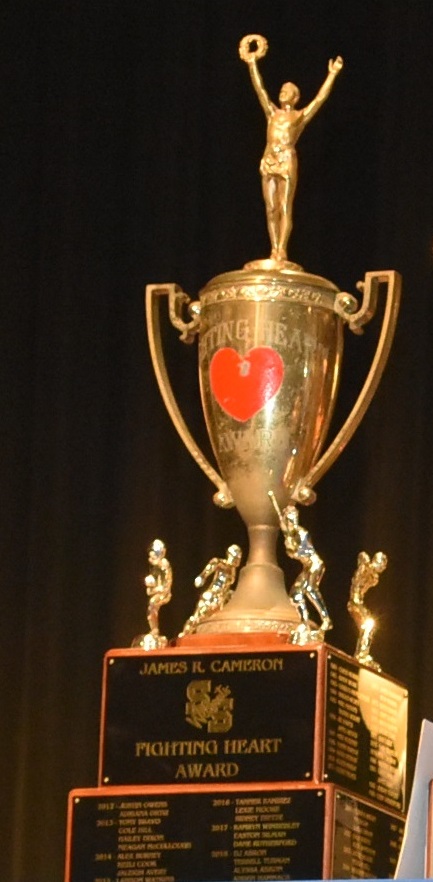 At the SSHS Awards Ceremony Thursday evening, Wildcats Athletic Director Greg Owens announced this year's recipients of the James Cameron Fighting Heart Award. Winners for the Lady Cats were Bailey Haggerty and Abbi Baier and for the Wildcats Keaston Willis and Landry Tyson.
Haggerty, a Lady Cats' softball pitcher, was described as a person of character and a competitor and fighter who always answered the call. She excelled despite personal tragedy in her life. Haggerty was twice a district MVP and is the all time winningest pitcher in Lady Cats' history. Haggerty will attend college at Texas A&M-Commerce.
Abbi Baier has earned the nickname of Puma for her driven competitive nature. She was a three sports participant in high school playing volleyball and softball and running track. Baier was all-district in volleyball and softball. Track is really where she made her mark. Baier holds school records in the 300-meter hurdles, 100-meter hurdles and as a member of the 4×100-meter relay team. As a sophomore, Baier finished fifth in state in the 300-meter hurdles. Baier will run track in college at Southeast Oklahoma State.
Keaston Willis was called a great human being with a strong work ethic that sets him apart. Despite a severe ankle injury this year during district play, Willis returned for the playoffs and helped lead the Wildcats to the State Basketball Tournament. Over four years Willis got all-district, all-region, TABC All Star and All-State recognition. He is the all time leading scorer in Wildcats history and holds the school three-point record. Willis will play basketball in college at The University of the Incarnate Word in San Antonio.
Landry Tyson was called an outstanding, respectful young man and an extremely hard worker. Tyson excelled in football and track and he also participated in powerlifting. Tyson was named an all-district wide receiver. Tyson qualified for regional track meets for two years and was the high point athlete at the district meet this year. Tyson will be an honor graduate as a member of the top ten percent of his graduating class. Tyson will play college football at Texas A&M-Commerce.