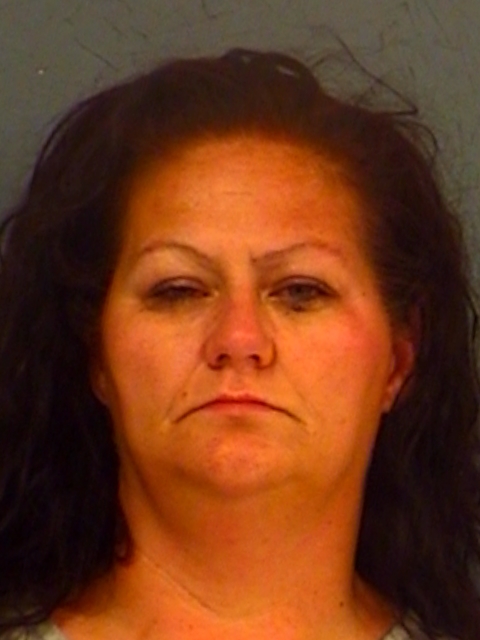 A 42-year-old Emory woman arrested on a prescription medication charge incurred additional charges, when a corrections officer found methamphetamine and a glass pipe in her possession upon arrival at the county jail, according to Texas Department of Public Safety reports.
Samantha Deann Lee, 42, of Emory was a passenger in a Kia Soul stopped by DPS Trooper Arturo Ugalde at 10:17 p.m. Saturday for impeding traffic on Interstate 30 east at mile marker 112. Both occupants in the vehicle showed signs of nervousness and criminal activity, and refused to allow officials to search of the vehicle, so the trooper called Sulphur Springs Police Officer Buddy Williams to bring police canine Kilo to conduct a free air search of the vehicle, Ugalde alleged in arrest reports.
Kilo gave a positive alert on the car, resulting in a probable cause search, according to arrest reports. Officials reportedly found a prescription bottle with a with a name on it different from both the driver and passenger. Lee allegedly admitted to possessing the medication, which she said was originally her mother's, Ugalde wrote in arrest reports. The bottle contained several different pills, one of which was identified as Tramadol, a Penalty Group 3 controlled substance, resulting in Lee's arrest for possession of less than 28 grams of a Penalty Group 3 controlled substance, the trooper alleged in arrest reports.
While being booked into jail, corrections officer Hayley Harren reportedly found three baggies containing suspected methamphetamine, two glucose test strip containers with suspected meth and a glass pipe with meth residue in Lee's possession. The suspected methamphetamine weighed 44 grams, resulting in additional charges, Ugalde noted in arrest reports.
Lee remained in the county jail Monday morning on all four charges. Her bond was set at $25,000 bond on the possession of 4 gram or more but less than 200 grams of a Penalty Group 1 controlled substance charge, $2,000 on the possession of less than 28 grams of a Penalty Group 3 controlled substance charge, and $1,000 for possession of contraband in a correctional facility. She also was charged on a possession of drug paraphernalia, which carries a $325 fine, according to jail and sheriff's reports.