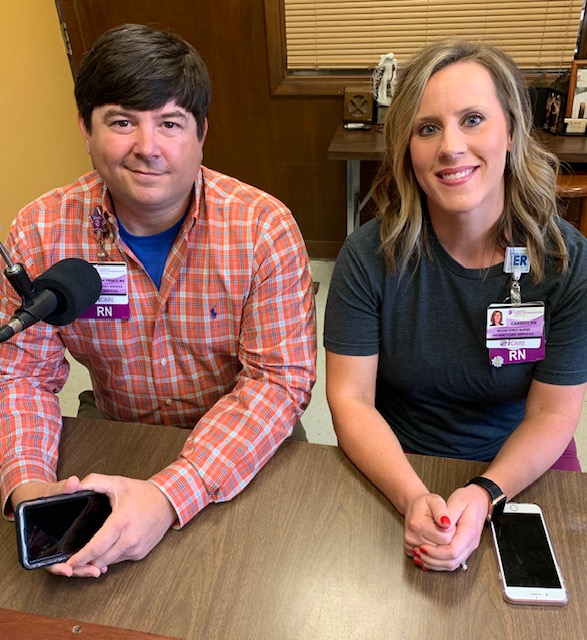 Within ongoing efforts to become designated a "Primary Stroke Center", CHRISTUS Mother Frances Hospital of Sulphur Springs has begun an Acute Stroke Program. Facilitating this program is a special "Stroke Team" of professionals who can assess and assist persons experiencing stroke symptoms at the hospital Emergency Room. Because time is so important to stroke victims, this team can mobilize quickly for emergency intervention and treatment. The public is invited to meet the team and Neurologist M.D.Vicas Pandey during a 'Stroke Awareness' Lunch and Learn free event on Wednesday May 22 at 12 noon. During a KSST Morning Show interview, we learned more from RN Byron Prince, Stroke Team Leader and ER Director, and RN Cassidy Cameron, Stroke Team co-ordinator.
There are two types of stroke. The Hemorrhagic Stroke results from a burst blood vessel causing bleeding in the brain. The more typical Ischemic Stroke is caused by a blood clot blocking the vessel. The Stroke Team can address both types,and most occurrences can be treated right here in the local hospital. According to Cameron, more strokes involving young people in their 30's, 40's and 50's have been documented in recent years. And according to Prince, during the month of April 2019, of the 18 patients seen with stroke symptoms, only three of these had to be transported to the Tyler CHRISTUS Health 'Comprehensive Stroke Center'. Gaining the designation of "Primary Stroke Center" will be a 'gold seal of approval' and an important step for CHRISTUS Mother Frances Hospital in Sulphur Springs.
Everyone is invited for a healthy lunch and valuable information at the Lunch and Learn on noon on May 22 in the Plaza Conference Center's first floor classroom, located across from the hospital's front entrance.