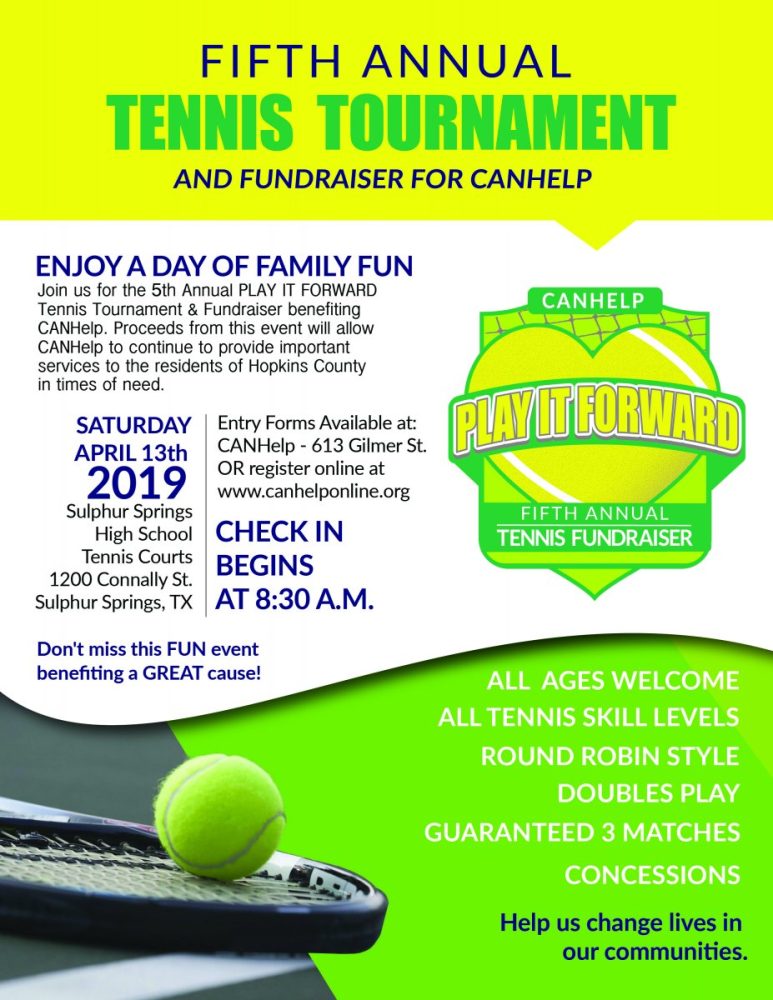 Swing into spring at CANHelp's 5th Annual PLAY IT FORWARD Tennis Tournament and Fundraiser on Saturday, April 13th at the Sulphur Springs High School Tennis Complex. Early Tournament registration is now open and ends Sunday, March 31st. Late registration ends on Sunday, April 7th at midnight.

Don't know how to play tennis….no worries. The tournament is open to all, whether you are new to tennis, a leisure player or have played competitive tennis. So ask your spouse, son, daughter, or friend to team up, or challenge a business rival for a day of fun that will benefit Hopkins County residents in their times of need. Participants and spectators will enjoy friendly competition and delicious food concessions.
CANHelp's mission is to provide compassionate, comprehensive solutions that empower the underserved in our communities to make positive, lasting changes in their lives. In 2018, CANHelp provided over $80,000 in goods and services to Hopkins County elderly, disabled, and families stricken by sudden income loss or insufficient income through its financial assistance and basic needs' programs. CANHelp also provides Hopkins County residents with assistance in job searches, resume writing and career planning, along with additional information and guidance for continuing education and budget counseling. Additionally, through its Annual Back to School Fair, CANHelp provided over 500 Hopkins County school children with school supplies totaling more than $12,500 for the 2018-2019 school year.
Visit CANHelp's website at www.canhelponline.org for more information or to register online for the tennis fundraiser. For any additional questions, call Adela Martinez at 903-885-9797 ext. 3. If you are unable to attend, but want to support CANHelp programs, donations are always welcome at 613 Gilmer St. in Sulphur Springs or online through the CANHelp website.