By Jan Vaughn

Tira Volunteer Firefighters were recognized at the Community Christmas Party.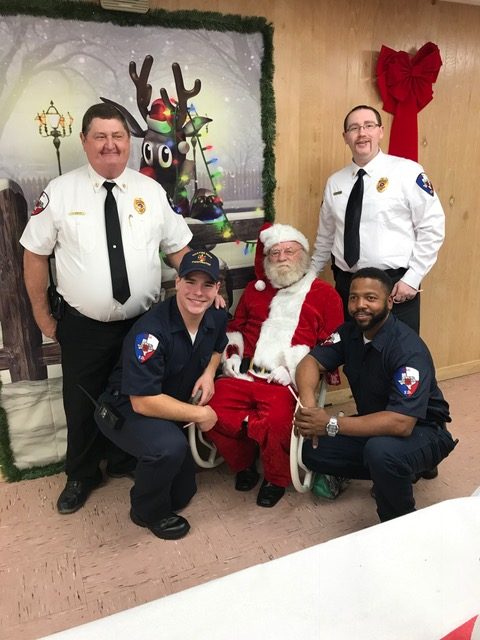 I didn't receive any reports this week, but wanted to put a little in about the
community Christmas party. Despite the unpleasant weather, about 45 people gathered for the annual event. We had a delicious meal and enjoyed visiting with neighbors. Tami Joslin read the Christmas story and Mayor Allen Joslin introduced the volunteer firefighters – John Martin, Chief; Shawn Martin, Assistant Chief; Curtis Fulgram; and David Ruth. Mike Ruth was not able to attend, due to his job. Also, Allen Joslin is Treasurer for the organization. The folks at the party expressed appreciation to the firefighters for their contribution to the community. Santa stopped by for a visit with the youngsters and the young at heart. The volunteer firefighters were among those who had their picture made with him.
After the party, Chip and I drove through Doctors Creek Unit of Cooper Lake
State Park to see the decorated campsites. There were many beautiful light displays. 
Chip's mother and sister, Grace and Linda Ellen Vaughn had lunch with us on Sunday and visited for a little while. Tiffany and her family are usually with us for the weekly meal, but they were celebrating Thanksgiving and Christmas with a covered dish lunch at Posey Baptist Church.
I'm sure there are many Christmas activities planned for the next couple of weeks. I hope to have more to report next time.
I always need and appreciate input from my friends to help keep me informed of news in our community. If you have any news pertaining to Tira residents, past or present, please contact me, Jan Vaughn, at 903-945-2190 or 903-438-6688 or [email protected] .