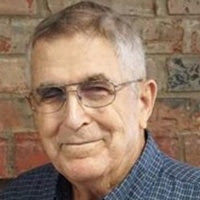 Ledous Haroldeen Brown, 78, of Klondike, passed away on the same property that he was born on, on Sunday evening, December 2, 2018.
Mr. Brown was born July 21, 1940, in Klondike, the son of Leona Lovelace Brown and Samuel Brown.
He was married to Sally Ann Snowman Brown for 52 plus years. Ledous was employed with Safeway for 23 years and Texas A&M University Commerce for 17 years. He was an avid outdoorsman, he enjoyed fishing, hunting and following his cows around in the pasture.He was known as" Mr. fix it" as he could fix just about anything. He was big on helping people in any way he could. He could tell and share many stories and memories and especially tell jokes to make people laugh.
He was lovingly known as Pawpaw & Tex to his kids, grandkids and great-grandkids.
He is survived by his wife Sally, two sons; Mark Brown (Tina) and Mike Foxall, grandsons; Shawn Foxall, Blake Brown and Adam Donnell(Blair), granddaughters; Bailey Brown (Keilah) and Kristy Donnell and his great-grandchildren; Taylor Foxall, Addison Brown, Andrew Brown, Aiden Brown, Houston Donnell and Jude Donnell. Ledous is also survived by his siblings; Alvin Brown (Barbara), Randy Brown, Willie Brown (Kathy), Danny Atterberry (Joann), his sister-in-law Brenda Brown and his brother-in law Bob Rizzo.
Those that preceded him in death are his parents Leona and Samuel Brown, his step mother, Pauline Hooten Brown, his brother, Donald Brown, his sisters; Mary Evelyn Atterberry and Lou Ann Rizzo, and, his loving grandmother who helped raise him, Martha Ann Brown.
Funeral services for Mr. Brown will be held at 11:00 A.M. Wednesday, December 5, 2018, at the Jones-Walker & Son Funeral Chapel with Brother Terry Bryan officiating.
Visitation will occur one hour prior to service at 10:00 A.M.
Interment will be at the New Klondike Cemetery, Klondike, Texas 75488
Serving as pallbearers will be Luke Brown, Josh Brown, Brad Phifer, Jeff Phifer, Richard Brown and William Loesel.