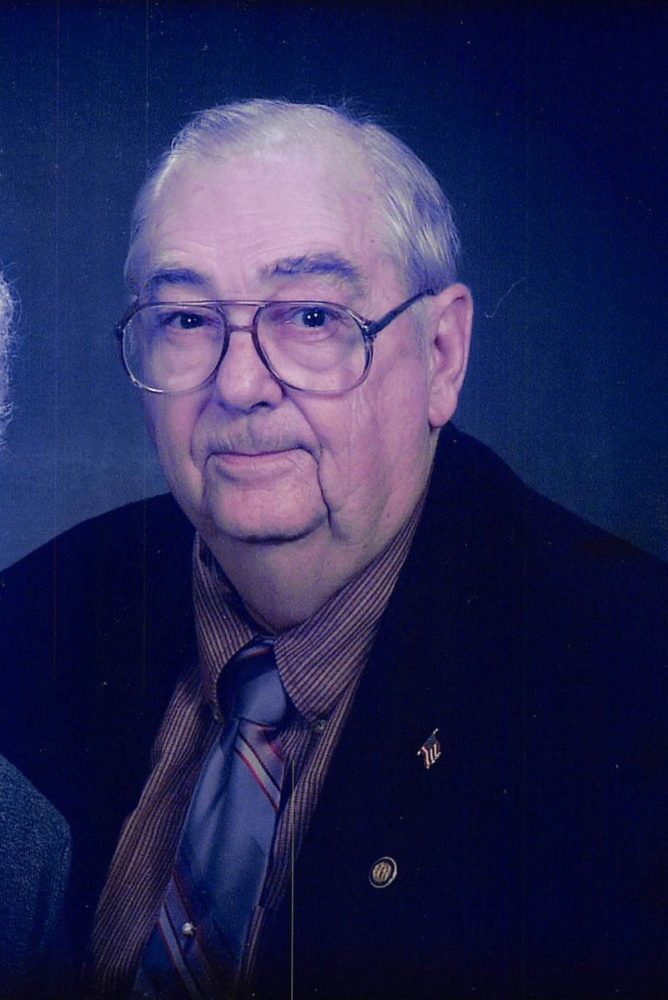 Funeral service for Joe Raymond Pogue, age 89, of Sulphur Springs, will be held at 11:00 a.m., Thursday, November 15, 2018 at Spence Chapel at First Baptist Church with Bro. Fred Lewis and Bro. Tommy Johnston officiating. Interment will follow at Pleasant Grove North Cemetery with Cor deVries, C.J. Duffey, Gary McClung, Gordan Ford, Clayton McGraw, and Oscar Aguilar serving as pallbearers. Honorary pallbearers will be the Radio Bible Class, Don Patterson, H.W. Halcomb, William Sparks, Fred Dial and Floyd Nelson. Visitation will be held 10:00 a.m., prior to service time. Joe passed away on Monday, November 12, 2018 in Dallas, TX.
He was born on February 4, 1929, in the Pleasant Grove North Community, the son of Hurley and Doll Lemon Pogue.  He married Theresa Glenn on May 29, 1958 in Sulphur Springs and she preceded him in death in 2008.  Joe was a member of the First Baptist Church and of the Radio Bible Class.  Joe served in the United States Navy, storekeeper 2nd class from August 1950 to June 1954, stationed at Monterey and San Diego and one year aboard ship. He served on the Red River Council for the Mental Disabilities from 1980-1983 and 1987-2014, the Community Chest from the 1980s to present, Ark-Tex Council of Governments at COG, Ark-Tex-La Civic Center from 1978-1979, Sulphur Springs Masonic Lodge #221 for 60 years and the Sulphur Springs Masonic Chapter and Council, DeMolay Commandery in Greenville.  He serviced as County Judge from 1979-1982; 1987-1994.  He was the Sulphur Springs School Tax Assessor from 1963-1965, Hopkins County Tax Assessor for 3 years and Hopkins County Auditor for 3 years.  He owned Fashion Fabrics on the south side to the square for 3 years.  He worked for his uncle Raymond for 6 years at Pogue Oil Co. and then worked for Kenneth Ward and Sulphur Springs Auto for 3 years.  He served on the Board of N.E.T.O. and the Texas Association of Counties Insurance Board.
He is survived by sons, Earl Pogue, Matt Pogue and wife Teresa, granddaughter, Ali Danielson and husband Deano, great-grandchildren, Talon and Brynlee Danielson, brother, Francis Pogue and wife Rose, nephews, Joe Don Pogue and Lee Pogue, niece, Debbie Mitchell, and grand-pup, Roxie.
In addition to his wife, Joe was also preceded in death by his parents.
In lieu of flowers, memorials may be made to the First Baptist Church Radio Bible Class at 116 Oak Avenue, Sulphur Springs, TX 75482 or a Charity of your choice. Arrangements are under the direction of West Oaks Funeral Home.