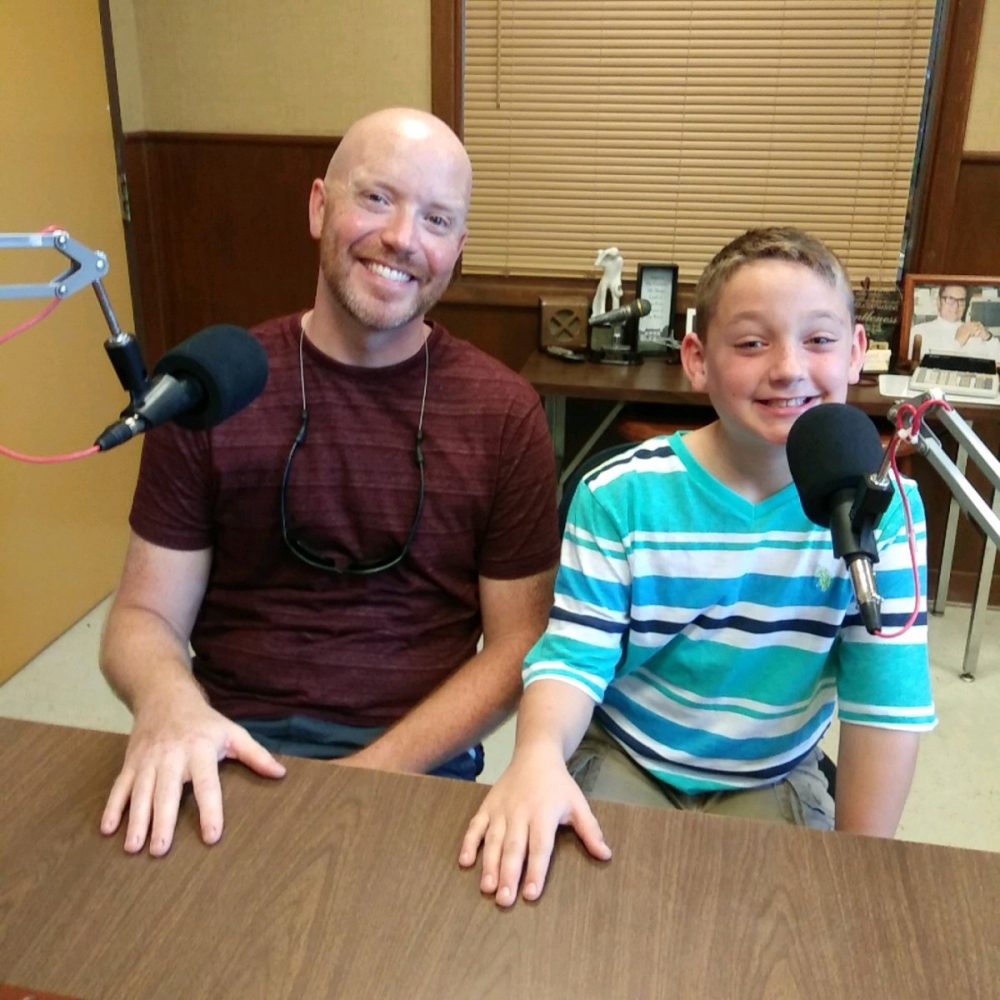 Eric Godwin, Pastor of Shannon Oaks Church and his son Evan stopped by the KSST Studios during the Good Morning Show to share some great news…the long-awaited Pumpkin Patch is about to open!  In fact, it will be open to the public every Saturday in October from 10am until sunset. "We want the citizens and families of our area to come out and have a full share of wholesome Pumpkin Patch fun, games, activities. There's about 3,000 pumpkins and gourds out there, so the color of the pumpkins and flowers really give it an inviting appeal. You can even bring a picnic and  enjoy a meal together at the outdoor seating area. And, admission to the Pumpkin Patch is affordable, only $5 per person, ages 2 and up". 
As Evan Godwin explained, activities on the grounds include hayrides, a hay maze and a massive hay slide with at least four separate slides. There's a newly-built dual-car barrel train for 12-14 persons which takes a looping course around the grounds. And there's horse rides, too! You can put on "hamster wheel races" with friends in the three different human-sized hamster wheels. In the Pumpkin Patch, meet special scarecrows "Scare", "Crow" and "Patches" in the Pumpkin Patch, and you can take part in a "Jack Attack".  According to Pastor Godwin, all the attractions were designed and constructed with an emphasis on safe fun by the church' Pumpkin Patch design team. "There's activities for all ages, young children through teen-agers and adults. There's a concession stand, tree-shaded seating areas, open play areas and room to just stroll and enjoy the Autumn displays. And you can pick from a huge assortment of pumpkins and gourds for sale. There's baking, carving, Jack o'Lantern and princess pumpkins, plus various interesting colors of gourds". For photos and details, visit: facebook soc pumpkin patch
Pumpkin Patch is actually a church fundraiser, with this year's yield earmarked for a twofold purpose; funding facility/grounds development and for global church partnerships. The initial year of Pumpkin Patch in 2017 was successful, with proceeds used to help retire the church debt. Pastor Godwin admits that Shannon Oaks is blessed with a congregation of people who love to help and who display a joy and willingness to share their talents and resources. "They can team together and take ownership of projects like this, which in turn bless God's people and the community".