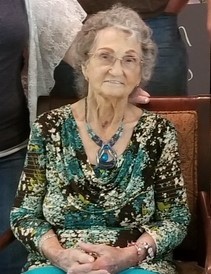 Mrs. Ruby Louise Moss, age 86 of Winnsboro, passed away on Monday, October 8th, 2018 in Tyler. She was born on June 14th, 1932 in Perryville, Texas to the late Issac Phillips and Eveleener Phillips. She was a homemaker and worked for Plenty's Horm in Pittsburg and Mike Bennett's Clothing. She was a member of Hepsibah Baptist Church. She was preceded in death by her parents, son, William Moss; grandson, Richard Alford Moss, granddaughter, Deborah Kay Moss; sisters, Pearl Busby, Myrtle Lou Phillips, Rosie Ellison, Lillie Overstreet, Mary Gatewood, Carol Annette Moss and brothers, I.J. Phillips and Billy Phillips. 

She is survived by her husband, William Moss of Winnsboro; sons, John Moss of Scroggins, Billy Moss and his wife Melissa of Pittsburg, Richard Moss and his wife Eveleen of Scroggins, Rickey Moss and his wife Crystal of Good Hope; daughters, Delilah Brown and her husband Mark of Scroggins, Peggy Lilley and her husband Tony of Scroggins, Diana Leverton of Scroggins; brother, Robert Wayne Phillips of Perryvillie; sisters, Betty Holman of Longview, Sarah Phillips of Tawakoni, Sally Roberts of Tawakoni, Mattie Tomlin of Mt. Pleasant, Bessie Willard of Longview; thirty six grandchildren, eighty seven great grandchildren and 10 great great grandchildren.

Visitation will be held on Wednesday, October 10th, 2018 from 6:00 pm to 8:00 pm at Beaty Funeral Home-Winnsboro 816 W. Broadway Winnsboro, TX 75494. 

Funeral Services will be held on Thursday, October 11th, 2018 at Beaty Funeral Home at 2:00 pm, Bro. Phil Grenawalt and Bro. Perry Shirley conducting. Interment will follow at Matinburg Cemetery in Pittsburg.