Wildcats Win First District Game 42-27
by Butch Burney
When the Sulphur Springs Wildcats saw their 15-point lead dwindle down to 2 points Friday night, they retook control of the scoreboard by utilizing all three phases of the game.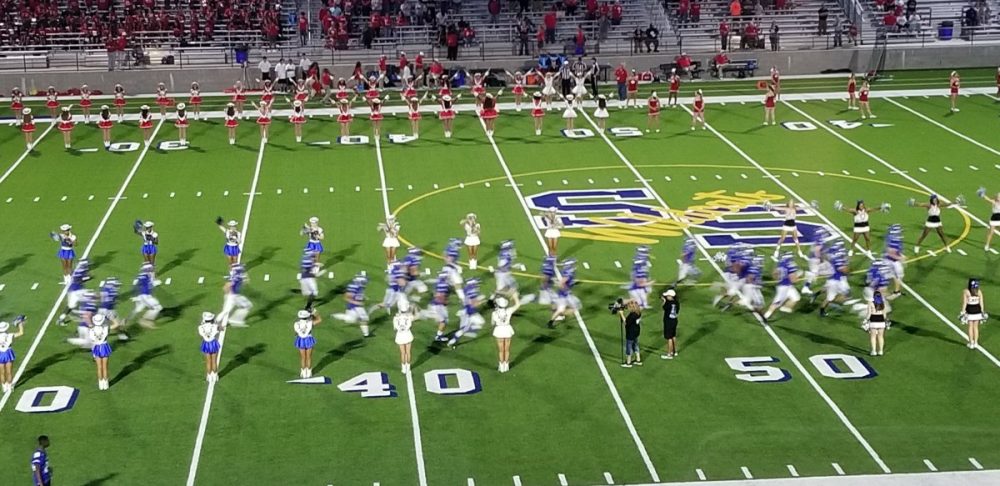 The Terrell Tigers cut the Wildcats' 22-7 halftime lead to 22-20 with a little over three minutes remaining in the third quarter, but Sulphur Springs — which had just one first down in the second half up to that point — scored three unaswered touchdowns, held Terrell to one first down on three consecutive possessions and recovered an onside kick to set up a TD.
                It all added up to a 42-27 Wildcat victory in the District 8-5A, Division II opener for both teams in a steady drizzle through the first half of the game. The Wildcats (2-0 overall) never trailed, scoring on their first three possessions of the game to take a 15-0 lead. They also scored 20 of the game's final 27 points for a bookend victory.
                They did it behind the rushing tandem of Caden Davis, Colton Allen and Da'Korian Sims, who each rushed for more than 75 yards, with the three of them totaling 238 yards on 29 carries. Overall, the Wildcats ran 38 times for 250 yards, while quarterback D'Corian Young completed 10-of-21 passes for 115 yards.
                Terrell, which runs an option-based offense, got 218 yards rushing and two touchdowns from wingback DeeDee George and the team totaled 364 rushing yards on 46 carries. But, the Tigers completed just a third of their passes (7-of-21) for only 50 yards, and they turned the ball over three times (fumble recovery by Austin Dodd, interception by Landry Tyson, and a blocked field goal recovery and return by Detrick Clayton).
                Defense and special teams set the Wildcat offense up with prime field position throughout the first half, as Damiyon Dugan blocked a 21-yard field goal try on Terrell's first possession, and Clayton returned it 63 yards to the Terrell 17 yard line. On the very next play, Jermond Bryant-Amos caught the first of his two touchdowns on a 17-yard pass from Young. Bryant-Amos finished with three catches for 56 yards.
                The Wildcats mounted a 10-play drive on their next possession, which was capped with a 31-yard field goal by Brandon Zavala to stake SSHS to a 9-0 lead. After Austin Dodd recovered a Terrell fumble and returned it 31 yards to the Tigers' 10-yard line, Sulphur Springs cashed it again, this time on a 12-yard pass from Young to Dugan, and the Wildcats led 15-0.
                George scored the first of his two TDs for Terrell on a 74-yard run, but the Wildcats answered with a 62-yard drive culminated by Young's 5-yard run. The drive was kept alive when Adrian Walker picked up a first down on fourth-and-1 from the 6-yard line. That gave SSHS a 22-7 halftime lead.
                Terrell, though, scored back-to-back TDs on a 4-yard run by O.T. Rose and a 12-yard run by George to cut the Wildcats' lead to 22-20.
                That's when the Wildcats responded, scoring three straight TDs on the second 17-yard catch by Bryant-Amos, an 8-yard run by Allen and a 31-yard TD by Davis. Terrell added a late TD following a blocked punt.
AROUND THE DISTRICT — Sulphur Springs, Corsicana, Kaufman and Forney all came away with district-opening wins. SSHS is 2-0 overall, while Corsicana is 2-1 following their 40-14 victory over Greenville (1-1 overall). Kaufman is 2-0 after blasting Ennis 37-7. Ennis falls to 0-2 overall. Forney is 1-2 overall after beating crosstown rival North Forney 39-35. North Forney falls to 1-2. Royse City (1-1) was idle. … Next week, SSHS travels to Royse City, Terrell hosts Forney, Corsicana travels to Kaufman in one of the premier games, and Ennis travels to North Forney.
                ODDS AND ENDS — Terrell recovered two onside kicks, and the Wildcats recovered one. … SSHS blocked a field goal attempt, while Terrell blocked an SSHS punt. … Twice, Terrell lined up in punt formation but ended up faking the punt. Neither attempt resulted in a first down. … Sadie Stroud was crowned SSHS homecoming queen before the game, and the SSHS 2008 state championship team was honored at halftime.
First Quarter
                Sulphur Springs — Jermond Bryant-Amos 17 pass from D'Corian Young (run failed), 8:07.
                Sulphur Springs — Brandon Zavala 31 field goal, 1:03.
Second Quarter
                Sulphur Springs — Damiyon Dugan 12 pass from Young (kick failed), 11:11.
                Terrell — DeeDee George 74 run (Bryan Riojas kick), 9:13.
                Sulphur Springs — Young 5 run (Zavala kick), 5:59.
Third Quarter
                Terrell — O.T. Rose 4 run (pass failed), 6:27.
                Terrell — George 12 run (Riojas kick), 3:06.
                Sulphur Springs — Bryant-Amos 17 pass from Young (Osiel Lopez kick), 1:07.
Fourth Quarter
                Sulphur Springs — Colton Allen 8 run (Zavala kick), 9:31.
                Terrell — Micah Skinner 18 run (Riojas kick), 2:05.
STATISTICS
RUSHING
                Terrell, 46-364 — DeeDee George 10-218, Jaquavious Morris 12-60, Micah Skinner 8-59, Cameron Anthony 5-22, Nate Lloyd 2-20, O.T. Rose 2-7, Jaqwondis Burns 7-(-22).
                Sulphur Springs, 38-250 — Caden Davis 10-83, Colton Allen 10-78, Da'Korian Sims 9-77, Aidan Walker 2-5, D'Corian Young 4-15, Noe Ponce 1-(-7), Kaleb Myles 2-(-1).
PASSING
                Terrell, 7-21-50-1 — Micah Skinner 7-21-50-1.
                Sulphur Springs 10-22-115-0 — D'Corian Young 10-21-115-0, Noe Ponce 0-1-0-0.
RECEIVING
                Terrell, 7-50 — Semaj Willis 4-15, Jaquavious Morris 1-26, J.T. Richardson 1-6, Nate Lloyd 1-3.
                Sulphur Springs 10-115 — Jermond Bryant-Amos 3-56, Damiyon Dugan 3-13, Austin Dodd 2-33, Jase Thompson 1-6, Bryce McQueen 1-7.
FUMBLE RECOVERIES
                Terrell, 1 — Nate Lloyd 1.
                Sulphur Springs, 1 — Austin Dodd 1.
INTERCEPTIONS
                Terrell, 0.
                Sulphur Springs 1 — Landry Tyson 1.
PUNTING
                Terrell, 4-111 — Micah Skinner 4-111 (27.8 average).
                Sulphur Springs, 3-64 — Jermond Bryant-Amos 3-64 (21.7 average).
KICK RETURNS
                Terrell, 2-29 — Nate Lloyd 2-29.
                Sulphur Springs, 2-53 — Colton Allen 1-33, Aidan Walker 1-20.
FUMBLES-LOST: Terrell 5-1. Sulphur Springs 2-1.
PENALTIES: Terrell 9-70. Sulphur Springs 8-70.