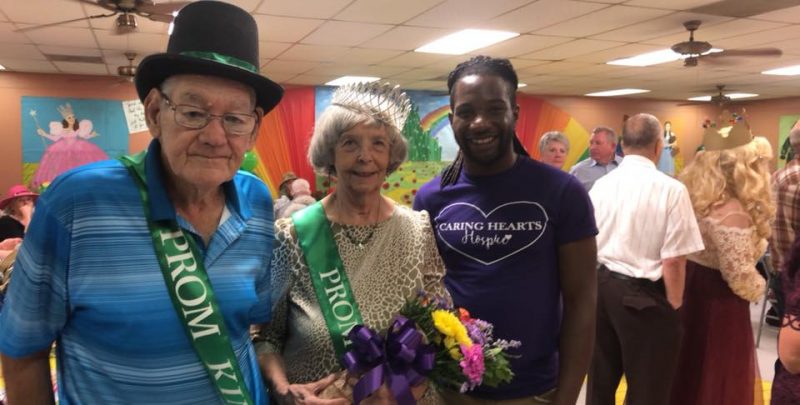 The much-anticipated 2018 Seniors Prom was fun for all and blessed with talent, a host of volunteers and numerous sponsors which assured a memorable evening. For the 100 attendees, there were celebrity photos, lots of prizes, a dinner amidst theme decor, naming of Prom King and Prom Queen, and special entertainment by the Senior Entertainment Group.
The dinner menu consisted of Chicken Fried Chicken, Mashed Potatoes, Gravy, Providence Vegetables, Corn, Roll, Apple Cobbler and Homemade Ice Cream prepared and served by James Weatherman, Tammy Templeton, Celia Templeton, Tiffany Jones, Stephen Jones and Pamela Johnson
After dinner, Mary Ivey, 2018 Ms Hopkins County Senior crowned the 2018 Prom King and Queen Charles Hill and Dana Mericle. Following more fun and games, it was time to be seated for the entertainment program by the local Senior Entertainment Group.  With the theme of "The Wizard of Oz", a 25 minute skit which was a condensed  version of the classic movie starred Lavonne Elam as Dorothy,Patsy Crist as Scarecrow,  Deana Hasten as Tin Man, Nancy Bolton as Glenda the Good Witch, Betty Holden as Cowardly Lion, Vender Wright as The Great and Powerful Oz, Karon Weatherman as the Wicked Witch of the West , Al Bass as Narrator  and Gene Crist as Sound Man.
You can watch at: https://www.youtube.com/watch?v=awMupj7AKQU
The Senior Entertainment group also made and donated 5 Beautiful Gift
Baskets which were raffled off during the Prom. All Proceeds were donated to the
Senior Citizens Building Fund. The Raffle Baskets raised $ 531.00. The Senior Citizens Building Fund now stands at $38,630.
Prom Sponsors were Murray-Orwosky Funeral Home, Caring Transitions of Nor Tex, Sulphur Springs Health and Rehab., Clear Captions, Caring Hearts Hospice and United Health Care.
United Health Care took photos of everyone as they came in and printed and framed
them to hand out before they went home.
Some of the door prizes were donated by some of the Hopkins County Marketers Association. Almost everyone went home with a Door Prize.
Volunteer Hillis Bass painted and made all of the wall and table decorations
According to Karon Weatherman, Senior Citizens Center Director, local seniors are encouraged to make plans now to attend the 2019 Prom next summer!