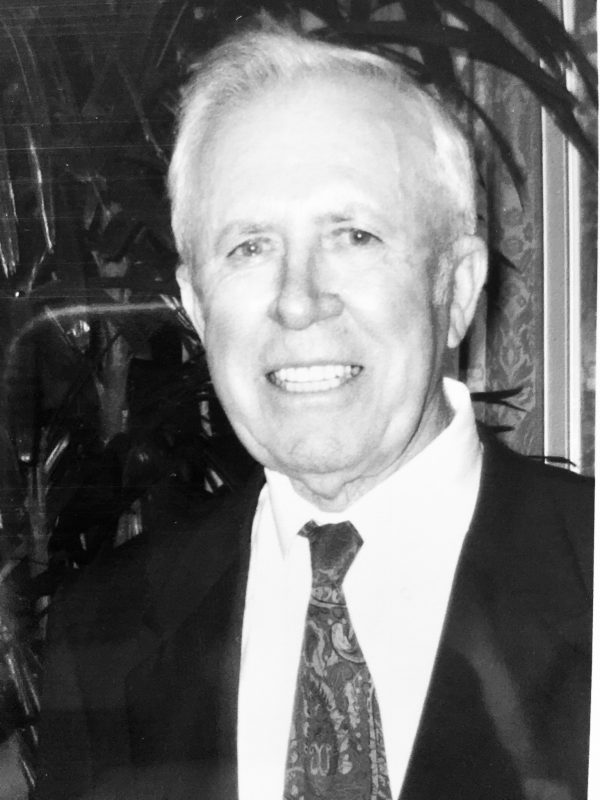 Jack D. Gillis passed away peacefully at age 94 on March 5, 2018 in the presence of his family.
Mr. Gillis was born on September 21, 1923 in Cumby, Texas to parents A.K. and Ruth Record Gillis.  He graduated from Cumby High School and then attended East Texas State College in Commerce and Texas A&M University in College Station.  On May 1, 1943, he married his girlfriend from the first grade, Ruth Plunkett Gillis, who preceded him in death in 2015.
Drought, floods, fire, hail, wind and snow…  Jack Gillis has about seen it all as he stood guard over one of the oldest and largest ranches in Hopkins County.  The Gillis Family Ranch, founded in 1873, is headquartered in Cumby.  The Ranch is home to a large herd of registered Santa Gertrudis cattle that he used to work with his favorite horse up until his 80s.  Mr. Gillis loved the Gillis Ranch and all of those cows.  Jack also got his pilot's license at age 37 and drove to Alaska twice.  To make sure his family had a place to gather for holidays and other family occasions, Jack also developed a separate ranch which his family affectionately calls "The Barn" and is where he celebrated his 90th birthday with family and friends.
Through A.K. Gillis and Sons, Inc., Jack and his brother Bobby employed thousands of people over the years throughout Texas and Louisiana, and still do today.  Mr. Gillis enjoyed the many years he served on the Sulphur Springs State Bank/Alliance Bank board of directors.  He was a good listener and gave good advice.
Jack is survived by two daughters, Judy Gillis of Sulphur Springs and Janet and Mike Jordan of Mt. Vernon; grandchildren, Ashley and Drew Roberts of Austin, Josh and Kayce Jordan of Mt. Vernon, Julianne and Jason Evans of Dallas and Alison and Charlie Bagley of San Antonio; great grandchildren, Katelyn, Lucy and Anna Roberts, Emerson and Katherine Jordan, Gillis and Jordan Evans, and Jack and John Bagley; brother-in-law E. A. Junell of Cumby and nephew John and Debbie Gillis of San Antonio.  He is preceded in death by his wife Ruth Plunkett Gillis and brother Bobby Gillis.
A visitation will be held on March 7th from 5:30 – 7:30 pm at West Oaks Funeral Home.  Mr. Gillis will be buried in a private ceremony on March 8, 2018 and a memorial service will take place at 2:00pm at West Oaks Funeral Home.  All are welcome to attend the memorial service and celebrate the life of Mr. Gillis.
Pallbearers are Josh Jordan, Drew Roberts, Jason Evans, Charlie Bagley, Barry Ward and Randy Hall.
Honorary Pallbearers are the Alliance Bank Directors, John Gillis, E.A. Junell, Don Deaton, Red Cross, Lee Teetes and Vic Ponder.
Officiants are Dr. Dan Hoke and Mr. Charles Moore.
Soloist – Betsy Gekiere
Pianist – Mark Beggs
In lieu of flowers, please donate to First Presbyterian Church of Sulphur Springs.