Public Forum took much of the time of the Sulphur Springs City Council Tuesday night, December 5, 2017, as the council allowed extended time to Marty Brown of Wisconsin. Locally, Mr. Brown's corporation, DOUBLE INSANITY INVESTMENTS LLC, owns the building that once housed Lou Viney's Restaurant and Pub. Double Insanity Investments, LLC shows to be a Texas corporation with Martin C. Brown and Tamara M. Brown as officers.  Mr. Brown addressed what he called a high level of cronyism in both the city of Sulphur Springs and Hopkins County.
Mr. Brown's accusations of cronyism date back to 2016 when he sought to have the tax appraisal of his property on Main Street lowered. A check by KSST News in 2016 showed that his appraisal was in line with other businesses of equal square footage. He did approach the Tax Appraisal District and eventually went before the Appraisal Review Board. The board reduced his appraisal from the 2016 level of $142,270 to the 2017 level of $90,260. When Mr. Brown ended the lease with Lou Viney's, social media took him to task. In response, he wanted city staff to see the trashy condition the restaurant left in the building when they moved out. City Staff refused siting no productive result if they did view the building. Mr. Brown posted a two page "manifesto" against the city at that time.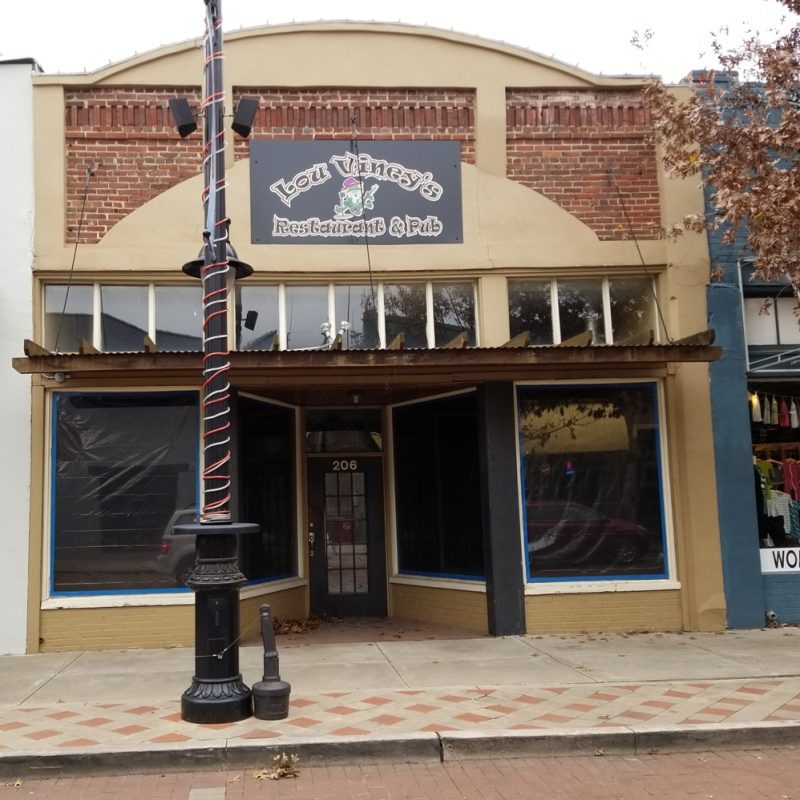 In his Tuesday night accusation of cronyism, he accused the city council of being a part of the city and county "Good Ole Boys Club". Mr. Brown had sought and received a sign permit for his building to place on his current building a sign that would read "Good Ole Boys Gentlemen's Club". The sign has yet to be put in place. His accusations made Tuesday night focused on City Manager Marc Maxwell and the three councilmen who hold seats that will be on the 2018 municipal ballot. He also made specific accusations against Councilwoman Emily Glass and Mayor John Sellers.
Mr. Brown accused the council of not managing the city manager. He stated that if the city manager violates the law and the city council condones it or is aware of it and does nothing, the council is derelict in its duty. Mr. Brown stated that Manager Maxwell told police to release into his custody an individual arrested for drunk and disorderly conduct. He also accused the District Attorney and the Chief of Police for doing nothing in response to his complaint regarding the action of Mr. Maxwell. Both the DA and Chief of Police noted that Mr. Maxwell was operating within his rights and the law as an adult member of society according to Texas Law, Article 14.031 in the Code of Criminal Procedure (which follows):
Art. 14.031. PUBLIC INTOXICATION. (a) In lieu of arresting an individual who is not a child, as defined by Section 51.02, Family Code, and who commits an offense under Section 49.02, Penal Code, a peace officer may release the individual if: (1) the officer believes detention in a penal facility is unnecessary for the protection of the individual or others; and (2) the individual: (A) is released to the care of an adult who agrees to assume responsibility for the individual; or (B) verbally consents to voluntary treatment for chemical dependency in a program in a treatment facility licensed and approved by the Texas Commission on Alcohol and Drug Abuse, and the program admits the individual for treatment. (b) A magistrate may release from custody an individual who is not a child, as defined by Section 51.02, Family Code, and who is arrested under Section 49.02, Penal Code, if the magistrate determines the individual meets the conditions required for release in lieu of arrest under Subsection (a) of this article.
(c) The release of an individual under Subsection (a) or (b) of this article to an alcohol or drug treatment program may not be considered by a peace officer or magistrate in determining whether the individual should be released to such a program for a subsequent incident or arrest under Section 49.02, Penal Code.
(d) A peace officer and the agency or political subdivision that employs the peace officer may not be held liable for damage to persons or property that results from the actions of an individual released under Subsection (a) or (b) of this article.
Added by Acts 1993, 73rd Leg., ch. 900, Sec. 1.04, eff. Sept. 1, 1994.
Mr. Brown did not cite the Texas Penal Code but did state the only reason for Mr. Maxwell's action was "Good Ole Boys Club".
Mr. Brown also questioned the integrity of Councilwoman Emily Glass when he questioned her use of the word "integrity" during a public discuss regarding emergency personnel. He also questioned what Mayor John Sellers had done following his complaint to the mayor regarding what he called Manager Maxwell's violation of the law.
By law, the council was unable to publicly respond to Mr. Brown's accusations. However, following the meeting Ms. Glass offered to meet with Mr. Brown personally but no one present for the meeting responded to Mr. Brown's request for a witness to the conversation. No member of council could serve as a witness or they would violate the open meetings act. No one from the public volunteered.
In other action:
Sulphur Springs City Council approved the second and final reading of an ordinance abandoning a portion of Gladys Alexander Drive and will convey the property to KCS Railroad. The railroad will, in turn, create a pedestrian crossing in a different location where Crosstown Trail will cross the tracks.
Council also approved on first reading an ordinance authorizing the execution of a certain special warranty deed conveying certain property of the City of Sulphur Springs to Billie Ruth Standbridge. The sale will be at fair market value of $400,000. Ms. Standbridge will build improvements to the site worth more than a million dollars.
Lot 10 in Pioneer Business Park replat was approved. The plat will allow J B Weld to consolidate their property on the one lot.
Jonathan Newsom was appointed as an alternate to the Zoning Board of Adjustments.