The Fall Festival Arts and Crafts show, located in Sulphur Springs high school entry and cafeteria, has items and gift ideas for everyone in the family. Gorgeous jewelry, canned preserves and tasty food items, metal work, quilts, purses, stuffed animals, hand-made pens, baking mixes, aroma-therapy items, and much, much more. Visit the show Saturday to purchase stocking stuffers and gifts for people you love! The Arts and Craft show will be open from 9:00 am to 4:00 pm, on Saturday October 27th, 2017.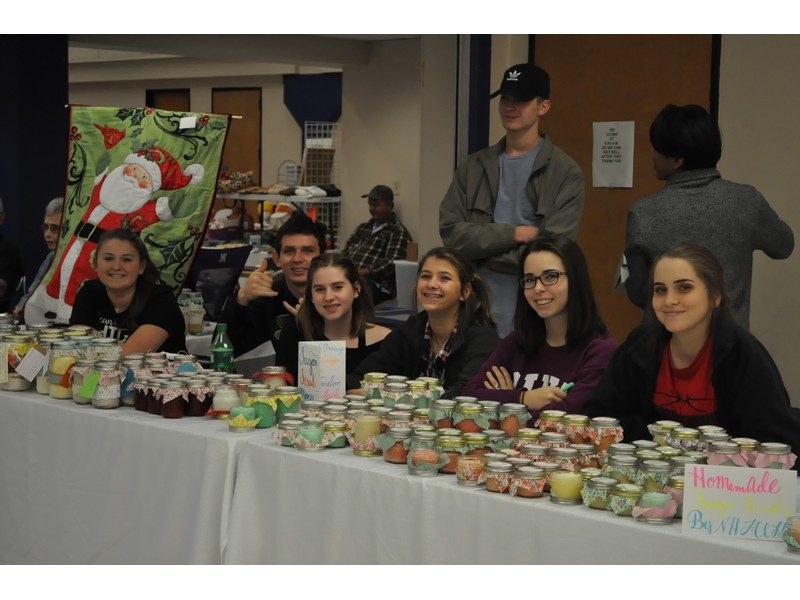 The FCCLA chapter had sugar scrubs, cookie jars, towels and hot pads for sale. The students made the items for the show in their class. Many student's enjoyied making the sugar scrub by combining coconut oil, sugar, salt, food coloring and essential oils to create the scrubs. The three favorite smells for the sugar srubs were: Pina Colada, Rasberry lemon, and Peppermint. Students involved in selling the products at the fair include:  Teagan Brantley, Amy Sprague, Madison Joslin, Kyla Stidham, Trey Patterson, Molly Wiser, Brycen Gillespie, and Eric Lira.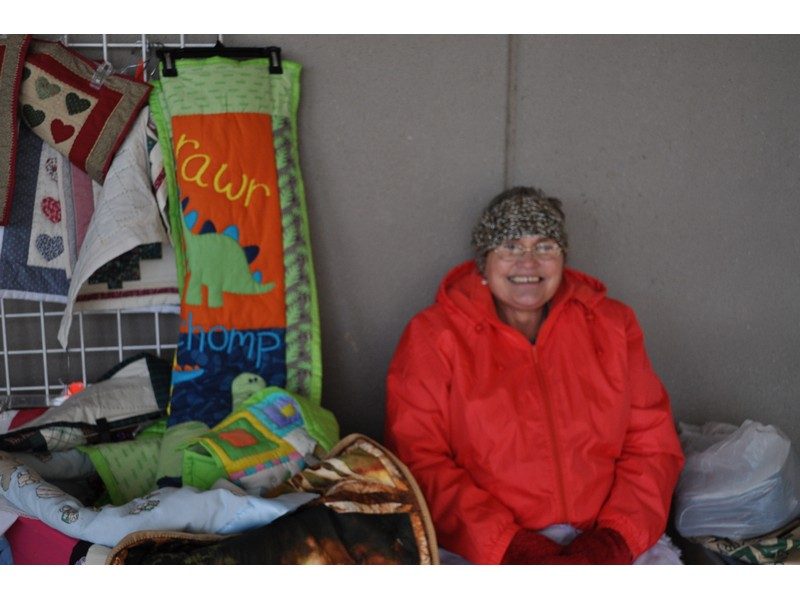 Nancy Edge had pillows, hook rugs,  dinosaur pillows, baby quilts and more available in her booth. From Hagensport, Edge has been attending the Fall Festival Arts and Craft show for "18 to 20 years." She encouraged the community to stop by and visit the show by explainging that "even though it's cold [outside] it's still fun!"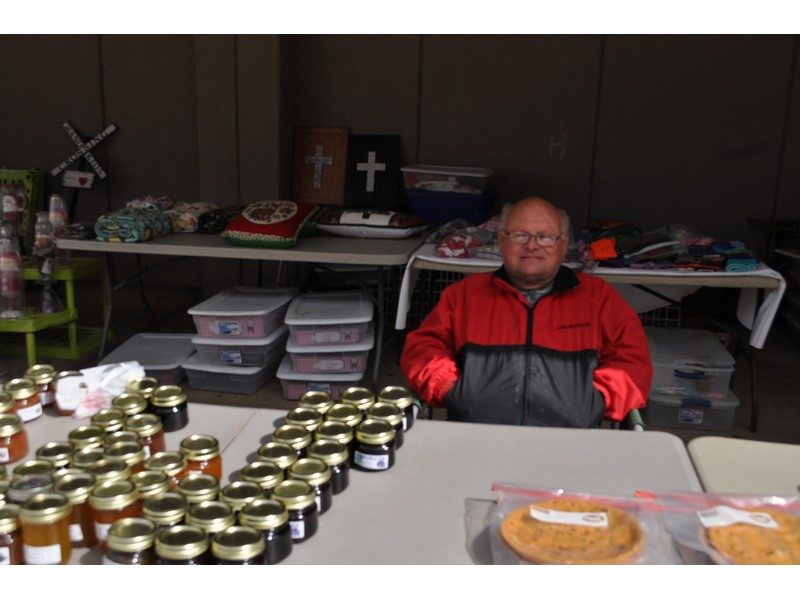 John London's booth was full of jellys, jams, and pickles. He also had banana nut bread and zucchini bread for sale. His favorite food items to sell: Banana nut bread, and apple butter jelly. London joked that he likes the apple butter jelly so much that he could eat the whole jar in one sitting.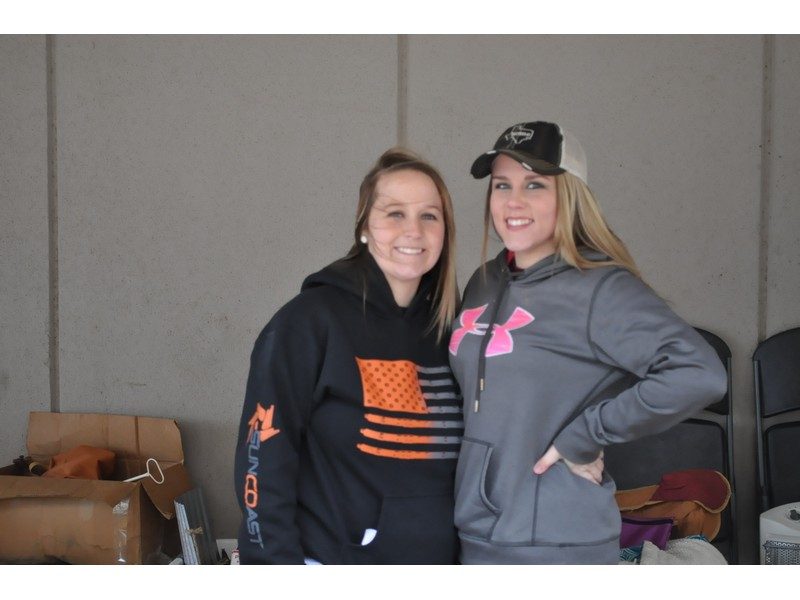 Jami Scroggins and Brittany Gregory sold homemade caramel apples covered with reeses pieces, or heath bars, as well chocolate covered pretzels and chocolate turtles. They also had a variety of car freshner aroma beads. The best seller being: "Leather and Lace" or one of their many fall scents.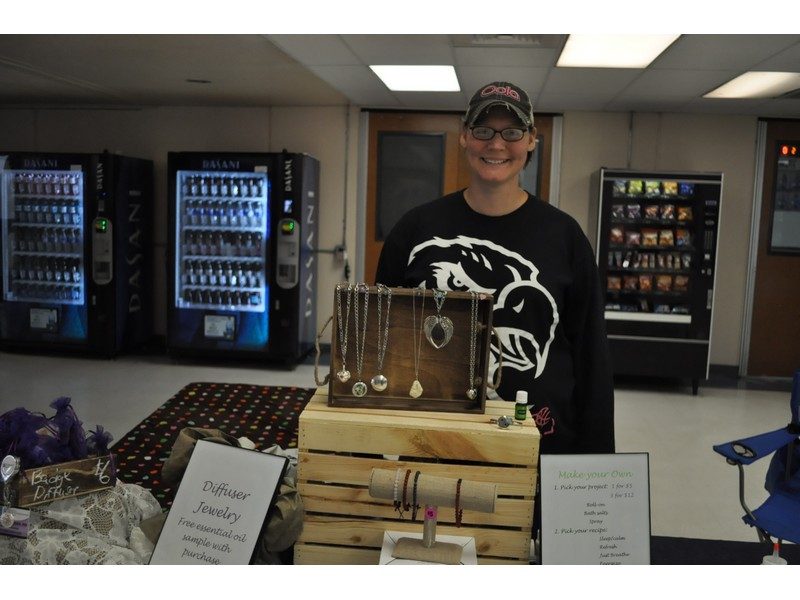 Alicia Van Rijin sold "diffuser jewelry" which is jewelry you can put perfume or essential oils on and it will keep the flavorful smells. She also had an available section of her booth where people could mix their favorite essential oils. Van Rijin has been working with essential oils since 2014. Don't forget to sign up for her give away basket which includes all sorts of essential goodies!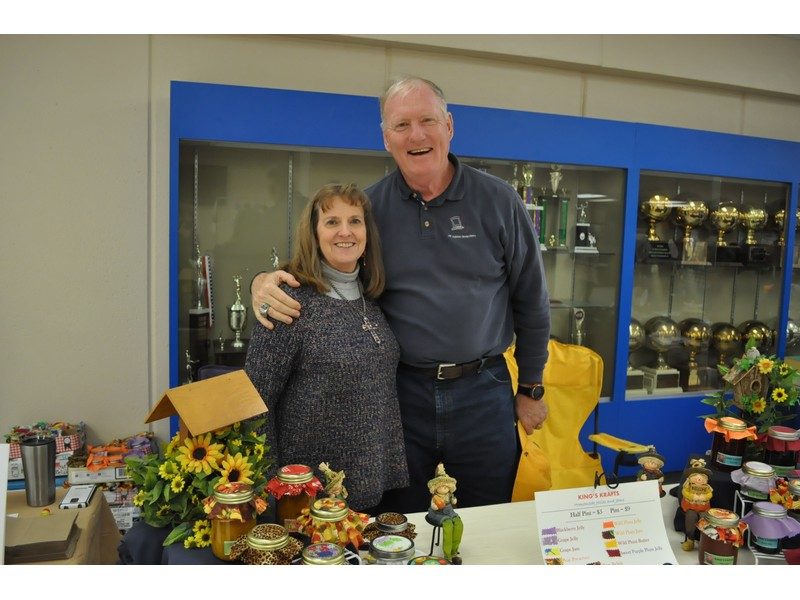 Chuck and Lynette King had a booth set selling jelly, jam, and pear relish, for their first year at the Arts and Craft show. Their best seller is the plum jelly, while Lynette's favorite is their Blackberry jelly. Visit their booth to check out all the tasty flavors offered! Lynette was also selling the book she had written while teaching in S.S.I.S.D. and published once she retired.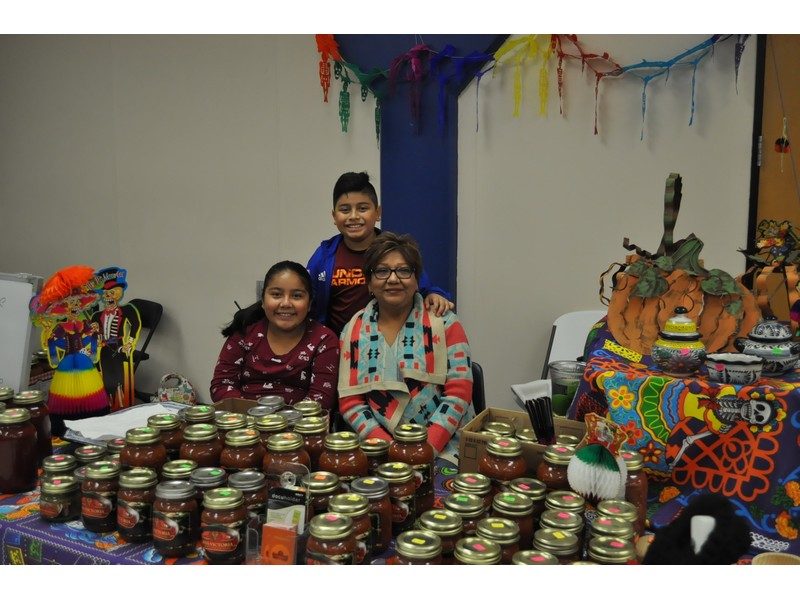 Ana Espinoza sold salsa, enchilada sauce, sauce for tamales and tacos as well as little purses. She explained that she has attended the Arts and Craft show "every year". This year, Espinosa had two helpers: her grandchildren, Victoria and Santiago helped man the booth. Victoria spoke up aboout the cute and functional purses they were selling. She explained how the smaller ones could be used for "pencil pouches" and hold school supplies. The others offered many uses as well, being very helpful in carrying items or as a purse for a little girl.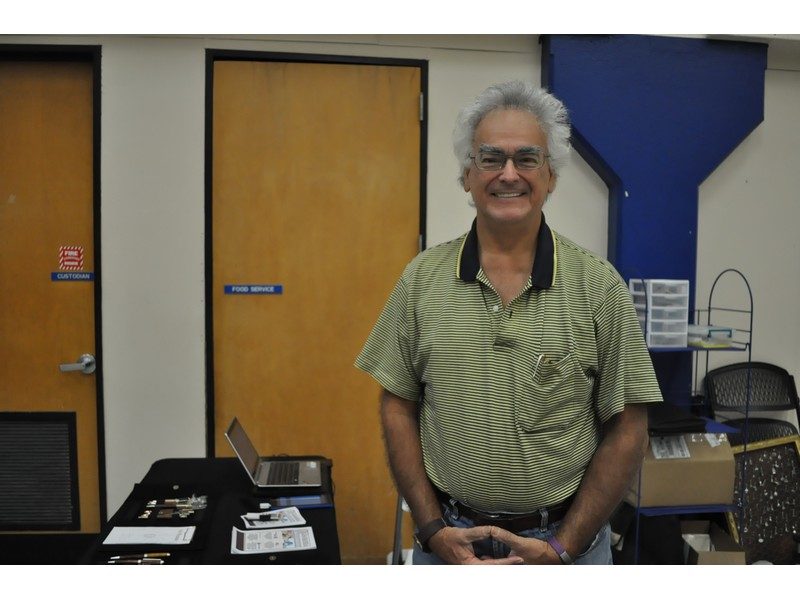 George Patterson has been woodworking most of his life, and the results are amazing hand crafted pieces. Patterson sold: wooden pens, coffee grinders, salt and pepper grinders, as well as wine glass holders. He specializes in taking raw wood and reusing it by turning it into a functional item. One of the facinating things was how Patterson was able to look at one of his many pens and tell you exactly what type of wood it came from and how he got the wood. One might be from "a fencepost" another "mesquite" or "oak, maple, poplar, [and] juniper". He offered pens that were "aromatic" and smelled like fresh cedar. All of Patterson's pens allow for the ink to be replaced and refilled. Patterson said "knowing the product, the process, and the people makes all the difference!" Not only does he create beautiful and stunning woodwork, he also has a specialty for picking out the perfect pen for each customer. Visit his website for more of his work.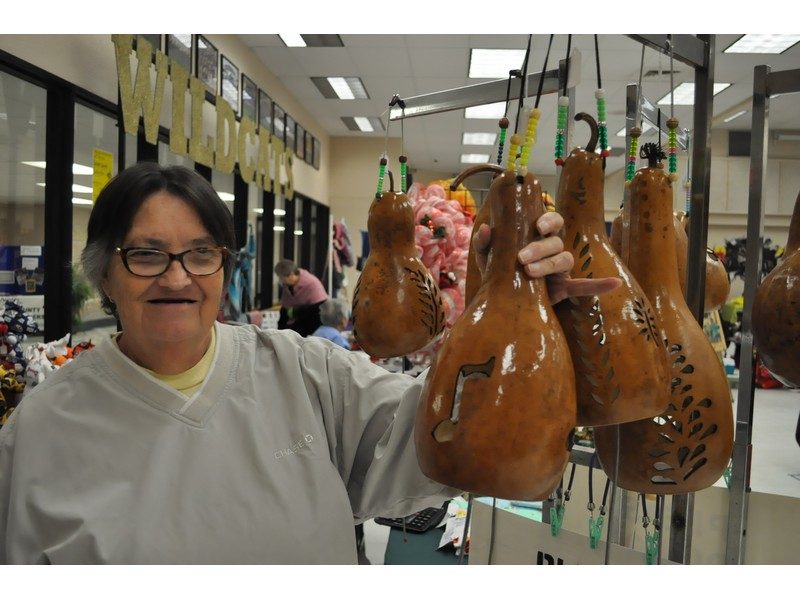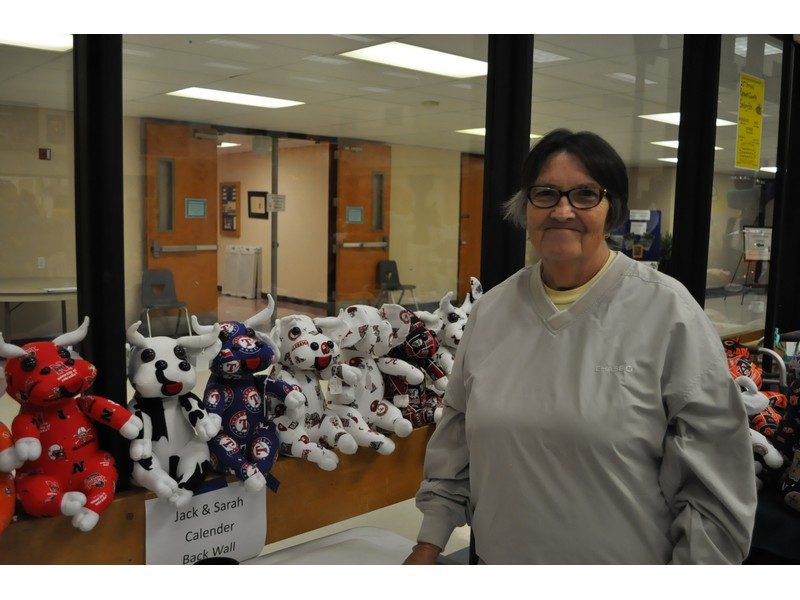 Sarah Calender had thunder gourds and customizeable stuffed animals for sale. Thunder gourds are gourds that have been hollowed out and have a "heat strung drumhead" with a string that vibrates the drum, making an incredible sound. Sarah and her husband have been making them for 6 or 7 years after a friend taught them how to create them. The stuffed animals range from Cows, Horses and Bears to Dogs and Cats. Sarah uses popular sports team patterns and colors as well as college team logos to create unique custom orders for her customers. If you would like to order a customized animal contact her on facebook or email her.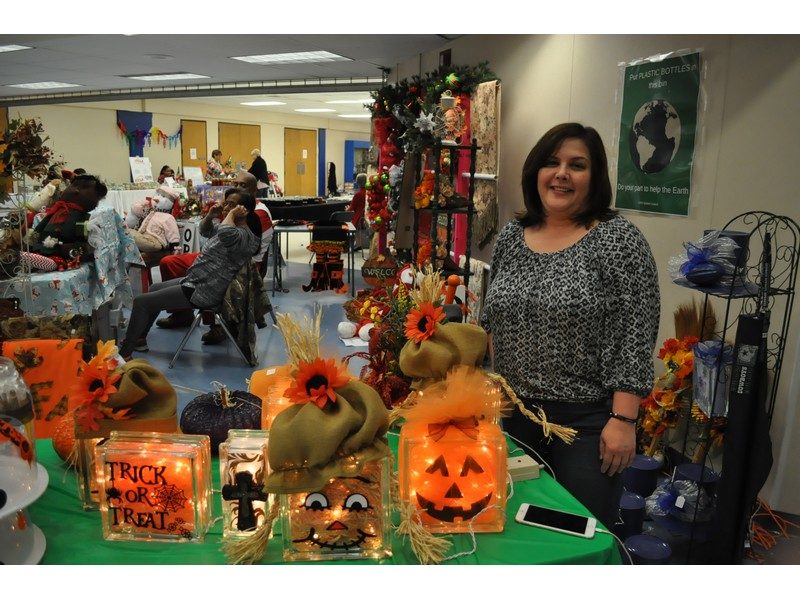 Lisa Hawkins had a variety of holiday items set up at her booth. She had reindeer and santa shaped hot cocoa pouches, as well as chocolate covered: pretzels, oreos, and popcorn. Hawkins had holiday themed hand sanitizers, cake plates, and light up decorative boxes- all perfect items for upcoming holiday parties!
Don't miss the exciting and talented people selling their creations at the Arts and Crafts Show, Saturday October 28th from 9:00 am to 4:00 pm in the Sulphur Springs High School Cafeteria! Bring the whole family for a day of fun!