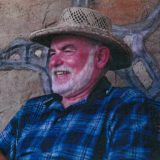 Bo West, 83, of Sulphur Springs passed away peacefully surrounded by his family on Wednesday, September 6, 2017 at Hopkins Place.  Bo was born in Big Spring on June 28, 1934 the son of Cecil and Norma (Bowlus) West.  He married Pennye Baca in Dallas, Texas.   Bo served in the United States Army and was a Certified Public Accountant. Bo was employed by Gulf Holding and Gulf United Corporation for the majority of his working career.  He was a member of First United Methodist Church, Sulphur Springs Texas.  He was a member of the North East Texas Choral Society since his move to the area in 2001.
Those left to cherish his memory are his wife, Pennye West; children, Bob West (Darlene), Lisa West, John Tucker West (Dawn), and Lori West; grandchildren, Jennifer Moore (Sean), Katie Martin (Ryan), Trent West, and Emily West;  great-grandchildren, Major Moore, Addyx Moore, Beckett Moore, Kaisley Martin, Elijah Martin, and Judah Martin; sister, Sarann  Nolan (Bobby); and brother, Norman West (Virginia).
He was preceded in death by his parents and brother, Cecil West Jr.
Memorials may be made to the Alzheimer's Association, Northeast Texas Choral Society, or First United Methodist Church.
A memorial service will be held at 2:00 p.m., on Sunday, September 10, 2017, at the First United Methodist Church with Pete Adrian, Jack Soper and Dan Hoke officiating.   Livestream broadcast can be viewed at www.ssfumc.org\broadcast.
Arrangements are under the direction of Murray-Orwosky Funeral Home.